12 Things to Do In & Around Beijing, China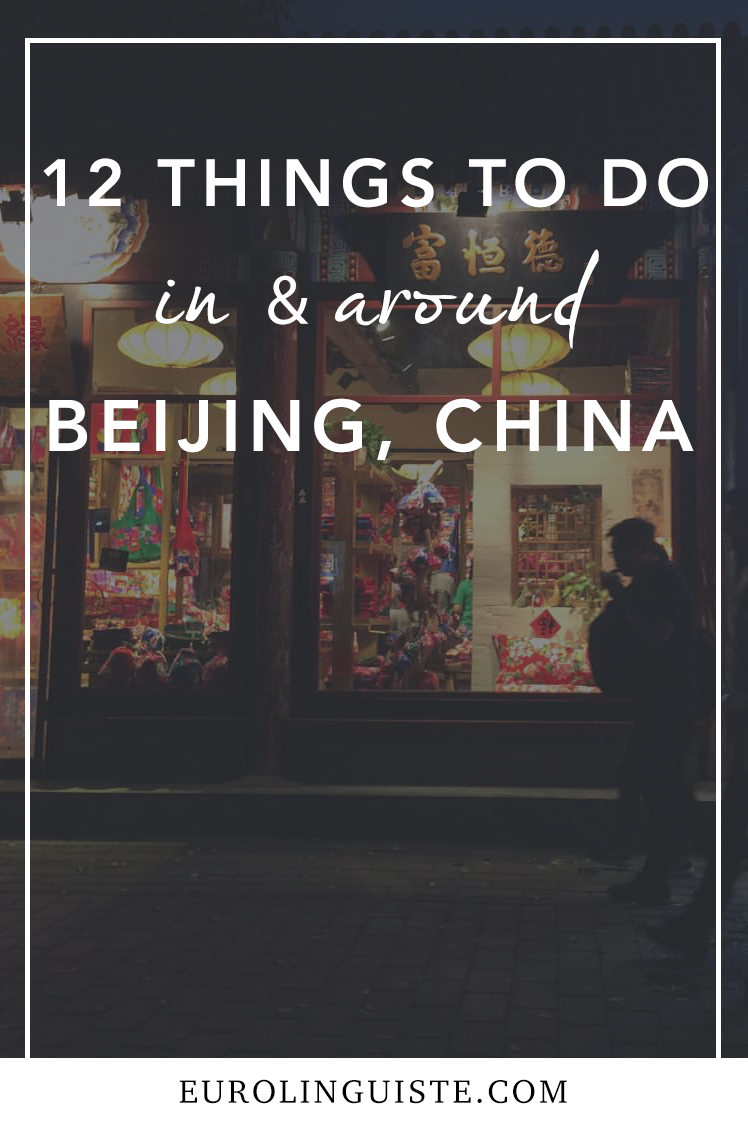 Beijing, the capital of China, is a pleasant mix of historic and modern sites and architecture. There are so many things to do in and around the city, so here are a few of my favorites from my recent (and first) trip to the country.
1. Visit the Summer Palace // A short metro ride away from Beijing, the Summer Palace is an expansive park with scenic lake views, gorgeous temples, and rolling hills.
2. Indulge in Street Foods // China has one of the best street food cultures, in my humble opinion, and you can get a taste of some of the country's various street food snacks pretty much any where in Beijing.
3. Admire the doors around the city // China has some of the most beautiful doors. In just one city I saw a countless number that I felt really had 'personality'.
4. Visit the Great Wall of China // From Beijing, you're close to quite a few places where you can visit the Great Wall. The most visited is Badaling, but there are a few less crowded access points a short trip away.
5. See the Temple of Heaven // The Temple of Heaven is one of the most recognized buildings in China. It has very distinctive architecture and the view of Beijing from the park is stunning, especially at sunset.
6. Wangfujing Night Market // For the ultimate street food experience, the Wangfujing night market is a must.
7. The Forbidden City // No trip to Beijing could be complete without visiting the Forbidden City, particularly because it was once off limits to anyone but the emperor and his court!
8. Visit the Military Museum // This one is a bit unusual, but the military museum is definitely an interesting site.
9. Tiananmen Square // While Tiananmen Square is really just a large open square that may not seem impressive at first sight, it offers a fantastic view of the entrance to the Forbidden City and it's really about visiting one of the biggest historical and political sites in Beijing. Plus there's a museum and several monuments.
10. Try out Taichi // A trip to China wouldn't be complete without seeing or participating in one of its many forms of martial arts. I recommend Taichi in Beihai Park.
11. Stroll along the lakes in Houhai // For an incredible view and active nightlife, try Houhai. Popular amongst expats, this is a great spot to socialize and hang out when night falls.
12. Wander the Hutongs // Hutongs are alleyways lined with old homes and shops. They really quite enjoyable to wander and stop to get a bite to eat.
What about you?
Have you been to Beijing or China, in general? What are some of the things that you've enjoyed doing (or would like to do)?
I'd love to hear from you in the comments below!
Shannon Kennedy
My name is Shannon Kennedy and I'm the language lover, traveler, and foodie behind Eurolinguiste. I'm also the Resident Polyglot at Drops and the Head Coach of the Fluent in 3 Months Challenge.