Clear the List: My Monthly Language Learning Update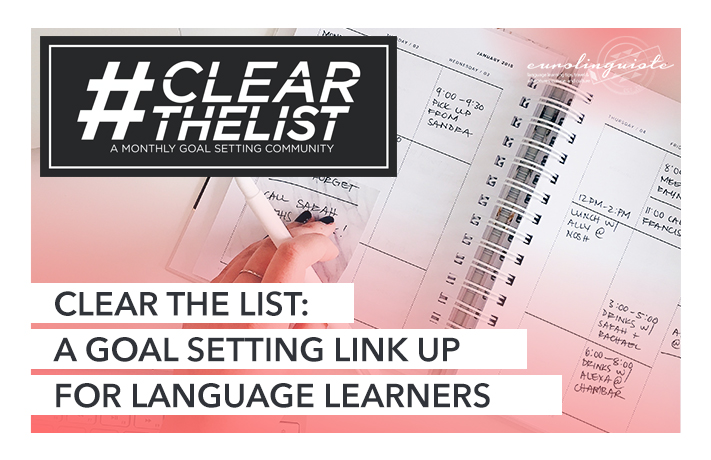 Welcome!
Welcome to Clear the List, where I share what I'm doing to learn languages as well as my latest analysis of my language goals.
If you'd like to join and share your own language learning goals and updates, I'd love for you to join me. You can do so by sharing your updates, or a link to your own post, in the comments below.
So let's get started, sharing our goals and motivating one another to #clearthelist!
Please feel free to tag your posts or photos with either #clearthelist on your favorite social media channels!
Last Month's Goals
I didn't have any since it's been some time since I've done a Clear the List.
This Month's Goals
Start digging into Scottish Gaelic. // This is my newest and 17th language. I'm very excited to take it on.
Maintain my vocabulary learning streak. // I use Memrise to study vocabulary on a daily basis. I use some community decks, some Memrise decks, but mostly focus on decks I've created myself. I currently have streaks on Drops, Memrise, and Duolingo.
Keep working through my YouTube Queue. // I have more than 2,000 videos in my YouTube to watch queue – mostly language learning videos, but also videos on things that can help my language learning overall (like how to use Notion better, how to be more productive, etc.)
Keep reading Game of Thrones in Russian. // I love reading and one of the ways I can re-read books I love guilt-free (rather than reading something new) is by reading in one of my target languages.
Keep reading Eye of the World in Hungarian. // Same as above.
Read in French. // Same as above.
Resources I Used This Month
A quick recap of the materials I am using.
What I Am Using to Learn Scottish Gaelic:
What I Am Using to Learn Chinese:
What I'm Using to Brush Up/Improve My French:
What I am Using to Learn Russian:
What I am Using to Learn Persian:
What I'm Using to Learn Japanese:
What I'm Using to Learn Croatian:
What I'm Using to Learn Hungarian:
What I'm Using to Learn Spanish:
What I'm Using to Learn Portuguese:
Not Currently doing any study for: German, Hindi, Norwegian, Hebrew, Italian, Korean
What I'm Using for Little Linguist
Lots of books
Day-to-day interaction
Duolingo ABC
Movies in Chinese
Gus on the Go Chinese
Resources That Aren't Language-Specific
Todoist (to keep all my language lessons and to-do's organized)
Shannon Kennedy
My name is Shannon Kennedy and I'm the language lover, traveler, and foodie behind Eurolinguiste. I'm also the Resident Polyglot at Drops and the Head Coach of the Fluent in 3 Months Challenge.