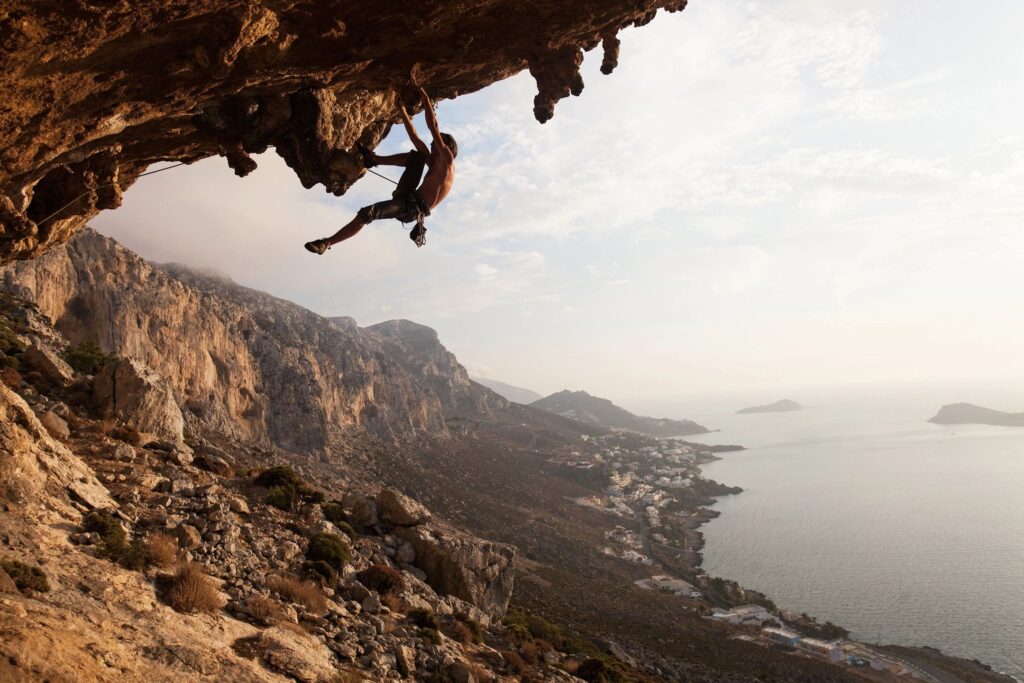 A course created by language learners for language learners who are looking for direction, motivation, and more excitement while learning a new language using tried and tested methods.
Turn language learning into a passion now!
---
TIRED OF THE SAME OLD BORING LANGUAGE LEARNING RESOURCES?
Less than 1% of American adults are proficient in a language they learned in the classroom.
Does this statistic have you nodding your head?
We're not surprised—many learners lack the motivation or means to continue their studies on their own once their classroom studies come to an end. They just can't find the time to fit it in, nor the materials to keep them engaged.
Sound familiar?
Join us on monthly Quests
to discover your passion for language learning.
Introducing…

PASSION. MOTIVATION. ADVENTURE.
A Fresh Approach to Language Learning
If you struggle with maintaining your language learning motivation, you're not alone.
We've worked with thousands of language learners over the years and there's something they all have in common…
At some point, they lose their language learning drive.
It may happen early on after the newness wears off. Or maybe it's a little bit later when you're not sure what to work on next. Sometimes it's when you hit the intermediate plateau. And others, life just gets in the way.
The key to keeping your language learning up is knowing how to rekindle that flame. You have to learn how to navigate the highs and lows of climbing your language learning mountain.
So if you've…
…fallen out of love with your language.
…dread sitting down to study.
…are unclear about what your goals are.
…learned you're at expert level in finding anything else to do that isn't learning your language.
…or feel like the work you're putting in isn't getting the results you want…
You're in the right place.
LEARN
BY
PASSION
Stop staring at a textbook all day! With Language Conqueror, you'll learn how to speak your language through your passions, interests, and hobbies through our monthly Quests. These Quests each have a theme to help you learn how to talk about things you actually love talking about in your native language!
A COMMUNITY ADVENTURE
When we work together, we thrive! Our community of like-minded language learners will help you stay motivated. You'll have people to bounce ideas off of, pick up new tips and resources, and make new friends who also love learning languages! Having a support network is key to sticking with it.
MOTIVATION THAT
LASTS
When you enjoy what you're learning, you're more likely to stick with it! By centering language learning around passions and interests instead of classrooms and businesses, you'll have fun building your new habit. Paired with our community, it's an unbeatable formula for language learning success.
A Language Learning Adventure Awaits!
We've put together a series of 30-day Quests for you to incorporate languages into your daily routine, finally find the time to learn a new language, and learn to talk about the things that matter most to you.
But most importantly, you'll find out how to fall in love and stay in love with your language.
We're all about making language learning fun and relevant.
That's why we share Quests to help you develop language skills around your personal hobbies and interests.
This way, you not only have fun while learning your language, but also create a sustainable learning habit.
You'll finally end the struggle to find motivation to sit down and learn, and foster a true passion for language.
Here's a peek at our current challenge:
June Challenge: Let's Get Physical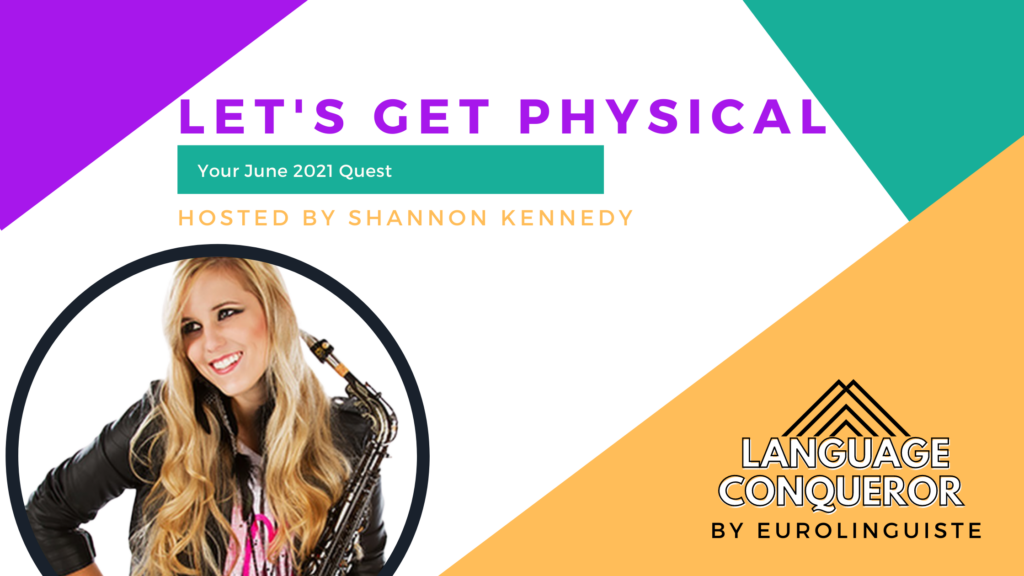 Learn how to combine movement, fitness and exercise with your language learning to optimize your learning.
Or keep reading to learn how to enroll in our Master Quest program.
---
ABOUT THE PROGRAM
Here's how Language Conqueror works:
Level up your language skills with Quests and community
Each month, take part in a new Quest that focuses on your learning your target language through passions, interests, and lifestyle.
And the best part is, you aren't doing it alone: You're joining our community of Language Conquerors who are here to cheer you on! Make friendships, find others learning your target language, and have fun together.
Bored Learner to Fun Fluency
We've found that one of the biggest struggles in language learning is jumping from textbook studies to actually enjoying the language as part of your everyday life.
That's why we've simplified the process by helping you go from bored learner to fun fluency. We show you exactly how to learn the language to talk about and learn through your hobbies.
Just 15 minutes with your language
If you put in just 15 minutes of work each day, you'll complete your Quest and start to see real, measurable results in your language.
You'll enjoy your language studies, have a place to share your progress, and find new ways to make your language a part of your life. (Video games in your target language with friends? Binge-watching The Mandalorian in your language? We cover it all!)
What's Included With Each Month's Quest:
A video lesson introducing the Quest
Daily prompts to give you something snack-sized to work on each day
A workbook with all the exercises and instructions you need to complete the Quest
A video demonstrating the Quest in action from one of our hosts (or special guests)
Trade secrets from Shannon: these are tricks you can use to succeed at your Quest
A Side-Quest: an action you can take to help you gain the confidence you need to complete your Quest
Access to the Quest community so you can collaborate with other learners, share what you're working on, and get support
Your Quest: the final assignment you complete to put everything you learned over the month into practice
Take a peek inside!
Ready to join us?
Each Quest starts on the 1st of each month.
You're committing to 30 days.
Access to a Quest is $49.
Or sign up for the Master Quest!
With our Master Quest program, you get access to 1 year of passion-driven learning. Besides saving on the Quest bundle, you also get these exclusive bonuses:
Or sign up for the Master Quest!
With our Master Quest program, you get access to 1 year of passion-driven learning. Besides saving on the Quest bundle, you also get these exclusive bonuses:
12-Month Master Quest is $499. ($588)
What are some of the topics we're covering in Language Conqueror Master Quest?
Is Language Conqueror right for you?
You'll LOVE Language Conqueror if…
you're struggling to stay motivated to learn a language
you're not sure what to do next to keep learning
you feel disconnected from your language studies
you're up for an adventure and are willing to try new things
you want to connect with other learners
Language Conqueror probably isn't for you if…
you don't have any trouble staying motivated to study your language
you are looking for a course that teaches a specific language
you aren't willing to commit at least 15 minutes a day to your learning
you aren't up to trying new things
Discover your passion for language learning, one monthly Quest at a time.
TESTIMONIALS
Raving Reviews
We've helped thousands of language learners like yourself become confident in their target language. Here's what previous students have said about working with Shannon:
"[Shannon shares] solid tips and tricks for how I can incorporate language learning into my lifestyle, rather than changing my lifestyle to do language learning, which I really appreciate!" Sara from Language Answers, Ltd.
---
Frequently Asked Questions
You've got questions, we've got answers.
Who is this course for?
Language Conqueror is for learners of all levels. When we release each Quest, there are two versions of the Quest demonstration—one for beginners and one for intermediate or advanced language learners. In other words, Language Conqueror is perfect for any learner of any level.
What language do you teach? Do you teach French/Japanese/English/Spanish/etc.?
Language Conqueror is not a language-specific course. We believe that learning how to learn, how to create a sustainable learning plan, and maintain your motivation are the keys to successful learning. That said, between the two of us, we have experience with more than 15 languages and are eager to share our experience and expertise with learners in the course.
How do I access the course?
You can access the course from any device (mobile, desktop, laptop, tablet) with internet or data. The course community can be accessed from your browser or a third-party app.
How do I know if this course is right for me?
If you're struggling with motivation, time management, fitting language learning into your life, or knowing what to do to move forward in your learning, this course is for you. During each Quest, we focus on techniques to help you build motivation and make languages a part of your life.
What if I need more time to complete a Quest? / How long do I have access to a Quest once the month is over?
Once you purchase a Quest or Master Quest, you have access to the materials indefinitely. You can take as much time as you need to complete each Quest. The community is most active while the Quest is live, but you can always access any archived Quest material at a later point, whether it's to complete the Quest for the first time, or to refresh what you've learned.
Are the lessons live?
The lessons are not live, they're recordings we share at the beginning of the month so that you have as much time as possible to work through the Quest.
At the end of each month we host a Live Q&A for Master Quest methods. The Live Q&A videos are recorded and shared if you cannot attend the live session.
You have indefinite access to the Quests and Master Quests you purchase.
What if I don't like the course?
If your purchase Master Quest, our 12-month package. We have a 30-day refund policy.
If you purchase a one-month language Quest, we do not offer refunds due to the nature of digital courses.
Additional things you may need to know:
If you are located in the EU, there may be an additional VAT tax. This is something we have no control over and we appreciate your understanding.
You'll get:
A video lesson introducing the Quest
Daily prompts
A workbook with all the exercises and instructions you need to complete the Quest
A video demonstrating the Quest in action from one of our hosts (or special guests)
Trade secrets from Shannon and Caitlin: these are tricks you can use to succeed at your Quest
A Side-Quest: an action you can take to help you gain the confidence you need to complete your Quest
Access to the Quest community so you can collaborate with other learners, share what you're working on, and get support
Your Quest: the final assignment you complete to put everything you learned over the month into practice
$49/One 30-day Quest
Enroll in the Master Quest
You'll get:
A video lesson introducing the Quest each month
Daily prompts
A workbook with all the exercises and instructions you need to complete the Quest
A video demonstrating the Quest in action from one of our hosts (or special guests)
Trade secrets from Shannon: these are tricks you can use to succeed at your Quest
A Side-Quest: an action you can take to help you gain the confidence you need to complete your Quest
Access to the Quest community so you can collaborate with other learners, share what you're working on, and get support
Your Quest: the final assignment you complete to put everything you learned over the month into practice
Save: You get almost two Quests free by enrolling in Master Quest (or $89 off the price of buying all 12 Quests individually)
Bonus: A live Q&A with our hosts at the end of the month where you can ask questions
Bonus: Access to all 12 private quest groups and more in course community
Bonus: 1 Coaching call with Shannon and/or Caitlin upon enrollment
Bonus: Regularly updated recommended reading & resources list
$499/year ($588)/12 monthly quests