Language Learning Strategies | #CleartheList December 2017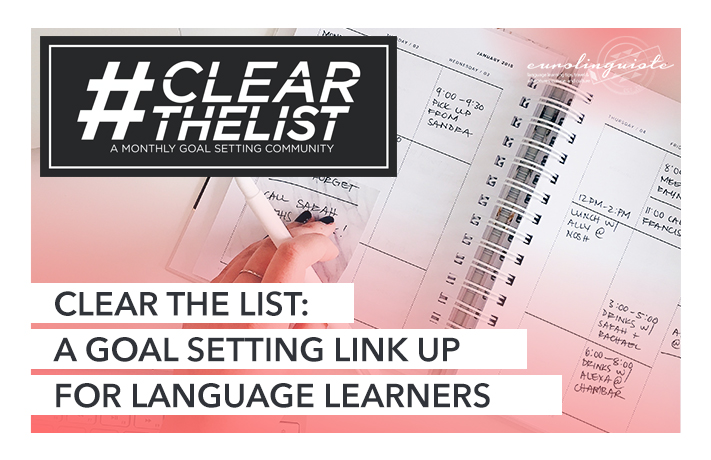 We're at the Clear the List for 2017! I can't believe another year of incredible language learning projects is coming to a close.
This month marked the end of my first Fi3M Challenge and my intensive Croatian learning project. This means that it's time for a new project! What will it be? Any guesses? I'm curious to know what you think (or would like to see) me do next. So let me know in the comments! If you're right, who knows… you might receive a little something from me.
If you're new around these parts, #clearthelist is a linkup where we share our monthly goals, and by we, I mean myself and Lindsay of Lindsay Does Languages.
We'd absolutely love for you to a part of our community. You can join us by adding a link to your own goal post below.
So let's get started, sharing our goals and motivating one another to #clearthelist!
Please feel free to tag your posts or photos with either #clearthelist on your favorite social media channels!
Last Month's Highlights on Instagram
Last Month's Blog Highlights
Travel
The Getty Museum, Los Angeles // You don't need to hop on a plane for all adventures – something I'm coming to appreciate all the more.
How to Have an Adventure at Home // A collection of 36 ideas to help get you started.
The Botanic Gardens, Singapore// An incredible UNESCO World Heritage site in Singapore.
Language Learning
Energy Management in Language Learning // And why it might be more important than time management.
12 Signs You Aren't Getting the Most Out of Your Language Studies // And what you can do to change this.
Last Month's Goals
Continue filling the gaps in my Mandarin vocabulary I've noticed since Little Linguist's arrival. // I've been pretty good at keeping on top of my flashcards and using Chinese with him.
Read the next Language Reading Challenge book on my list. // If you haven't already, you can join us on Facebook!
Complete month three of the Fi3M Challenge. // Done! I can't believe I had an hour-long conversation in Croatian. You can watch both of my Day 90 videos below. In one, my son was with me and was a little distracted, so I decided to do a second video. In that, the connection wasn't good and I couldn't hear almost any of what my tutor said to me. I made it through both, though. I thought about editing the videos before I shared them with you (to clean them up – mostly Little Linguist's interruptions and the connection issues) but decided against it. For me, this is what language learning looks like.
This Month's Goals
Continue filling the gaps in my Mandarin vocabulary I've noticed since Little Linguist's arrival. // Like I keep saying, this will (thankfully) be a never ending project.
Plan out the Language Reading Challenge prompts for next year. // If you haven't already, you can join us on Facebook!
Decide what I'm going to do next. // I have a few lessons for different languages and I have a pretty good idea of what's next. I want to spend this month planning and goal setting and testing to be sure.
Resources I Used This Month
A quick recap on the materials I am using.
What I Am Using to Learn Chinese
LingQ – my new favourite tool, I kid you not
iTalki Lessons – I have weekly Chinese lessons
Memrise – I do 18,000 points minimum per day 
Several new books I read with Little Linguist
DramaFever
What I Am Using to Learn Croatian
What I'm Using to Brush Up/Improve My French:
Lingoci
Immersion (we speak franglais at home)
Reading books written by French authors
Listening to French radio/podcasts
Chatting with family
Watching movies and other videos in French
What I am Using to Learn Russian:
On a break from Russian for the moment.
What I am Using to Learn Korean:
I am on a break from Korean
What I am Using to Learn Spanish:
I am not actively studying Spanish.
What I'm Using to Learn Japanese:
I am not actively studying Japanese.
What I'm Using for Little Linguist
Finding Dory & Finding Nemo
YouTube
Day-to-day interaction
His Chinese lullaby is from Mantou Riji, I also sing him "You are my Sunshine" in Chinese, and his French is Une Souris Verte
Resources That Aren't Language Specific
The Biggest Lesson I Am Taking Away from This Month
This past month, I was reminded that no matter how much preparation you do, you'll never be prepared enough. The best thing that you can do is accept this and just keep working away at the things you'd like accomplish. It's easy to get caught up idealizing how something like your Fi3M Challenge Day 90 video may go or how smoothly you'll order in your language at a local restaurant, only to get nervous or have something come up that makes it so the circumstances aren't ideal.
For the most part, the ideal is probably never going to happen. So just do your best, take note of things you can work on and keep moving forward.
Don't forget that I would love to hear all about your goals for this month! Please join us by adding your post to the linkup below!
Clear The List Linkup Rules:
1. Share your goal post whether it includes your aspirations for the month or year. Submissions unrelated to the theme or links to your homepage will be deleted.
2. Link back to this post. You can use our button if you wish.
3. Follow the hosts: Lindsay from Lindsay Does Languages and Shannon from Eurolinguiste.
4. THIS IS THE MOST IMPORTANT RULE: Please visit the site of the person who linked up immediately before you and leave them an encouraging comment! By hosting this linkup, we're hoping to create a positive community where we can all share our goals. If you do not do this, you will be removed from the linkup.
5. Share on social media using #ClearTheList
An InLinkz Link-up
Shannon Kennedy
My name is Shannon Kennedy and I'm the language lover, traveler, and foodie behind Eurolinguiste. I'm also the Resident Polyglot at Drops and the Head Coach of the Fluent in 3 Months Challenge.