Clear the List | Language Learning Strategies Update | January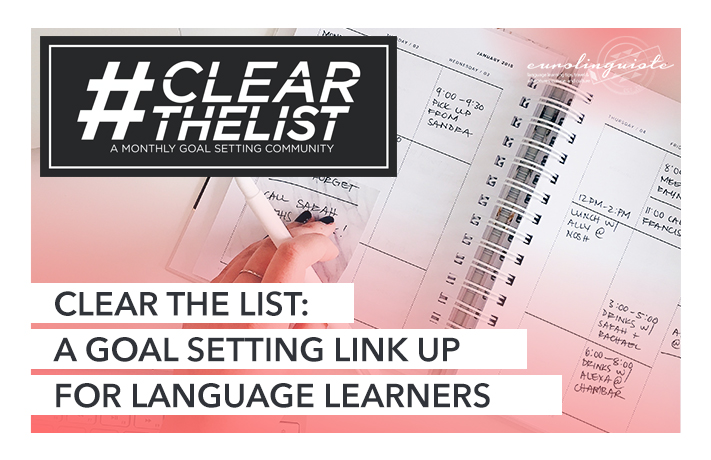 Happy New Year to you and yours – a little early. I wanted to get a jumpstart on my language learning goals because I am excited about what I have planned for the new year.
What's in store? As a preview, I can tell you that my next language – Japanese – is a big feature. And a huge part of why I'm ecstatic about 2018.
Onto #clearthelist
If you're new around these parts, #clearthelist is a linkup where we share our monthly goals, and by we, I mean myself, Lindsay of Lindsay Does Languages.
We'd absolutely love for you to a part of our community. You can join us by adding a link to your own goal post below.
So let's get started, sharing our goals and motivating one another to #clearthelist!
Please feel free to tag your posts or photos with either #clearthelist on your favorite social media channels!
Last Month's Highlights on Instagram
Last Month's Blog Highlights
Travel
Why Do You Travel? // I asked you what gets you out exploring, and you gave me an incredible of reasons to travel.
Language Learning
10 Minimalist Gift Ideas for Language Learners // Not all language learners want new books or sets of flashcards. Here are a few more ideas for gifts for language learners – whether you're treating yourself or a friend.
How to Choose Language Learning Resources // An update of an old, but popular post. I've learned a lot since I originally wrote the post, so I revised it to reflect that.
My New Language Learning Project // I announce my next (and likely, final) new language.
Last Month's Goals
Continue filling the gaps in my Mandarin vocabulary I've noticed since Little Linguist's arrival. // Yes! We have several new books he received as Christmas gifts that we're reading together.
Plan out the Language Reading Challenge prompts for next year. // Done! You can find them here and if you haven't already, you can join us on Facebook!
Decide what I'm going to do next. // Also done. It's Japanese!
This Month's Goals
Continue filling the gaps in my Mandarin vocabulary I've noticed since Little Linguist's arrival. // Like I said, we have lots of books we're enjoying together.
Read the next Language Reading Challenge book on my list. // In February we're reading about the history of the language or culture you're learning. My brother got me a book about the languages of China, so that's probably what I'll read that month.
Keep working through my YouTube Queue. // Even though this wasn't on my list, I watched more than 200 of the language lessons and videos in my queue. Woot woot. I want to keep slowly pecking away at what's there.
Read something in Chinese, French, and/or Spanish and Russian. // It's important for me to maintain these languages.
Finish distilling my Japanese notes. // I started studying Japanese for about a week before I did the Fi3M Challenge. For Christmas, my gift was a set of new notebooks. One of these is my new Japanese-dedicated notebook. I need to transcribe all my notes into it. I want to stay organized with this language from the start.
Overall language maintenance. // Even though I'm taking on a new language (which I will ultimately focus on for a short time), I want to be sure to continue to maintain all of my old languages. Now that I'm done taking on new languages, I plan to do more short-term, dedicated projects to keep growing my past languages.
Resources I Used This Month
A quick recap on the materials I am using.
What I Am Using to Learn Chinese
What I'm Using to Brush Up/Improve My French:
Immersion (we speak franglais at home)
Reading books written by French authors
Listening to French radio/podcasts
What I am Using to Learn Russian:
What I am Using to Learn Korean:
I am on a break from Korean
What I am Using to Learn Spanish:
What I'm Using to Learn Japanese:
What I'm Using for Little Linguist
Resources That Aren't Language Specific
The Biggest Lesson I Am Taking Away from This Month
The art of focus.
There are so many languages I would love to learn. But it's come to the point where it's more important to me to get much better at the languages I've already studied than it is for me to get just okay at a few more.
It's definitely a hard decision. There's at least one more language that I've always wanted to learn, but focusing on the 8+ languages I've already invested so much time into is now my priority.
Don't forget that I would love to hear all about your goals for this month! Please join us by adding your post to the linkup below!
Clear The List Linkup Rules:
1. Share your goal post whether it includes your aspirations for the month or year. Submissions unrelated to the theme or links to your homepage will be deleted.
2. Link back to this post. You can use our button if you wish.
3. Follow the hosts: Lindsay from Lindsay Does Languages and Shannon from Eurolinguiste.
4. THIS IS THE MOST IMPORTANT RULE: Please visit the site of the person who linked up immediately before you and leave them an encouraging comment! By hosting this linkup, we're hoping to create a positive community where we can all share our goals. If you do not do this, you will be removed from the linkup.
5. Share on social media using #ClearTheList
Shannon Kennedy
My name is Shannon Kennedy and I'm the language lover, traveler, and foodie behind Eurolinguiste. I'm also the Resident Polyglot at Drops and the Head Coach of the Fluent in 3 Months Challenge.