Clear the List | Monthly Language Learning Strategies Update | December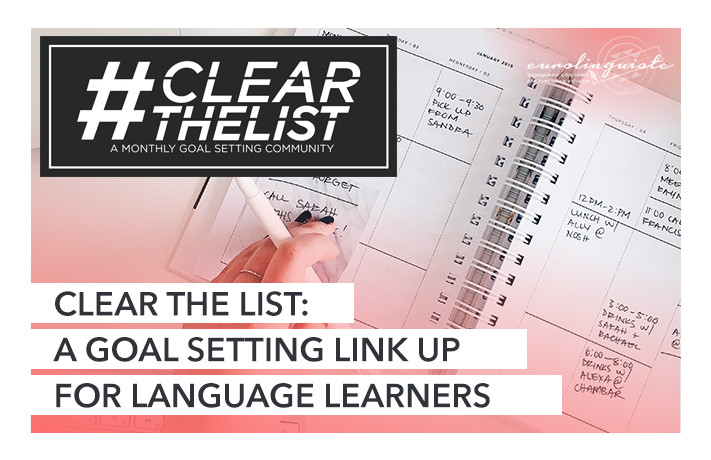 Well, it's here. December has arrived and that means that in just four days, I'll be sitting the long awaited HSK exam.
Am I ready?
Ehh…
I have no idea. At this point, I really don't. But, I have done all that I can to prepare for this exam, so all I can do is go and do my best. And then wait for 45 days for the results… But that's another story.
So without any further ado…
Once again, I would like to welcome to #clearthelist where we share our monthly goals! For those of you unfamiliar with #clearthelist, I cohost it with a lovely bloggers: Lindsay of Lindsay Does Languages. You should definitely take a minute to head over and check out her site if you haven't already!
We'd absolutely love for you to a part of our community. You can join us by adding a link to your own goal post below.
So let's get started, sharing our goals and motivating one another to #clearthelist!
Please feel free to tag your posts or photos with either #clearthelist on your favorite social media channels!
Last Month's Highlights on Instagram
Last Month's Blog Highlights
I spent a lot of this past month working through a ton of resources and photos that I plan on sharing with you soon! Until then, here were my most popular posts from November:
Slow Cooker Spicy Korean Beef // This recipe was one of the most popular posts on my blog last month! I can't wait to share this month's recipe, but until then, I hope you enjoy this one.
12+ Ways to Ensure You're Getting the Most Out of Your Language Exchange // I really enjoyed writing this post and I'm so glad that you all have enjoyed the PDF download. If you didn't get yours yet, you can still download it!
A Review of Fluent in 3 Months Premium // Benny Lewis recently updated his hallmark product and I had the chance to review it. You can check out my thoughts in this post.
100+ Croatian Words and Phrases // I had a lot of fun putting this post and PDF together. I hope you enjoy it!
My Maximize Your Month Language Learning Strategies & Goals
Last Month's Goals
Prepare for the HSK4 Exam. I studied like crazy because I found out only two weeks before the test that 1) there was a better book I could have used that I didn't hear about until my lesson with Hanbridge Mandarin and 2) the word list I was using wasn't the 'most accurate' list and that I needed to learn almost 600 new words in two weeks. Yay…
Keep working through my new resources. This didn't really happen because (see above). I managed to finish one book and ten pages of another, but haven't had the chance to review them yet. I will soon though!
This Month's Goals
Do the best that I can on my exam. Because that's really all that's left to do for it at this point.
Start really diving into Russian. Since my exam is the beginning of the month, that gives me all the rest of December to really dig into Russian before I add in Korean next year.
Plan out my language learning (and personal) goals for 2016.
My Language Learning Strategies and Updates
I'm not going to say much here at this point because I have another post scheduled where I really get into my strategies for preparing for my exam. I can't say how I feel about it yet, but this month didn't quite pan out how I had hoped in terms of preparation. I had scheduled 3 months with each level of the HSK, but since my exam was the beginning of December, I really only have had two months with level four. In hindsight, I should have given myself two months with level one instead, but I can't change what has already passed. If I'm totally honest, I'm a bit nervous about the test because I feel like I'm right on the edge of it going either way. I know that the wait for my score is going to be a tough month and a half for me! I'll just have to fill my schedule with other things so I don't have too much time to think about it!
Resources I Used This Month
A quick recap on the materials I am using. What I'm Using to Learn Mandarin:
What I'm Using to Brush Up/Improve My French:
Immersion (we speak franglais at home)
Reading books written by French authors
Listening to French radio/podcasts
What I am Using to Learn Russian:
The Biggest Lesson I Am Taking Away from This Month
There is only so much you can do. There is only so much research, so much study, so much preparation, and so on, that you can do. We can always want to do more (which can both be a good and a bad thing), but when it really comes down to it, our minds and bodies have limits and we need to learn where and what they are.
I don't talk about it much here, but in addition to being a full time musician and blogger/language learner, I also have a full time job. I do a lot of juggling and sometimes I just don't have as much free time as I would like. There are some days that it's harder for me to accept this than others – there are just so many things I'd like to do – but the fact is, this is my reality.
It's all about finding a healthy balance between finding time to pursue your interests while still being responsible in other aspects of your life.
Sometimes this means not having as much to do the things that you'd like.  I know that there are a lot of language bloggers (myself included) who talk about how to find more time to study language, how to fit more language learning into your already packed schedule. And I believe that if you truly want to do something, you'll always find the time to do it.  But you shouldn't do it at the cost of other things (your personal life, your job, or your health). 
In my family, I'm somewhat notorious for running myself ragged. But now that I'm in my 20s and not my teens, it takes a bigger toll on me than it once did. So this week, even though I know I could use the extra hours of study, I'm going to opt to go to bed sooner so that 1) I can get better (I've been sick) and 2) so that I'm well rested for my test because I think that those two things will be just as beneficial to my success as the study time.
And in case I don't say it again later – happy holidays to you and yours!
Don't forget that I would love to hear all about your goals for this month! Please join us by adding your post to the linkup below! An InLinkz Link-up
Shannon Kennedy
My name is Shannon Kennedy and I'm the language lover, traveler, and foodie behind Eurolinguiste. I'm also the Resident Polyglot at Drops and the Head Coach of the Fluent in 3 Months Challenge.