Tapas in Barcelona, Spain | A Food Guide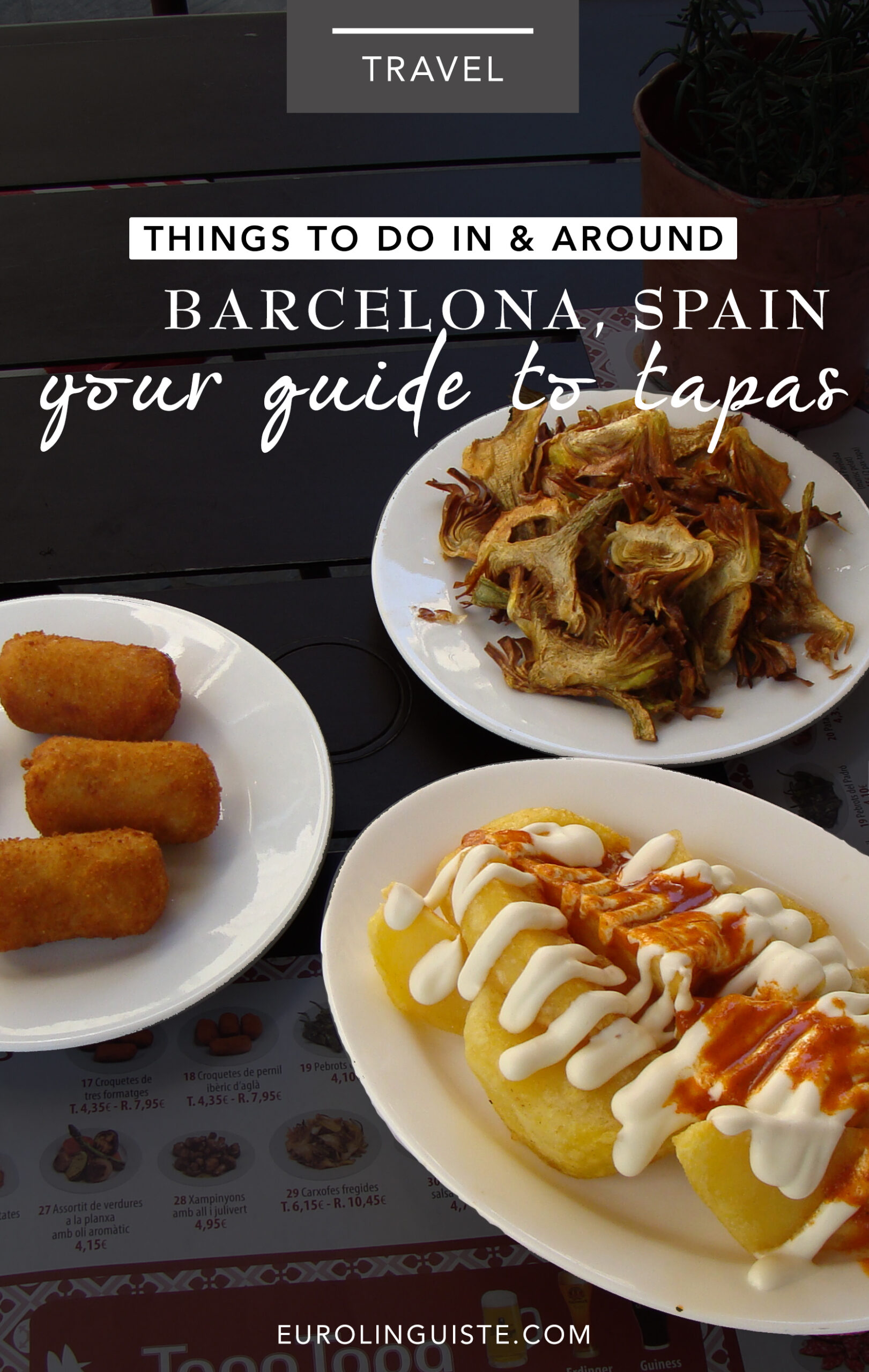 Have you all heard the Jim Gaffigan joke that a vacation is just eating somewhere you haven't been yet? It's a bit of an exaggeration, but I often feel like a lot of my trips revolve around food. But for me, a big part of travel is experiencing the culture of a new place and I personally feel that one of the best ways to really enjoy a different culture is through food (and another is through language).
I've written about some of my food adventures in France, in China, and those I'd like to one day have in Korea and I thought it time that I share one of my favorite things about our trip to Spain – tapas.
What are Tapas?
Tapas are a wide range of dishes that are comparable to appetizers, but really, they are so much more than that. They have even evolved into their own "sophisticated" cuisine.
Tapas can be hot or cold dishes, and they are often combined to create a full meal. Common tapas dishes are olives, calamari, patatas bravas, croquetas, chorizo, and cheese.
Tapas in Barcelona
Cafes and restaurants that serve tapas line the streets in Barcelona, so it's quite easy to find somewhere to stop and enjoy a quick meal. We really enjoyed Onofre (so much so we went twice), but since we were there several days, we had the opportunity to try out a few additional spots.
Some of Our Favorite Tapas
This first dish was kind of like bruschetta. It was a small toasted piece of bread, topped with lettuce, brie, cranberry, caramelized onions and it packed just a ton of flavor. We ordered this from TapaTapa.
Also from TapaTapa, are these two delicious dishes. The one on the left is fried eggplant with a tomato based dipping sauce and the one on the right is fried manchego cheese on top of roasted peppers and a small piece of toast.
This trio of mini beef patties are each topped with something different. One is paired with caramelized onion, another manchego cheese, and the third with old style mustard. It was hard to pick a favorite!
On our first trip to TapaTapa (yes, we went more than once because it was delicious, inexpensive and near our hotel), we ordered fried artichoke, patatas bravas (which quickly became my favorite dish), and cheese croquetas.
Popular Tapas in Spain
| | |
| --- | --- |
| Spanish | English |
| Aceitunas | Olives (sometimes with anchovies) |
| Bacalao | Salted cod |
| Calamares | Calamari |
| Chorizo | Sausage |
| Croquetas | Croquettes |
| Empanadillas | Turnovers |
| Queso frito | Fried cheese |
| Gambas | Sautéed prawns |
| Patatas bravas | Fried potatoes served with salsa brava |
Spanish Bakeries – Not Quite Tapas
And while I'm sure they don't count as tapas, another delicious place to stop while in Barcelona are their bakeries. I mean, just look at some of these treats!
What about you?
What are some of the dishes that you just couldn't miss when you were traveling?
I'd love to hear from you in the comments below!
Shannon Kennedy
My name is Shannon Kennedy and I'm the language lover, traveler, and foodie behind Eurolinguiste. I'm also the Resident Polyglot at Drops and the Head Coach of the Fluent in 3 Months Challenge.