Language Immersion At Home VS Language Immersion Abroad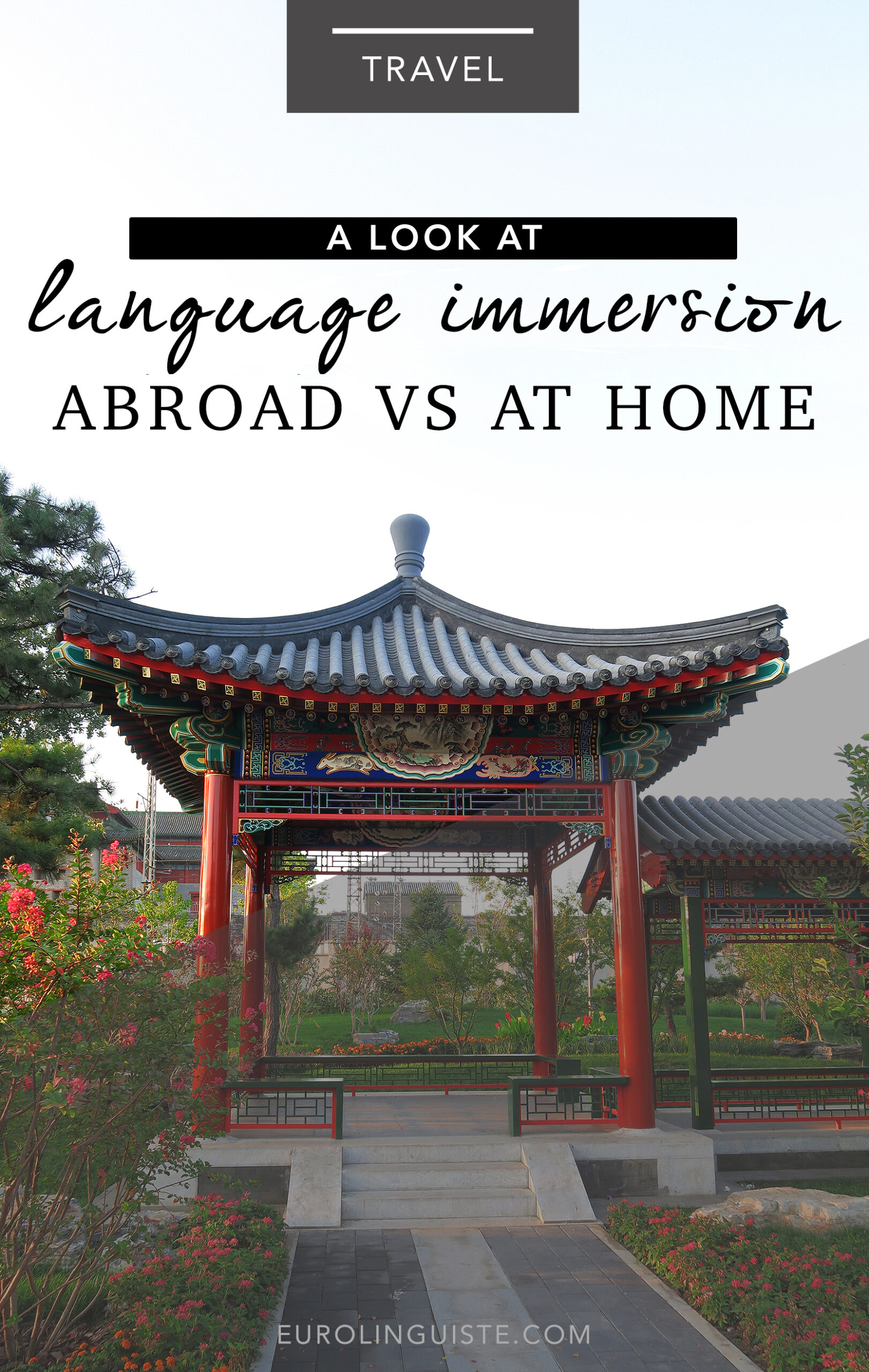 German Learners! If you are interested in finding out about a unique language immersion experience, stick around until the end of this post!
The first time I traveled to a country that spoke a language that wasn't my native language*, I was thrilled. I would finally truly have the opportunity to use Spanish and I was certain that by the end of our trip, I'd be fluent.
When we first landed in Mexico, my parents shuttled my brother and I out to the taxi station where I had the opportunity to ask someone the time so that I could change my watch to the right hour. I was proud of my initial success, but even so, I still didn't use the language again for the entire trip.
Why? Because my family and I stayed at resort that was in the heart of one of the most touristy areas and since there was no need for me to use Spanish, I quickly reverted back to English without hesitation.
After we returned home, I was baffled. What had happened? Wasn't I supposed to have learnt Spanish fluently on that trip? Why was my level in the language no better than it had been before we spent time in Mexico?
At the time, I didn't understand why being in another country didn't equal learning the language. I thought it would be like osmosis, that by just being in the country, I would absorb the language. It was only later that I realized that I would have actually needed to make an effort to use the language while traveling in order to have better internalized it.
And it wasn't really until my recent trip to Beijing, China that I can say that I finally understand what it takes to effectively commit to language immersion while abroad.
*This was the first trip that I remembered. My mom and grandparents traveled with me around Europe when I was an infant, but sadly, I don't have any memories of those adventures.
Getting By In a Language VS Using Travel to Really Learn a Language
Because we have family abroad and because I am a professional musician, I have been blessed with numerous opportunities to travel. And sometimes, I'm lucky enough that those trips end up being to countries whose languages I'm learning.
But on most of those trips, language learning took a back seat. I mostly focused on "getting by" during my short time in those countries and didn't really make an effort to immerse myself in the languages.
Prior to my trips, I'd do a bit of a language refresh, learning the words and phrases I would need to order food in restaurants, ask for directions, check into our hotel, and get around via public transport or taxi. The rest of the trip, M and I would continue to chat in franglais, isolating ourselves from any real interaction with the locals outside of chatting briefly with the hotel receptionists or our waiters at restaurants.
It wasn't until I decided to travel to Beijing on my own with the intention of immersing myself in the language that I realized why the other trips did nothing to improve the other languages that I was learning.
Whereas I previously only "got by" in the languages I was learning in the other countries I visited, in China, I had the opportunity to really "live" the language. Each day, as I left my hotel room, I sought out opportunities to chat in Chinese. And when my friend came to meet and stay with me, we would read the local newspaper together on the metro, watch Chinese shows on tv when we returned to the hotel at night, and used the language at every opportunity. In China, I wasn't just using the language, I was experiencing it and living it.
What is Language Immersion?
So let's step back for a minute and talk about just what language immersion is, especially since it can be a pretty tricky term tied to quite a few misconceptions.
Language immersion is a language learning method where learners surround themselves with their target language in order to more quickly and fully learn it.
Language immersion is something that often comes up in discussions amongst those in the language learning community. There are those who sit firmly on either side of the line as to whether or not it's necessary, but there are others, like me, who feel that it could be incredibly beneficial to learners, but it's not a guarantee that an immersion environment will do more for you learning than staying at home and seriously studying can.
Before I really get started with this post though, I want to share that it is possible to "immerse" yourself in the culture of your target language without having to travel to a country where it is spoken. You may have to make more a of a personal effort, but it is worth it in the end.
Why Does Language Immersion Matter?
Why does language immersion matter? Why should you immerse yourself in the culture of the language you are learning?
Because it can lead to you falling in love with the language even more fully than you may have already. Because language is inextricably tied to the culture from which it comes and the best way to learn about those aspects of a language is through immersion. Because it allows you to learn new words and expressions with less effort than forcing yourself to sit down with a textbook. Because it enriches your life and you learn so much more than the language itself.
Well, you might be saying to yourself, that all sounds great but don't you have to travel to the country to immerse yourself in a language?
The answer is you can, but it isn't necessary.
In fact, there's no guarantee that by traveling to a foreign country that you'll learn the language the way you were hoping. And there are quite a few learners who have successfully learnt a language by creating an immersion environment at home.
Language Immersion at Home
As ideal as language immersion abroad may sound, it sometimes isn't always possible from a cost or time standpoint. The good news is travel ≠ immersion. In fact, you can set up a pretty effective immersion environment with a little creativity and dedication. And the best part is that your home immersion environment can be as long-term or as short-term as you like and whatever you set up isn't "final". You can always add to it as you go.
Ways to Create an Immersion Environment at Home
Use posters, index cards, and other images posted around your home to help you learn new vocabulary. // Doing this can also remind you to think in your target language as well (especially if you've unwittingly slipped back into your native language, it's okay, it happens).
Writing notes, grocery lists, journal entries, to do lists, etc. in your target language. // This can be a great way to learn important day-to-day vocabulary.
Select reading material in your target language rather than your native language. // You can do this by reading online articles in your target language or even physical books, comics, or magazines.
Watch tv or movies in your target language. // There are quite a few free (and legal) places you can find foreign language television online.
Language exchanges // Sign up for an account on HelloTalk or iTalki and schedule chats with language exchange partners or tutors.
Listen to the radio or music in your target language. // Again, there are free (and legal) places that you can do this online.
Set your devices to the language that you're learning. // You can do this with your computers, your gaming devices, your phones, your tablets, and other electronic devices such as digital cameras. I even have my car's computer set to a language that I'm learning!
Change your social media accounts and browser settings so that they are in your target language. // This is great practice and is another way to learn vocabulary you use daily in your target language.
Try to shift your hobbies into your target language where possible. // Do you like cooking? If you're learning Italian, try following a recipe in the language. Are you a fan of sports or exercise? See if you can find videos on Youtube about your favorite sports or follow along with a Yoga (or martial arts or aerobics or whatever) video in your target language.
If one is available, see about taking a trip to an area where you live where there exists a community of those who speak your target language. // I recently visited Chinatown and Little Tokyo for an at home immersion experience and bought a few books while I was there! You can also see if there are any Meetups in your area for those who speak or are learning your target language.
Converse with yourself. // When all else fails, you can always talk to yourself in your target language. Out loud is best – you get that speaking practice in that helps to train your muscles in the language.
Limitations of the Home Immersion Environment
Works best if you live alone. // If you live with family or roommates, it's almost impossible to create a true immersion environment at home. You can't (and shouldn't) ignore interacting with those you live with, so some part of your day will need to be in your native language. Plus, your significant other might not always want to watch movies or tv in your target language.
It's easy to ignore interaction. // Once our homes are decked out it colorful foreign language sticky notes, our bookshelves stocked with course books and other selections in our target language, and our Netflix or Hulu queues filled with films and tv series in the language that we're learning, it's easy to feel like we've done enough. But you can't stop there! Remember, speaking and interacting in your target language are critical when learning a new language well, so be sure that interaction is a part of your home immersion environment.
You aren't likely to be spontaneously exposed to the language. // Instead, your only exposure will be through the channels you create.
Language Immersion Abroad
When compared to the simulated immersion environment, language immersion abroad has one really big advantage – context. The context that traveling abroad gives the language you're learning can do wonders for your progress.
Limitations of Language Immersion Abroad
Being in a country that speaks your target language is not a guarantee that you'll learn it. // In fact, you need to make almost as much effort abroad as you do at home to get out and learn the language.
You still have to do all the background work. // You won't learn a language through osmosis. You won't just soak it up by being around it. In order to learn a language through immersion, you need an entry point and independent study can give you that.
Expat bubbles // When we travel abroad, we have a tendency to connect with those who share our backgrounds. Sometimes this includes interests, but more often than not, it includes languages. Learning a new language can be overwhelming, so it becomes all to easy to fall back on our native languages and expat bubbles make it easy to do fall into this trap.
Which brings me to my next point…
Language Immersion Programs
Whether abroad or at home, there are a variety of immersion programs that are available to you. They can be a wonderful short-term, guided immersion experience.
These tend to be divided into two categories:
Full Immersion // This is where the entire course is conducted in the target language and minimal to no use of the learner's native language is permitted. An example of this is the program offered by Middlebury Language Schools where the student faces expulsion (without credit or refund!) from the course if they're caught using a language other than that which they are learning.
Partial Immersion // This is where part of the course may include immersion and part of the course may include instruction of the target language or other subjects in the native language. An example of this are most bilingual schools where learning is in two languages or conversation based classes at your local university.
If you're looking for something beyond the home immersion environment, but aren't yet ready to jump into immersion abroad on your own, immersion programs can be a fantastic alternative.
Conclusion
Immersion, like fluency, is one of those words that is often thrown around without a clear definition. It's this vague concept that we know will help us learn a language, but there are quite a few misconceptions about how it really works.
It's often thought that by creating or visiting an immersion environment will make it so that we learn a language through osmosis – it will just soak in. But just being in an immersion environment isn't enough. To truly make immersion work, you need to interact with the environment and go out of your way to use your target language (even if that means making mistakes).
What about you?
Have you ever had an immersion experience either at home or abroad? How did it go and what did you do?
I'd love to hear from you in the comments below!
Shannon Kennedy
My name is Shannon Kennedy and I'm the language lover, traveler, and foodie behind Eurolinguiste. I'm also the Resident Polyglot at Drops and the Head Coach of the Fluent in 3 Months Challenge.