The Most Delicious Crêpes in Paris, France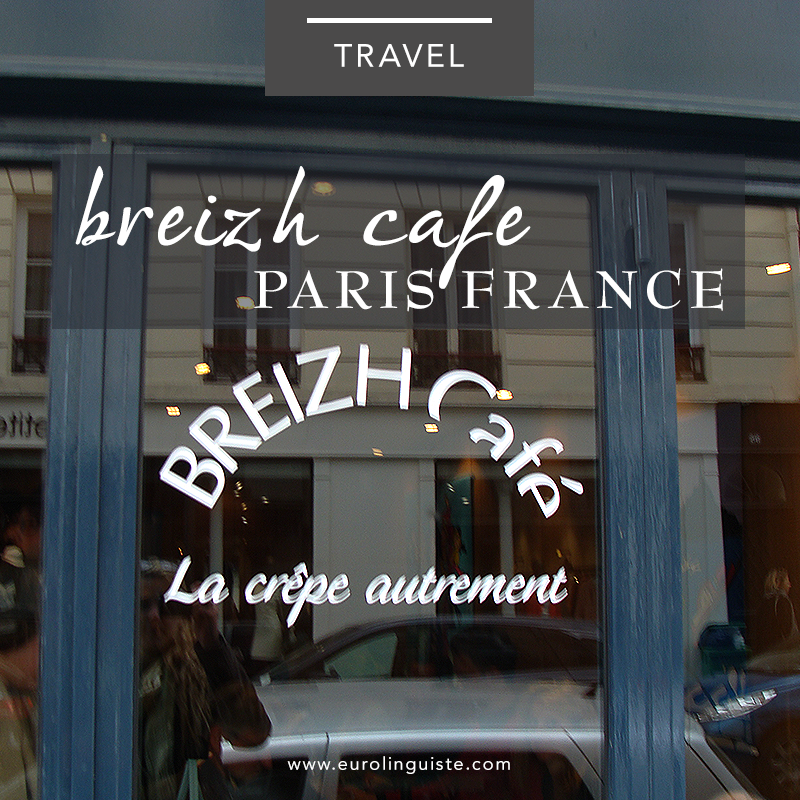 Over the past few years I've collected quite a few fond memories of time spent in the cuisine with friends and family, stirring crêpe batter over friendly banter. I've learnt the trade, racking up time taste-testing for Mamie, while toning arm muscles, working the spatula through a bowl of batter large enough to serve a small army.
And still, the leftovers almost never make it past the afternoon following a crêpe soirée.
Despite having a pretty good idea of how to make crepes on my own, nothing beats Mamie's homemade crêpes. They're made with lots of love and attention and joining her in the kitchen on crêpe night is always a memorable bonding experience.
Crêpes, for us, however, are a family event, so we don't make them souvent. I've also been spoilt with the experience of eating crêpes in Brittany (their place of origin), and so I can be pretty picky when it comes to quality.
Whenever I get a craving, I have to hit the streets of Paris in the hopes of finding a close second. And on our last trip, I think I may have finally found it.
Breizh Café in Paris, France
Breizh Café and its sister restaurants have an interesting history. The first restaurant, La Crêperie Bretagne, was actually established in Tokyo, Japan after Bertrand Larcher moved there with sa femme. The restaurant was so successful that they opened another location in Tokyo before finally turning their attentions back towards France where their troisième restaurant was opened in Bretagne. While this location no longer exists, they have since opened additional restaurants in the Marais district of Paris, St. Malo, Cancale, and several more locations in Japan.
Savory or Sweet, There's a Crêpe for Everyone
By focusing on using locally sourced produits, Breizh Café offers customers a fresh, delicious menu that almost makes it impossible to choose any one item. Your best bet is almost to go as a group and each order something different just so you can get a better idea of just how incroyable each of the items on the menu are.
This was our strategy and we all ordered a different savory crêpe and a different dessert crêpe, and it would have worked well for us if Mini M hadn't decided that his was too good to share. 🙂 He cracks me up.
Authentic Breton Cider from Brittany and d'Ailleurs
Breizh offers in the vicinity of 60 different ciders, or cidres. The bottles are large, so one was enough for the two of us, and it was the perfect complement to our meal. We opted to get Le P'tit Fausset, a brut cider bouché in Brittany. It is a fabrication artisanale, which means that it's made traditionally.
Conclusion
If you're looking for incredible crêpes while visiting in Paris, this is definitely the place. Just don't forget to call and make une reservation! The menu changes and their daily specials are usually great options.
Next on my list? To attend their crêpe school in St. Malo! Anyone want to come with me?
Pro Tips for Visiting
Breizh Café is always packed, so be sure to make a reservation, even if you're heading out for lunch. We saw countless couples and families get turned away because the tables were full during the short time that we were there.
French Vocabulary Used in this Post
Cuisine // Kitchen
Crêpe soirée // Crêpe party
Souvent // Often
Sa Femme // His wife
Troisième // Third
Bretagne // Brittany (a region in France)
Produits // Products
Incroyable // Incredible
D'Ailleurs // Elsewhere
Cidres // Ciders
Bouché // Bottled
Fabrication Artisanale // Traditionally made
Une Reservation // A reservation
BREIZH CAFÉ // Paris
109 RUE VIEILLE DU TEMPLE
PARIS, 75003, France
Hours
Monday // Closed
Tuesday // Closed
Wednesday // 11:30-23:00
Thursday // 11:30-23:00
Friday // 11:30-23:00
Saturday // 11:30-23:00
Sunday // 11:30-22:00
Reservations: 01 42 72 13 77
Recommended Items
Savory Crepe: Galette Bretonne (egg, smoked bacon, mushrooms, and lots of delicious cheese)
Dessert Crepe: Bisquine (strawberries, one scoop of vanilla ice cream, Chantilly, and a fruit glaze)
If you've ever made it to Breizh Café, or if you plan on trying it out on your next trip, I'd love to hear about it in the comments below. If you have a favorite creperie, I'd love to hear about it, too!
Shannon Kennedy
My name is Shannon Kennedy and I'm the language lover, traveler, and foodie behind Eurolinguiste. I'm also the Resident Polyglot at Drops and the Head Coach of the Fluent in 3 Months Challenge.