Discover Where to Eat in Barcelona | A Review of Onofre + Spanish Food Vocab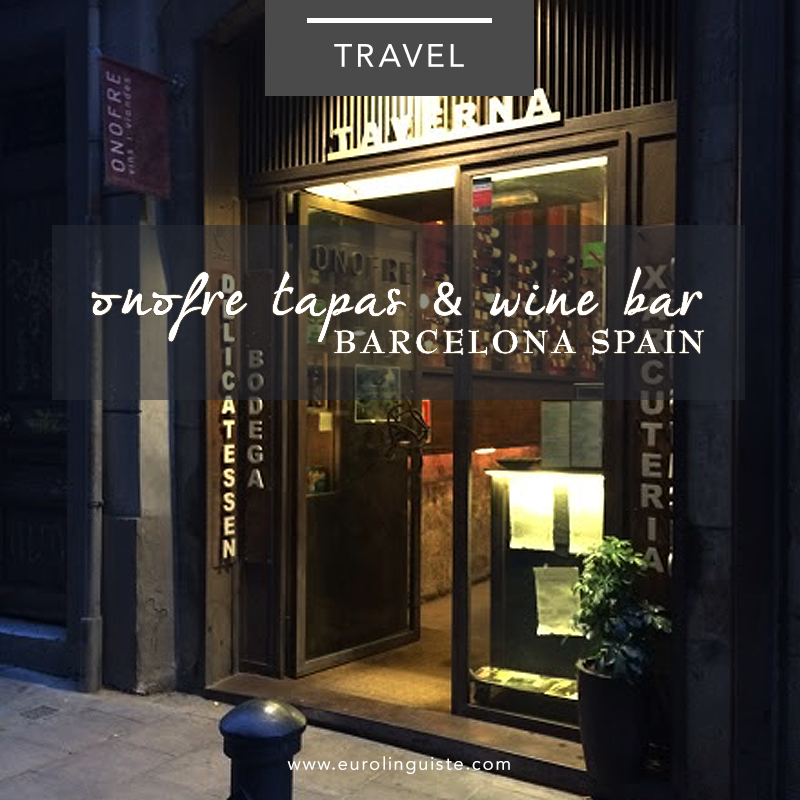 Tucked away on a little side street in the heart of the vibrant, picturesque Barrio Gotico (Barri Gotic), is a hidden culinary jewel. When one thinks of Spanish cuisine, the first things that come to mind are likely paella and tapas, and its the latter in which this restaurant specializes.
While visiting the beautiful city of Barcelona on our most recent anniversary, M and I had the pleasure of discovering Onofre, during our first night and loved it so completely that we went back on our second night there for another round of delicious tapas, aromatic vinos, and delectable quesos.
While the entrance is nondescript, just a small step into the doorway will greet you with a friendly buena noches from the owner and the happy sounds of cutlery dancing across plates in the hands of contented patrons. The corridor that leads you back into the restaurante might fool one into thinking they've entered an artisan wine and cured meats shop, but sequestered away at the back are an intimate collection of mesas surrounded by an impressive display of Spanish wines.
After being seated, we were asked if we wanted English or Spanish language menús and we opted for Spanish to get the full experience. While the owners and servers spoke very little English, they went out of their way to make patrons feel welcome even if it required a bit of pointing and nonverbal communication.
The first night we gorged ourselves on pâté, salad, tomato bread, and artichoke. Our meal was nicely paired with a bottle of Tempranillo recommended by our server that only added to the flavor of our food and has since earned this Spanish wine a position as a favorite for us. There wasn't a single item we ordered that we didn't enjoy completely and it ultimately led to us returning the next night.
And, of course, in keeping with Eurolinguiste as a language learning and travel blog, I thought I'd throw a little Spanish food vocabulary at you by listing the items we ordered in Spanish as well as English.
Our Meal the First Night
Provolone con frutos rojos graten y su olivada // Grilled provolone cheese accompanied by berries and an olive tapenade
Ensalada 3 colores de confit de pato con frutos rojos y vinagreta de soja con frutos secos // Three colour salad with duck comfit and berries; dried fruits in a soy vinaigrette dressing
Taten de peras con queso de cabra fundido y sobrasada artesana de 'ses illes' // Pear ´taten´ with melted goat cheese and homemade ´sobrasada´ (a spicy sausage spread) from the Balearic Islands
Ensalada de corazones de alcachofas con trufa y parmesano, aceite de pimentón dulce y piñones // Artichoke heart salad with truffles and parmesan cheese accompanied by a sweet pepper oil and pine nut dressing
Paté de pato al Oporto // Duck pâté with port
Pan con tomate // Tomato Bread
For desert we had a delicious apple cake dusted with raspberry sauce and powdered sugar, but I unfortunately don't remember the name of this item

Our Meal the Second Night
Croquetas caseras de jamón ibérico // Iberian ham croquettes
Paté de pato con setas // Duck pâté with mushrooms
Surtido de 3 quesos a elegir // Assortment of 3 cheeses to choose

Queso D.O. Manchego semiseco // Semi-dry Manchego Cheese
Queso D.O. Manchego seco // Dry Manchego Cheese
Queso D.O. Zamorano // Zamorano Cheese

Pan con tomate // Tomato Bread
Despite eating beyond our fill, we were quite surprised when la cuenta arrived. After treating ourselves a delectable array of tapas and a bottle of wine, our bill was under 40 euros. We couldn't believe the quality of the food and wine that we enjoyed at such an incredible price. If we every make it back to Barcelona, Onofre will definitely be one of our first stops.
Additional Spanish Vocabulary in this Article:
buena noches // good evening
vinos // wines
quesos // cheeses
degustación // tasting
venta de vinos // sales of wine
restaurante // restaurant
la cuenta // the bill
mesas // tables
menús // menus

Onofre // Degustación y venta de vinos
Carrer de les Magdalenes, 19
08002 – Barcelona
Tel: 93 317 69 37
Email: [email protected]
What We Recommend:
Cheese Plate with the Tomato Bread
Grilled provolone cheese accompanied by berries and an olive tapenade
What about you? What restaurants have you discovered abroad? What are the names of some of the foods you love in Spanish?
Shannon Kennedy
My name is Shannon Kennedy and I'm the language lover, traveler, and foodie behind Eurolinguiste. I'm also the Resident Polyglot at Drops and the Head Coach of the Fluent in 3 Months Challenge.