30+ Language Learning Gift Ideas for the Holidays

Wondering what to get the language learner in your life? Or maybe, you yourself love learning languages and are trying to figure out what to tell someone else to get you!
You'll find something for everyone on this list. I hope it inspires you with your gift giving this year!
Holiday Gift Guide for Language Learners
Language learning is typically divided into four different skill sets, so here are gifts organized by the skills you need to develop.
Writing Gifts for Language Learners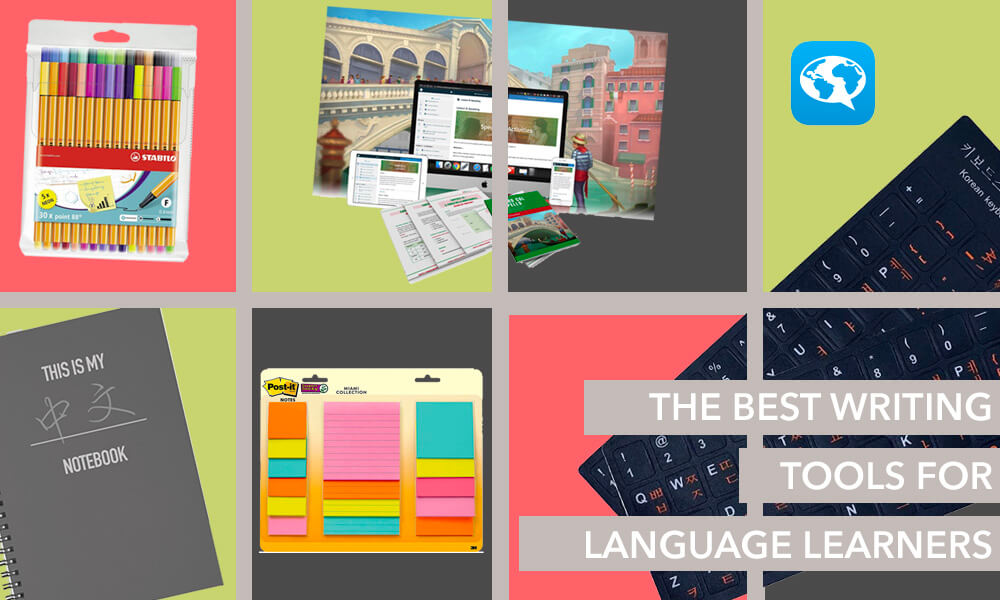 Many language learners still take notes by hand, even if it's to quickly complete coursebook exercises or to jot down something useful they've come across along the way. Having a notebook handy — especially one they enjoy writing in (or looking at) is important and this makes for a great gift.
This one goes hand-in-hand with notebooks. You not only need something to write in, but something to write with! You can get them fancy pens like these from Stabilo, or go a more traditional route with ballpoint pens.
I use sticky notes for all sorts of things — quick notes, adding notes to something I'm reading, to remind myself of things I find interesting, and to label things in another language around the house. These are an endlessly useful gift!
Does the language learner in your life highlight their notes or even the books they're reading? Then this set of highlighters would be a great, colorful gift you can give them!
Premium online course
There are loads of fantastic online courses available on the market today. Here are just a few of my favorites.
Keyboard stickers
These are really useful if you need to type in another language often. No more hunt-and-peck on the keyboard typing with these helpful stickers. They're available for most languages, but here's Farsi, Arabic, Korean, Russian, and Japanese.
I recently worked through Judith Meyer's Script Hacking Persian book and I'm hooked (read my Script Hacking review). The great thing is they're available for loads of languages including Russian, Korean, Japanese, Persian, Arabic, Hebrew, Greek and more.
When I was learning to read and write in Chinese, calligraphy paper was a useful thing to have around.
Listening Gifts for Language Learners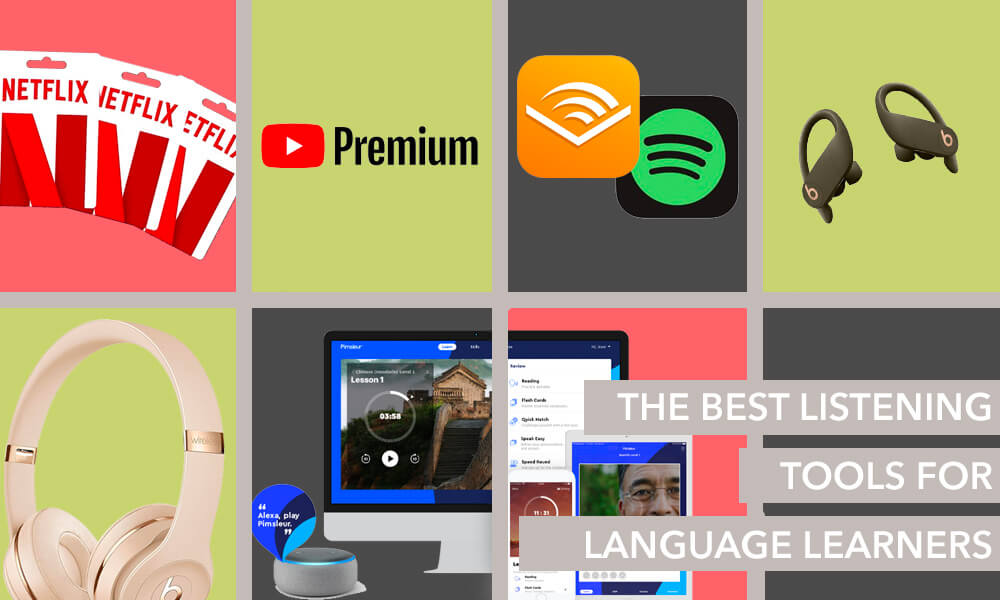 Headphones (or earphones below) are a must-have for language learners. They help you focus on what you're listening to, cutting out background noise, but also make whatever you're listening to more private.
For those who prefer earbuds to headphones.
There are loads of foreign language shows and movies available on Netflix for language learners to binge watch. Plus, even shows not originally in a language have overdubs or subtitles available in a variety of language. It's an incredible resource for learners!
Pimsleur is one of my favorite audio resources and something that I have used for every language I've learned. It's a series of listen-and-repeat lessons that slowly introduce useful words and phrases in a wide range of languages. Read my Pimselur review.
Did you know that if you buy a movie from another region, you likely won't be able to play it on your blu ray or dvd player? That's because movies are locked by region. But there's any easy fix that will help you build your international movie library. And that's to buy an all region player!
If you have a music lover in your life (who also happens to learn languages), a Spotify Premium account is a wonderful gift. Spotify has a nice selection of music from around the world accessible for language learners.
For the reader who prefers to listen to their books over read them. Audible is a great resource for language learners because of their selection of both language learning materials and foreign language books.
Constant ad interruptions when trying to study a new language are no fun. Gifting the language learner in your life a Premium Youtube subscription lets them skip the ads and get more language learning time in.
Speaking Gifts for Language Learners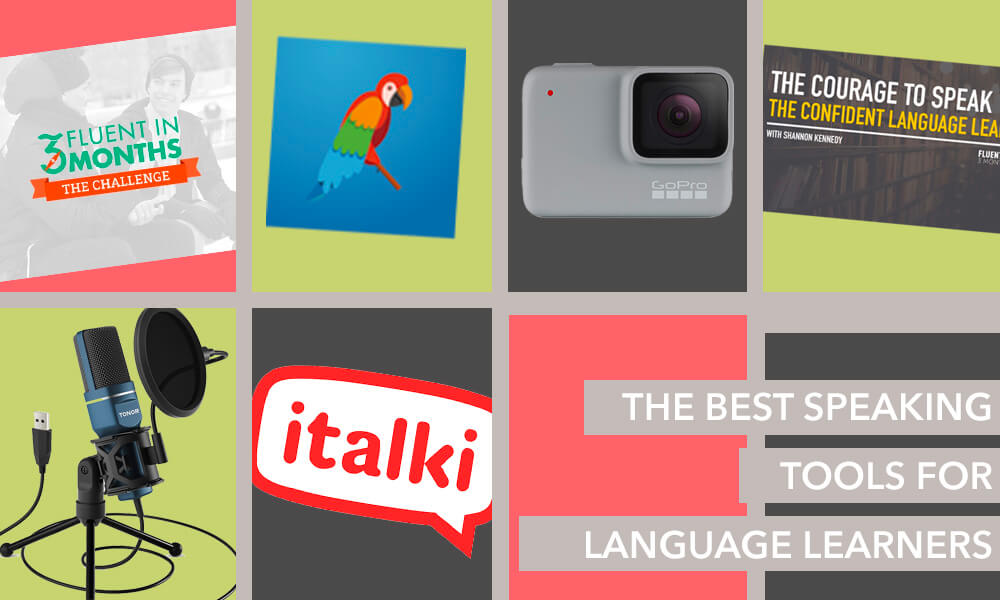 italki is an online platform with a wide range of tutors of hundreds of languages. Plus, they're ready to help you learn at affordable prices!
Speechling is a fun app and tool you can use to practice speaking a language. You record yourself reading various expressions or phrases in the language you're learning and you get feedback from native speakers.
Help learners improve the quality of their language lessons and exchanges with a microphone. That way, their partners and tutors will be able to hear them clearly and avoid misunderstandings!
The Fluent in 3 Months Challenge promises participants that they'll have a 15-minute conversation in a new language after just 90 days. It might sound too good to be true, but I've done several and it has worked every time!
Help the language learner in your life document their learning adventures with a GoPro camera. It's a great tool for their video calls, for their self-recordings and for the adventures (when we're able to go back on them).
A few years ago, I put together this course with Fluent in 3 Months to help shy and introverted language learners gain the confidence to speak in a new language.
Reading Gifts for Language Learners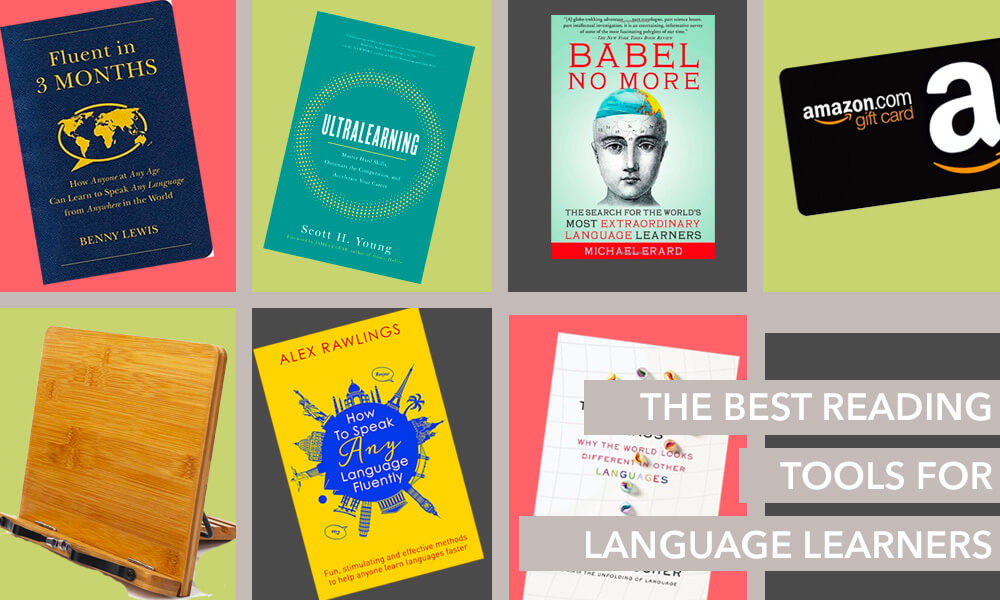 I love LingQ. It's an incredible app that offers tons of tools to help learners start reading in a new language. It has a bit of a learning curve, but once you get into it, it's an irreplaceable tool.
Let the language lover in your life choose the tools and resources they want most by getting them an Amazon gift card.
I recently bought this exact book holder and it has changed my life. It makes it so much easier to take notes and learn with coursebooks because I'm not trying to hold a book open with one hand and take notes with the other.
Combine the best of the digital and physical resource realm with this digital pen scanner. Scan useful texts to your computer or device to keep your language learning organized.
Give the language learner you care about the gift of digital storage. A Kindle tablet gives them a place to store all of their digital learning tools and take them along wherever they may go.
A great book about language or learning
There are loads of fantastic language books available. Here are just a few:
Don't let your language learning friends use scraps of paper or other random things as bookmarks — hook them up with a beautiful, meaningful bookmark that will make them think of you whenever they sit down to study!
Olly Richards has several fantastic books published for language learners, notably his series of Short Stories. They're available for many languages — both common and uncommon.
Language Learning Gifts for Productivity, Habit-Building, and Structure
Help your language learning pals get organized with a 2021 planner.
Habit is a useful app for language learnings looking to establish a language learning habit. It's free to use, but you can "pay what you want" to hook up your friends with a Premium subscription.
Todoist is my favorite project management tool and it's how I keep all of my projects — both personal and work related — organized.
The Total Language Learning Package
Want something that covers a little bit of everything and will really help the language learner in your life take things to the next level?

I recently created Language Conqueror, a course created for language learners who are looking for direction, motivation, and more excitement while learning a new language using tried and tested methods.
Each month, we release a new Quest to help you take your language to new heights through passion-driven learning.
Each Quest includes:
A video lesson introducing the Quest
A workbook with all the exercises and instructions you need to complete the Quest
A video demonstrating the Quest in action from one of our hosts (or special guests)
Trade secrets from me: these are tricks you can use to succeed at your Quest
A Side-Quest: an action you can take to help you gain the confidence you need to complete your Quest
Access to the Quest community so you can collaborate with other learners, share what you're working on, and get support
Your Quest: the final assignment you complete to put everything you learned over the month into practice
You can enroll in a single Quest, or join us all year as a part of Master Quest.
And that wraps it up!
What are you getting the language learners in your life? Let me know in the comments!
Shannon Kennedy
My name is Shannon Kennedy and I'm the language lover, traveler, and foodie behind Eurolinguiste. I'm also the Resident Polyglot at Drops and the Head Coach of the Fluent in 3 Months Challenge.