International Festivals in Southern California | Experience the World Without the Plane Ticket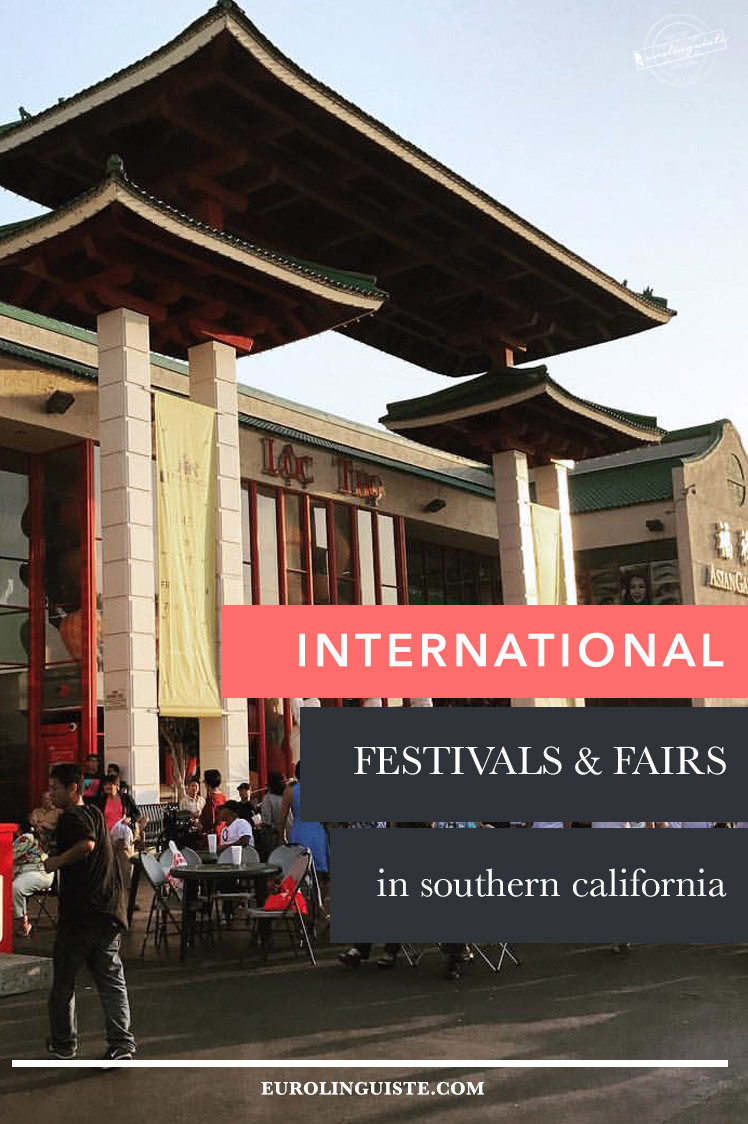 Going abroad isn't always possible, but that doesn't mean you have to miss out on experiencing new foods, exciting music, or on exploring different cultures.
Living in Southern California, I don't have to go far to get a taste of what it might be like to visit Greece, Romania, or Lebanon. Various international festivals are held across Southern California throughout the year. This means that if I want to experience la dolce vita Italian-style, try out German beers, or indulge in different street foods, there are plenty of opportunities each month to do just that.
Here are just a few of my favorite International Festivals in Southern California
626 Night Market – Arcadia, CA
A post shared by Shannon Kennedy (@eurolinguiste) on Jul 22, 2017 at 9:03pm PDT

The 626 Night Market is an Asian-inspired night market. The vendors include a mix of food, crafts, merchandise, art, games, music, and more and the event sees as many as tens of thousands of attendees. It's held at Santa Anita Park (a racecourse).
Where:
285 W Huntington Dr
Arcadia, CA 91007
When: June- September
OC Night Market – Costa Mesa, CA
A post shared by Shannon Kennedy (@eurolinguiste) on May 25, 2017 at 8:57pm PDT

The OC Night Market is the smaller sibling to the 626 Night Market. It's held at the OC Fairgrounds and features more than 200 food vendors, activities, and entertainment options.
Where:
88 Fair Dr
Costa Mesa, CA 92626
When: Spring & Summer
OC Greek Fest – Anaheim, CA
A post shared by Shannon Kennedy (@eurolinguiste) on May 20, 2018 at 5:43pm PDT

Held at St. John's church in Anaheim, California is the OC Greek Fest. It's both your standard pop-up fairgrounds (they have small rides and arcades), but with a Greek flair. The featured foods include everything from Loukoumades to Gyros, Baklava to Feta Fries.
Where:
405 N Dale Ave
Anaheim, CA 92801
When: May
Irvine Korean Festival
A post shared by Shannon Kennedy (@eurolinguiste) on May 16, 2016 at 1:23pm PDT

I first stumbled upon the Irvine Korean Festival by chance. A friend and I happened to be in the area when we drove past the event, so we decided to circle back. We were able to explore a variety of Korean arts and crafts, street foods, and music.
Where:
1 Civic Center Plaza
Irvine, CA 92606
When: May
Little Saigon Night Market – Westminster, CA
A post shared by Shannon Kennedy (@eurolinguiste) on Jul 25, 2017 at 5:58am PDT

The Little Saigon Night Market is a Vietnamese-inspired night market held at the Asian Garden Mall in Westminster. The event is small, but the foods and entertainment at the event make it feel much larger. I definitely recommend the cakes and sugarcane drinks!
Where:
9200 Bolsa Ave
Westminster, CA 92683
When: June – September
La Dolce Vita – Laguna Niguel, CA
A post shared by Shannon Kennedy Sax (@sksaxgirl) on Oct 5, 2013 at 6:28pm PDT

Stomping grapes was on my bucket list until I visited La Dolce Vita and had the chance to cross it off. Hosted near the infamous Ziggurat building in Laguna Niguel, this Italian festival features a collection of Italian vendors, foods, and music. Olive oil taste test anyone?
Where:
El Lazo
Laguna Niguel, CA 92656
When: Fall
Long Beach Greek Festival – Long Beach, CA
The Long Beach Greek Festival showcases cooking demonstrations, shopping, dancing, live music, and food. Plus, they're not far from the ocean!
Where:
5761 East Colorado St
Long Beach, CA 90814
When: September
San Diego International Beer Festival – San Diego, CA
Choose from over 400+ beers from more than 200 breweries around the world. Plus, they offer drinking games and contests as well as a look behind the scenes at the brewing process.
Where:
Del Mar Fairgrounds
2260 Jimmy Durante Blvd.
Del Mar, CA 92014
When: June
California Irish Festival – Perris, CA
Food trucks, live music and entertainment, and beer gardens are featured at the California Irish Festival in Upland, California. You can indulge in Irish nachos, corned beef boxty, or bangers and mash all while enjoying Irish music.
Where:
18700 Lake Perris Dr.
Perris, CA 92571
When: March
Alpine Village Oktoberfest – Torrance, CA
Dedicated to German beer, food, and entertainment is the Alpine Village Oktoberfest in Torrance. Hosted at the Alpine Village, a Bavarian-style center with restaurants, shops, and more, the event is said to be the longest-running Oktoberfest in Los Angeles County.
Where:
19800 S Vermont Ave
Torrance, CA 90502
When: September – October
Taste of Greece – Irvine, CA
Located at St. Paul's Church in Irvine is the Taste of Greece Festival, a small, local event held each year and a nice way to spend the afternoon. You can enjoy Greek fare, music, and dancing – plus, take a free tour of the church.
Where:
4949 Alton Pkwy
Saint Paul's Greek Orthodox Church
Irvine, CA 92604
When: June
Irvine Global Village Festival – Irvine, CA
The Irvine Global Village Festival features a little bit of everywhere, as true to its name. Across five stages it hosts more than 100 performances. Additionally, you can enjoy a variety of foods, activities, crafts, displays, and shopping.
Where:
6950 Marine Way
Irvine, CA 92618
When: September
Irish Fair & Music Festival – Irvine, CA
The Orange County Great Park also hosts the Irish Fair & Musical Festival, a celebration of Irish-American culture and heritage. The event hosts a variety of sports, music, and it even has a spotlight on the Irish language.
Where:
6950 Marine Way
Irvine, CA 92618
When: June
Scottish Fest – Costa Mesa, CA
Enjoy Highland dances, more than 400 pipers and drummers, Scottish sports, shopping, food and more at the Scottish Fest in Costa Mesa. It's the perfect place to pick up a kilt.
Where:
88 Fair Dr
Costa Mesa, CA 92626
When: May
OC Lebanese Festival – Orange, CA
Enjoy Lebanese cuisine, music, and even Hookah at the OC Lebanese Festival in Orange.
Where:
300 S Flower St
Orange, CA 92868
When: June
Be Romanian for a Day – Rolling Hills Estates, CA
Experience Romanian culture, food, and music at this annual festival in Rolling Hills Estates. There are costume exhibitions and opportunities to use the language with the Romanian expat community.
Where:
25851 Hawthorne Blvd
Rolling Hills Estates, CA 90274
When: May
Lunar New Year Festival – Monterey Park, CA
Experience Lunar New Year as a part of the Monterey Park Lunar New Year Festival. Enjoy food, entertainment and other activities spread out over five blocks.
Where:
1588 Corporate Center Drive
Monterey Park, CA 91754
When: January – February
Tet Festival – Costa Mesa, CA
The Tet Festival is a Vietnamese-influenced festival held at the OC Fairgrounds each year to celebrate the lunar new year. With live entertainment, food, rides, and shopping, there's plenty to see and do.
Where:
88 Fair Dr
Costa Mesa, CA 92686
When: February
International Festival at Soka University – Aliso Viejo, CA
For nearly two decades, Soka University has hosted its International Festival. Its vendors include a variety of crafts, foods, entertainment, and activities.
Where:
1 University Drive
Aliso Viejo, CA 92656
When: May
Pro Tips for Attending these Events:
Many of the venues and vendors are cash only, so come prepared.
Be sure to drink lots of water! It's important to keep cool and hydrated, especially in crowded, warm, and lively areas.
Be adventurous. Try foods that might be outside what you'd normally eat, sit down and take in the entertainment, and enjoy the activities offered.
Shannon Kennedy
My name is Shannon Kennedy and I'm the language lover, traveler, and foodie behind Eurolinguiste. I'm also the Resident Polyglot at Drops and the Head Coach of the Fluent in 3 Months Challenge.