THE 626 NIGHT MARKET & OC NIGHT MARKET | THINGS TO DO IN SOUTHERN CALIFORNIA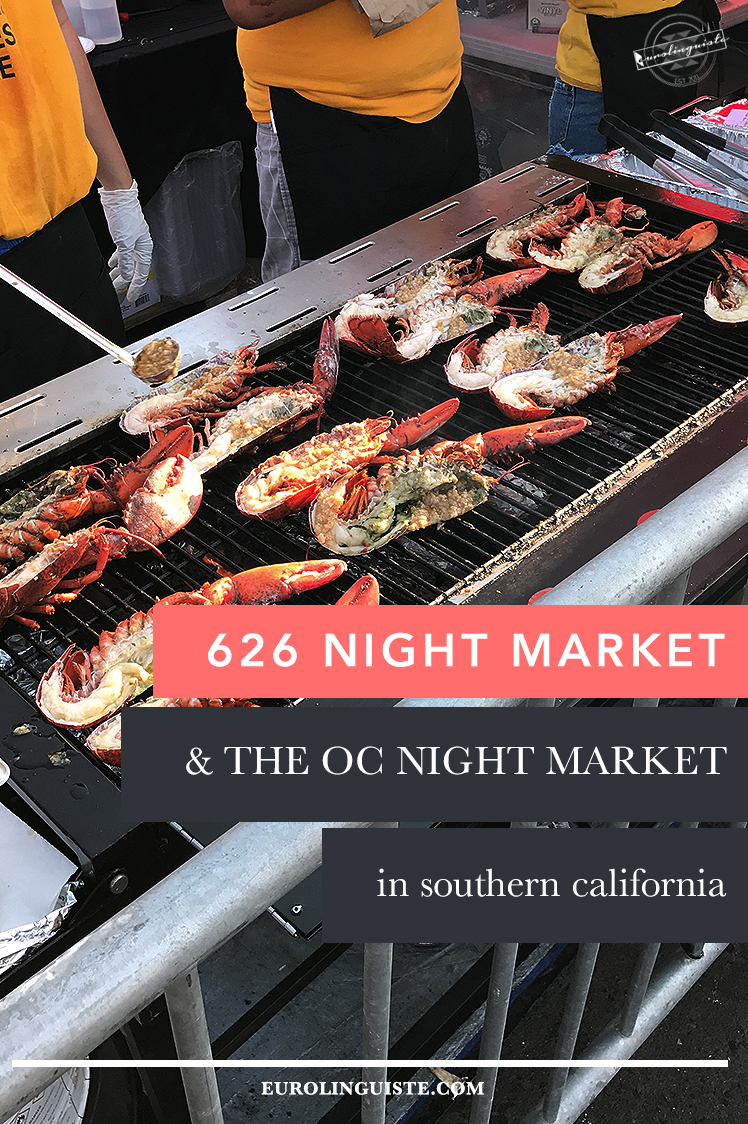 After navigating my way to Wangfujing in Beijing, China, I was greeted with the bustle of hungry bodies, navigating their way through the food stalls that made up this night market. As I made my way down the street, my senses were bombarded with smells, sights, and sounds that were all new. I was hooked.
I enjoyed the evening sampling tasty foods and drinks, always curious about the items I didn't try. I knew that the night market was something I'd miss upon my return to the US.
But then I discovered the 626 Night Market and it's smaller, newer counterpart, the OC Night Market. And while they aren't exactly the same, they're a close substitute. An evening browsing the stalls certainly leaves me feeling nostalgic.
The OC Night Market
Hosted at the Orange County Fairgrounds in the OC Night Market, a newer "taste" of it's bigger sibling, the 626 Night Market. The vendors feature an assortment of Asian fusion cuisine, milk teas, fresh juice, and even beer. But there's also a selection of the standard fair fare – there's always a place for funnel cake.
I came hungry and left more than full. I sampled everything from my long missed jianbing, Asian-style hotdogs, milk tea and ramen. Kirin served free beer slushies in a tasting cup to cool you down in the summer heat, and as we sat down to consume our findings, I chatted with exchange students from China who shared our table.
After exploring the food vendors in the outdoor area, we made our way indoors where an assortment of craft vendors sold their wares. There was everything from paintings to stuffed animals, jewelry to trinkets.
It was an interesting experience but didn't quite prepare me for the intensity, size, and crowd at the 626 Night Market.
Learn More About the OC Night Market.
The 626 Night Market
The 626 Night Market is enormous compared to the OC Night Market. Many of the same vendors participate in both events, but the diversity and food selection available at 626 in Arcadia is almost overwhelming.
We arrived early to ensure we'd find a parking spot — we left at 9pm and it took us almost an hour to get out of the parking lot! The crowds hadn't yet arrived (they came following the sunset), so we were able to circle around through the food vendors a couple times before deciding what we wanted, hoping that we wouldn't miss any of the best items.
I ordered a Vietnamese coffee while we considered our options and tried not to drink it too quickly (it was really good!).
My friend and I first opted for the garlic crab fries and barbecue squid. Both were delicious and left us almost too full to try anything else. We walked some more while we digested, then decided to share a waffle filled with mochi.
We continued to wander and discovered a couple of places that sold pandan cakes and cupcakes, so I bought a few for later – pandan is my weakness! Then headed over to the art vendors where I bought Little Linguist the most adorable toy lion.
Learn more about the 626 Night Market.
There is now also a NorCal Market for those in Northern California, but I haven't yet made it out to compare it to the two that are closer to me here in Southern California. Between the two, I highly recommend the 626 Night Market, but both are interesting events and I'm sure they'll continue to grow. Either way, they are certainly a summer staple for me!
What about you?
Do you have any night markets in your area? I'd love to hear about them in the comments below!
Shannon Kennedy
My name is Shannon Kennedy and I'm the language lover, traveler, and foodie behind Eurolinguiste. I'm also the Resident Polyglot at Drops and the Head Coach of the Fluent in 3 Months Challenge.