How to Learn a Language Through Food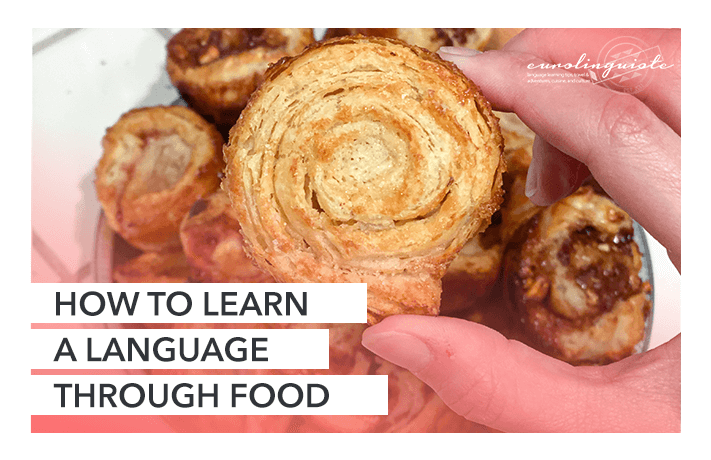 I love food.
I love making it, eating it, discovering it, and just about everything about it.
And as I learn new languages, one of the first things I start talking about is, you guessed it, food.
During lessons, I've done everything from describe a restaurant outing to cook with my tutors. And almost every lesson, food comes up.
Food just might be one of my love languages.
Learning a Language with Food
One of the best ways to learn a new language is through your passions, and by making food a part of my language learning process, that's exactly what I'm doing.
Food, whether your love it or feel pretty meh about it, is an important thing. You don't have to be a foodie to eat. In fact, eating is just something you need to do.
And food comes up in a lot of conversations:
Food planning: what you plan to eat, what you plan to cook, what you need to get from the store or order in.
Asking someone how they are: a common question in many cultures is "did you eat?" – it's actually how someone asks how you're doing in many languages!
Food experience: a story about a restaurant you went, a dish you tried, a dish you made.
Food routine: when you eat, what you eat, and how you prepare it.
Food identity: are you a vegetarian? Doing keto? Vegan? Pescatarian? Intermittent faster?
Food safety: do you have food allergies? Intolerances? Are you gluten free?
Food preferences: can't stand spicy? Not that into sweets? Hate eggplant?
There are lots of ways you can talk about food, and that you'll end up talking about, whether it's an important or significant part of your life or just your routine.
How to Get Started Using Food to Learn a Language
Here are three steps to making food a part of your language learning routine:
Step One: Learn Some of the Basic Food Vocabulary
The first thing you'll want to do is decide how food fits into your life. Figure out what things are important to you to share and go from there.
Here are a few things you can learn to get started:
Learn the names of a few of your favorite foods in your new language
Learn the names of dishes from the culture tied to your language you'd like to try
Learn to discuss your routine: when and what you eat regularly
Learn your food identity
Learn to discuss any food safety preferences, allergy or intolerances you have
Learn the names of a few foods you don't like
Learn how to describe the kinds of tastes you like: savory, crunchy, sweet, etc.
Here's my sample script:
I love most foods, but my favorites are probably cheese, sushi, and barbecue. I'd love to try plov, shashlik, and blini with caviar. I typically don't eat breakfast, but I have a cup of coffee. I usually eat two meals a day. I'm a total foodie, so I'll eat pretty much anything and everything. I don't have any food allergies or intolerances. There isn't really anything I don't like, except chocolate though I can eat it if it's a small part of another dish. I prefer savory foods.
Step Two: Learn How to Order Food at a Restaurant
Once you've got a handle of the basics, you can go to the next step and learn how to order from a restaurant. You can practice this with an exchange partner, call in an order to a local restaurant, or even do it in person.
Here's how to prepare:
Pick a restaurant in advance, visit their website and take a look at the menu (you can do this step whether you're pretending to order or really ordering)
Brainstorm a list of phrases restaurant staff usually use you when visiting a restaurant or calling in an order (how many people are in your party, if you'd like to sit inside or outside, what you'd like to drink, what you'd like to order, what sides you'd like, etc.)
Translate that list of phrases into your language and then start to work out your answers in the language as well
Pick out something from the menu you'd like to order and learn to ask for it, making any modifications or preference requests
Practice making your order
Step Three: Try Your Hand Cooking in the Language
Recently, as a part of Language Conqueror, I tried my hand at making a Hungarian dish—in Hungarian!
It turned out really well and was a fun experience.
In fact, it's something I've done in the past in Russian and Chinese. My Chinese tutor and I often cook together, describing the ingredients and steps in the language.
Here's how you can get started:
Find a recipe in your target language by learning the name of a dish and how to say "recipe" in the language, then do a Google (or Youtube search)
Translate the recipe into your native language so you can get familiar with it and understand what's asked
Convert any ingredient measurements needed (for example, Hungarian recipes use kg while American use cups or lbs)
Review the lesson in the language (I went over the Hungarian recipe with my tutor in Hungarian and as we did so, she made suggestions to improve the recipe based on her experience)
Try your hand at making the recipe
And That's It!
For now at least, there are lots more ways you can make food a part of your language learning journey. Is there anything you do that I missed? Share it with me in the comments!
And if you'd like to take learning with food further, you can join us this month in Language Conqueror.
I'm hosting this month and it's all about food. You get:
A video lesson introducing the Quest
Daily prompts to guide you along the Quest each day
A workbook with all the exercises and instructions you need to complete the Quest
A video demonstrating the Quest in action from one of our hosts (or special guests)
Trade secrets from Shannon and Caitlin: these are tricks you can use to succeed at your Quest
A Side-Quest: an action you can take to help you gain the confidence you need to complete your Quest
Access to the Quest community so you can collaborate with other learners, share what you're working on, and get support
Your Quest: the final assignment you complete to put everything you learned over the month into practice
We hope to see you in this month's Quest!
And if you'd like to follow along on my foodie adventures, I share them here.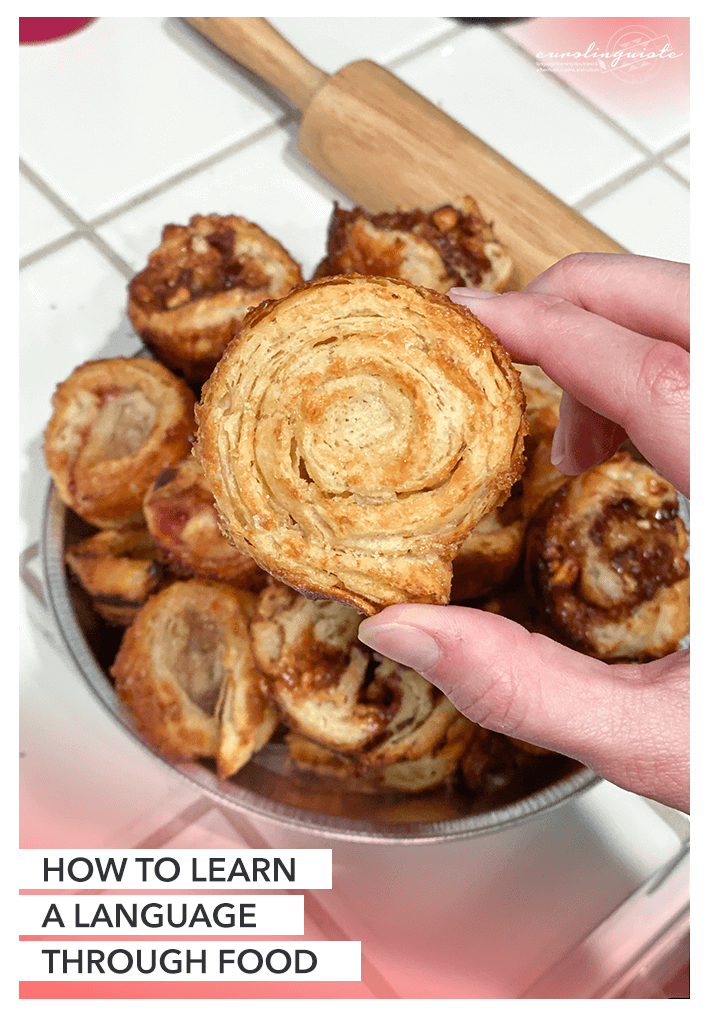 Shannon Kennedy
My name is Shannon Kennedy and I'm the language lover, traveler, and foodie behind Eurolinguiste. I'm also the Resident Polyglot at Drops and the Head Coach of the Fluent in 3 Months Challenge.