31 Holiday Gift Ideas for Language Learners & Travel Lovers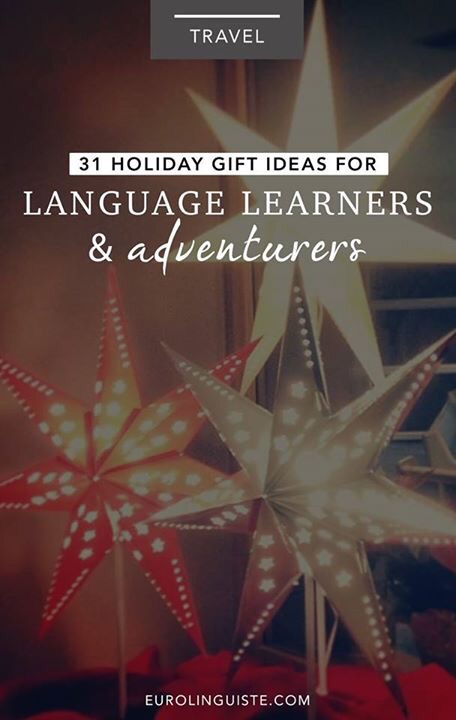 The holiday season is upon us!
Have you finished your holiday shopping already? I sure haven't, but I'm getting pretty close. Finding the perfect gift is (almost) never easy!
If you have a few travel lovers, adventurers or language learners who you still need to shop for, here are a few items that I absolutely love (and a few of them may be on my holiday wish list too).
Language Learning & Travel Gifts Under $10
A Notebook // You can't go wrong with a simple, travel-sized notebook so that you can document either your language notes or travel experiences. These particular notebooks from TOPS are my favorite and I bring them with me everywhere. >> Learn more here.
Lonely Planet Phrasebook // The Lonely Planet phrasebooks are one of my favorite phrasebooks – I have them for nearly every language that I speak (and even some that I don't). They're the perfect size and a great gift for someone interested in travel or language learning. >> Learn more here.
Culture Smart // These are one of the first things that I buy whenever I travel to a new country or take on a new language and I love the bite-sized introduction they give to the cultures of different countries. >> Learn more here.
Assimil Phrasebooks // Based on conversation topics, Assimil offers a great series of phrasebooks. There are a few items available for English speakers, but if you have a friend who speaks French, there are an impressive number of phrasebooks available. >> Learn more here.
Tuttle Instant Series // These are another of my favorite phrasebooks, but they're only available for Asian languages. >> Learn more here.
Library Book Cards // These are fun cards to give you language learning friends so that they can use them to either take notes, or to create their own library system for when they loan out their language learning resources. Or just for a bit of nostalgia. >> Learn more here.
Flashsticks // These fun sticky note flashcards are a great gift to give your friends to help inspire them to learn a language. >> Learn more here.
Language Learning & Travel Gifts Under $25
iTalki Credits // Nothing says "you're awesome" to your language learning friend more than the gift of language lessons. Get your friend a gift card from iTalki and you'll have a very happy friend this holiday season. >> Learn more here.
A One-Month Basic Subscription to FluentU // FluentU is one of my favorite online language learning resources because it uses native language content to teach languages. I've learned so many useful expressions and words studying with FluentU. >> Learn more here.
An Amazon Gift Card // Let your friend choose what they want by buying them an Amazon gift card this holiday season. Amazon has some of the best prices and product choice for both your language learning and traveler friends. >> Learn more here.
Travel Stub Diary // So that you travel-loving friend can keep a scrapbook of all of their travel memorabilia like plane ticks, photos brochures, and other travel keepsakes. >> Learn more here.
T2Teas // Keep your language learning or traveling friend fueled with some of these delicious, flavored teas from T2Teas. >> Learn more here.
Airport Themed Goodies // Like this CDG pillow. Airport Tag has a ton of great products for the traveler including pillows, tote bags, phone cases, t-shirts and more. >> Learn more here.
Vintage Map Coasters // If you're crafty, you can make your friend these DIY Vintage Map Coasters. >> Learn more here.
Language Learning & Travel Gifts Under $50
A Travel Related Subscription Box // Take them on a journey without the need for leaving home with a travel subscription box. Some of my favorites have been Hole in Wall, Try the World, and Bon Appetit Box.
Cabeau Evolution Pillow // This travel pillow has been the only thing that has enabled me to sleep on planes. For some 20 some odd years I always failed at sleeping soundly on planes, but there's something about this pillow that helps me sleep. >> Learn more here.
Pimsleur Conversational // If your friend is always on the go, what better gift is there to get them than a language learning resource that they can easily take with them? Pimsleur is one of my favorite audio language learning tools and you can get your friend started with the Conversational series. >> Learn more here.
The Scratch Travel Journal // This journal is a travel planner, a checklist, a diary, and an interactive map. It's the perfect gift for your travel friends to help them keep track of their adventures. >> Learn more here.
A Pen & Paper Subscription Box // These subscription boxes feature 3-4 handpicked paper related items so that your language learning friends can take notes using these curated products. The items in the box can include notebooks, notepads, pouches, pens, pencils, erasers, sticks, greeting cards, and more. >> Learn more here.
Foreign Language Blocks // Because we're all still kids at heart. These alphabet blocks come in French, Italian, Spanish, and Chinese (even though Chinese doesn't use an alphabet). >> Learn more here.
Map Pillows // These pillows are a fun way to bring the places you've been home with you. >> Learn more here.
Language Learning & Travel Gifts Under $100
Assimil Coursebook // Assimil is my favorite course book because of the audio and written material available. Once again, the majority of their products are available to French speakers, but there are quite a few books for English speakers as well. >> Learn more here.
A Coffee Subscription // If your friend prefers coffee to tea, you can always get them a coffee subscription that offers personalized, curated subscription boxes like this one from Mistobox or this one from Drift Away Coffee.
Conversation Countdown // Benny Lewis has a great course out that helps you get started with a language as a part of a week-long challenge. >> Learn more here.
Vintage Postmark Necklace // Okay, I know this one is more for your female travel friends & language learners, but I thought these vintage postmark necklaces were too gorgeous. I only wish they had more places available! >> Learn more here.
$100 + Language Learning & Travel Gifts
A GoPro Hero4 // These handy, portable cameras are a great way for your friend to document their adventures. A little pricey compared to some of the other items on the list, but a great gift. >> Learn more here.
Tinggly // Give the gift of a travel experience. >> Learn more here.
Cork Globe // A fun alternative to using a wall map to pin the places one's been. >> Learn more here.
Personalized Wall Maps // But if you prefer to go with the more traditional wall map, a personalized one can be a nice touch. >> Learn more here.
And of course, you'll probably earn tons of bonus points if their gifts come wrapped in boxes like this.
What about you? What's on your holiday wish list? I'd love to hear about it in the comments below!
Shannon Kennedy
My name is Shannon Kennedy and I'm the language lover, traveler, and foodie behind Eurolinguiste. I'm also the Resident Polyglot at Drops and the Head Coach of the Fluent in 3 Months Challenge.