A Review of iTalki | Top 8 Language Learning Resources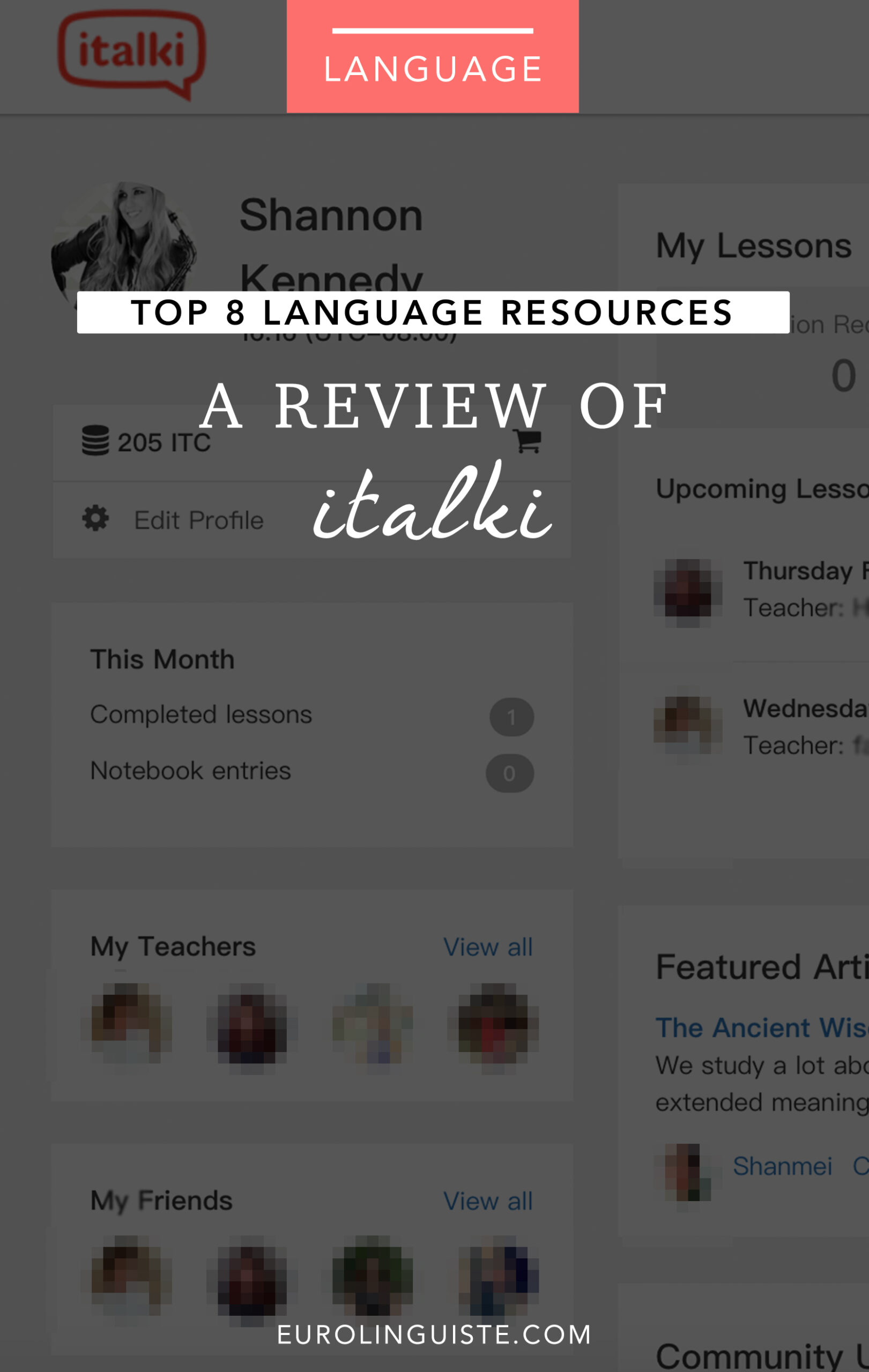 A while back, I mentioned my Top 8 Language Learning Resources, and iTalki is one of the eight on that list. And while I already discussed how I use iTalki in that post, albeit briefly, I want to highlight some of its features and benefits in a dedicated post as well.
About iTalki
iTalki is an online tutoring hub that boasts over a million students and more than a thousand teachers as of writing. It was built to connect language students and tutors around the world, bringing a more personal and human element to those learning a language outside of the classroom (and even as a supplement to those in class).
Through iTalki, students can connect with language exchange partners, informal tutors or professional tutors, providing them with a range of choices to fit both their budget and language learning needs.
The difference between informal tutors and professional tutors are, that in order to gain professional status, a tutor must have certain teaching qualifications and credentials whereas anyone can become an informal tutor. Professional tutors tend to be a little more expensive than informal tutors, because of their credentials and experience as educators, but you can also find some really motivated and excellent informal tutors if the professional tutors are a little out of your price range.
In addition to lessons, iTalki also offers a messaging tool, language specific blogs with tips for learning various languages, notebooks that you can use to get feedback on your writing, a question forum, and regular challenges.
iTalki has recently undergone a site redesign and their new interface is much cleaner and far easier to navigate. The community features are a little bit more visible on the new site and everything is just a little bit simpler to use.
My Personal Experience on iTalki
I have used iTalki to connect with tutors and language exchange partners for just over a year. I have studied with Croatian teachers (from Serbia and Bosnia, but never Croatia), Russian tutors (from both the Ukraine and Russia) and Mandarin tutors (from China, Mongolia, France and even Canada).
I have had both excellent and mediocre experiences with tutors on iTalki, but that's inevitable with any teacher-student experience. For example, some are much more aggressive about getting you to schedule multiple lessons than others while others are not, some are flexible and cater to your learning style while others insist on you following their routine. But with the number of teachers available, you'll almost always find someone that you click with for nearly any language.
My personal experiences with teachers that didn't work out for me were not necessarily because they were bad teachers. In fact, they were great teachers, it was only that their style didn't work for me.
I've also found that some of the teachers who charge a bit more on iTalki are the ones who are more likely to prepare for your lessons outside of your scheduled time. When you're paying $5-8 for a session, you're not going to get much more than conversation practice out of them, but if that's your thing go for it! If you're looking for something a little more structured, I really recommend checking out the reviews for different teachers to read about the experiences of former/current students. I personally like working with tutors who bring materials to lessons that align with my learning goals and so I tend to choose teachers who do a least a little bit of lesson preparation outside of our meetings.
Things That I Like About iTalki
The number of languages offered through their site // There are tutors available for an incredible number of languages on iTalki. I personally have studied with Croatian, Russian, and Mandarin tutors and I'll definitely head over to iTalki to find a Korean tutor when I'm ready.
The ease of scheduling lessons with tutors // iTalki tutors share their calendar of availability on iTalki so when you purchase lessons with them, you can schedule your lesson right away. There's no back and forth and it really makes the booking process easy. If something happens and either you or your tutor are unable to make a lesson, iTalki also allows you to dispute the completion of the lesson if necessary. Rescheduling is also a breeze – as long as you do it more than 24 hours in advance of the lesson. Plus, it all adjusts to your time zone so that you don't have to do any math when picking your lesson time.
The ability to connect with native speakers around the world // With iTalki you're no longer stuck with whatever tutors are available in your immediate area (and thus whatever languages they teach). You're not even stuck with a tutor as your only option if you prefer casual conversations with fellow language learners. As long as you're able to find a convenient time around the time difference between you and your exchange partner, you can quite literally chat with people from anywhere in the world (with an Internet connection).
Lessons can be anywhere from 30-90 minutes (or longer if needed) // Tutors on iTalki offer a nice range of lesson lengths so that you can schedule something that works for not only your learning needs but your attention span and schedule. I, personally, find that when I'm at certain stages in a language, a 30 minute lesson suffices because if I push it any longer than that, my brain feels a bit fried and I don't retain any of the information towards the end of the lesson. In the same breath, I also enjoy longer lessons with tutors when I'm at a more advanced stage because I'm capable of going over so much more.
The affordable price // iTalki lessons are really quite affordable. You can study with an informal tutor and even some professional tutors for around $10-12 USD per hour. There are, of course, tutors that are even less than that and tutors that are more, but overall, teachers on iTalki have really competitive rates.
Things That I Think Could Be Better
The number of messages that I get from other language learners per day can be pretty overwhelming // Enough said.
The fees involved in purchasing credits // There are a variety of ways that you can purchase credits on iTalki and the fees vary depending on the payment you choose. I often opt to pay via credit card, but my card likes to decline the charges since the company is based in China and that is sometimes a hassle. My only other option (based on what they allow and what I own) is to pay via Paypal and the fees are higher which I'm not a fan of. I also don't particularly like that I have to purchase credits because you'll almost always have a left over balance.
The process of finding a tutor who is a good fit // While iTalki aims to ease this process with introduction videos from the tutors, I've found that I still have to take trial lessons with anywhere from 3-6 tutors to find one who's personality and teaching style fit my preferences. When studying multiple languages, this quickly eats up your permitted trial sessions and sometimes an hour long lesson with a tutor who isn't a right fit is a drag.
The low price // While the low cost of iTalki tutors is really great for students, one could argue that it's not so great for teachers. For tutors who live in areas where the cost of living is relatively high, it can be difficult for them to be competitive price-wise.
Tips for Using iTalking
Don't settle on the first teacher you connect with // Try out at least three tutors before choosing the one you'll study with, if not for making the effort to find the best fit, than at least for the experience of studying with different people.
Take advantage of the free tools available on iTalki // Subscribe to the blog related to your target language, use the notebook tool to get corrections, and connect with language exchange partners.
Help others with their language learning efforts // If you use the notebook tool, be sure to pay it forward and correct others' work. Those active on iTalki are also trying to learn languages and they deserve help and encouragement just as much as you do!
Conclusion
iTalki is a wonderful tool for those learning a language on your own. A little guidance and feedback from a tutor (that's a good fit for you) can go a long way. When i first started using iTalki just over a year ago, I immediately noticed a huge difference in my growth in the languages that I studied. The direction a tutor can give you really can have an impact on your learning. You can click here to visit the iTalki website, sign up for an account or just read about a few more of their features.
What about you? Have you taken lessons on iTalki? What was your experience? I'd love for you to leave me a note about it in the comments!
Shannon Kennedy
My name is Shannon Kennedy and I'm the language lover, traveler, and foodie behind Eurolinguiste. I'm also the Resident Polyglot at Drops and the Head Coach of the Fluent in 3 Months Challenge.