A REVIEW OF LANGUAGE ROUTINE MASTERY FROM KRIS BROHOLM OF ACTUAL FLUENCY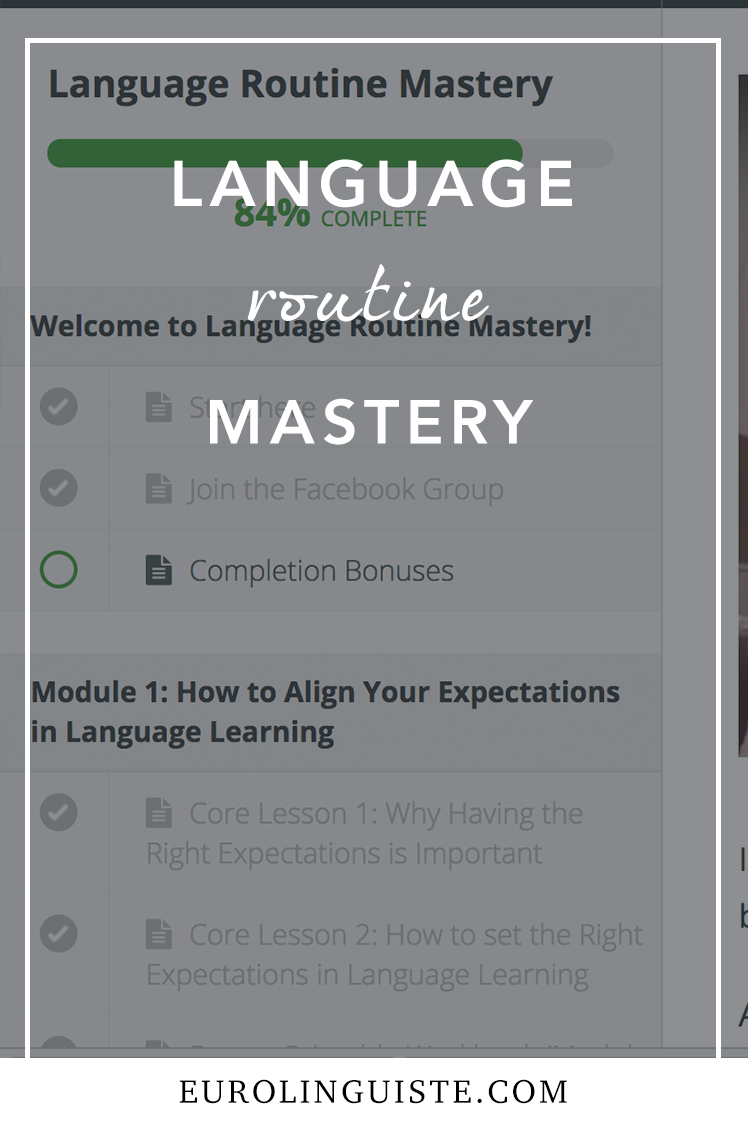 One of the best language learning podcasts out there is run by Kris Broholm. It's called the Actual Fluency Podcast and as a part of it, Kris interviews language learners from across the globe on their strategies and thoughts on picking up up new languages.
Kris recently released his first language course, Language Routine Mastery, and if you struggle with motivation in your language learning, it's one of the best investments you can make.
The course includes six modules and several bonuses, all of which support you building language learning habits. There are also workbooks and a Facebook group and there's just so much that's covered.
Language Routine Mastery's Presentation
I love the way that Kris presents his lessons – it's part of the reason that I enjoy his podcast so much – and this carries over to the course. Each lesson is a combination of video and text, and Kris is incredibly thorough. The two have some overlap, so if you wanted, you could just watch the videos or just read the text, but you get quite a bit extra by working through both.
He walks you through setting goals, setting up systems and routines for success, but most importantly, teaches you how to deal with the obstacles that may stand in your way of successful language learning – plateaus, stagnation, low motivation and even depression.
The course has a great community in both the comments sections for each lesson as well as the Facebook group and Kris is fantastic at encouraging his course members to be consistent in their studies with regular themes, posts and tips. In all honesty, I haven't been as active as I could have been in either, but it has been inspiring to see the other members interact. It definitely keeps you from feeling alone as you approach obstacles in your learning.
My Critique
The course was originally called Language Motivation Mastery, but the name has since been changed to Language Routine Mastery. In my personal opinion, having worked through the course, the content certainly focuses more on motivation – how to get you through those rough patches and prepare yourself before heading into them. The course does include modules that might be classified as routine building, but I think where it really shines is in it's "pep talk" feel where Kris builds you up because he's been there, too.
Conclusion
What makes Language Routine Mastery stand out most, is the mindset with which the course material is approached and delivered. It can often seem like the same advice is being echoed around the language learning community, but this isn't the case with Language Routine Mastery. The tips you get are delivered with a completely different framework and the course is all the stronger for it.
For anyone looking for a bit of encouragement or advice on sticking with their language learning, I highly recommend Kris's course.
Shannon Kennedy
My name is Shannon Kennedy and I'm the language lover, traveler, and foodie behind Eurolinguiste. I'm also the Resident Polyglot at Drops and the Head Coach of the Fluent in 3 Months Challenge.