A Review of Eggbun | A Korean Language Learning App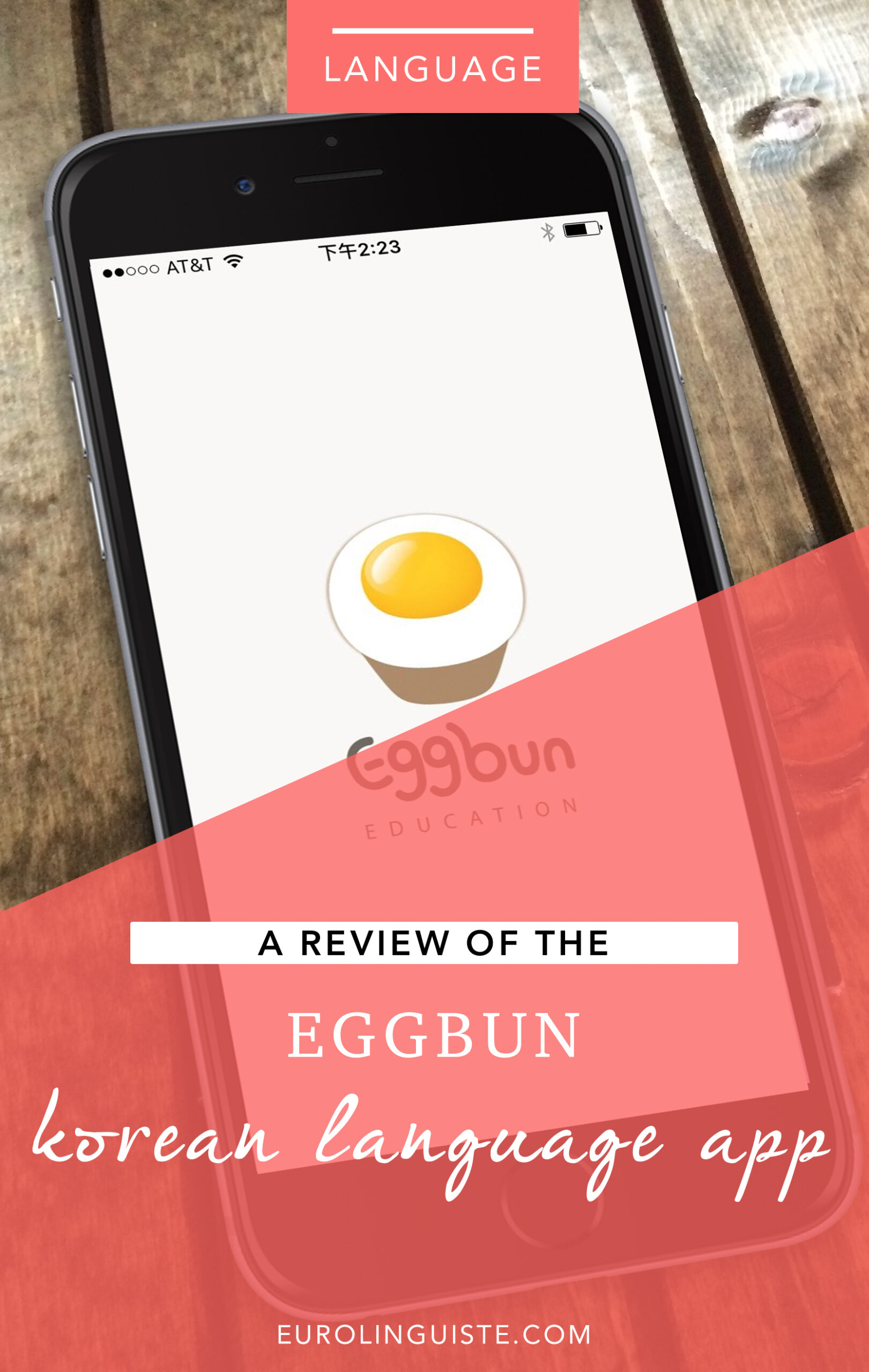 These past few months I've hosted the Korean Language Challenge along with Lindsay Dow of Lindsay Does Languages, and it has been a wonderful language learning experience. It was the first time I've learnt another language with someone else, and it really did wonders for my motivation. Partnering up with another learner is definitely something that I'll consider doing again in the future.
But alas, new projects come up, so Lindsay is moving on to other commitments. And since she is embarking upon other language learning endeavors in the coming months, I found myself faced with a very critical decision.
Would I continue learning Korean on my own or start something different?
Oddly enough, the timing on this decision came about the same time I finally started to really enjoy learning Korean.
Wait… What?
Yes, yes. I know. I don't advocate learning a language that you're not in love with. And I'll admit it. While it was fun learning a language with Lindsay, Korean was a bit of a struggle for me. I can't honestly say that I've been in love with learning Korean these past few months. And really, it was the accountability kept me going more than a passion for learning the language.
But around the time Lindsay and I decided to tackle other projects, something happened. All those random little bits of Korean I'd learnt started to click and ignited a renewed interest in the language for me.
How could I possibly give it up just as I started to enjoy it?
So I decided to continue on with Korean and started to look for new resources in order to feed my suddenly quickened consumption of learning materials.
And in my search, I stumbled across my new favorite Korean language learning tool – Eggbun.
My Experience Using Eggbun
Aside from Memrise, Duolingo, and HelloTalk, I don't regularly use a lot of language learning apps on my phone (I tend to use browser based apps more often). Because of this, I don't often browse the App Store for new apps often.
Recently, however, the need to do so for Korean suddenly struck me, and in my search for Korean language apps, I discovered Eggbun.
After downloading the app, I opened it up to test it out and immediately became addicted. Since, I've used it every single day to refresh my knowledge of the alphabet, learn new words and practice typing in the language.
Eggbun uses a beautifully designed interface and cute character named Lanny to "chat" with you and teach you the Korean language. The lessons begin with an overview of the alphabet before moving into lessons on borrowed words, numbers, pronunciation, classroom vocabulary, greetings, self-introductions, markers, conjugation, real life conversations and travel. Each of the lessons has several levels and quizzes to guide you along as well as audio and word lists.
They offer learning for those who speak English, French, Japanese or Spanish.
Things That I Like About the Eggbun Korean Language Learning App
Teaches you Korean in a conversational manner // Rather than forcing you to read long, complicated explanations (like some textbooks), Eggbun teaches you Korean in a conversational manner. You quite literally "chat" with Lanny, the cute little character that guides you along, to learn the Korean language.
Eggbun has audio in addition to text // The app offers audio recordings for each of the words and phrases used. This is particularly helpful when it comes to the pronunciation lessons, especially since it can seem like Korean has so many exceptions! Plus, it's recorded by a real person!
It taught me how to type in Korean // I had no idea how to go about typing in Korean, and so, I avoided it until now. The app requires you to download the Korean keyboard, forcing me to give up any excuses I had when it came to learning how to type. I can now proudly say that I am quite proficient at typing in Korean and it's thanks to Eggbun.
The focus is conversation // Everything about Eggbun is conversation focused – both the vocabulary and phrases that are included as a part of the lessons AND the style of teaching employed by the app. It's perfect for getting you comfortable with that aspect of language learning.
They have a culture section // The Eggbun app has a culture cards section where they introduce you to different aspects of Korean culture with adorable illustrations. I'm a huge fan of learning about the cultures that are tied to the languages that I'm studying, so this is a huge plus for me.
The Eggbun team // The Eggbun team really focuses on bringing its users the best learning experience. They seriously take user feedback into consideration and often actively work with users through their Facebook page on improving and adding new features. I love their dedication to improving the app based on their learners' experiences.
Things That I Think Could Be Better
I wish that Eggbun penalized you for mistakes // Whenever you make a mistake, Lanny asks you to try again. There really aren't any penalties for getting questions wrong (like losing points or being shown a review screen). This also encourages guessing, so rather than really taking the time to learn the material, you can just keep hitting buttons until you get the right answer (more so for the alphabet lessons than for any of the vocabulary based lessons).
More culture cards! // I love the culture card section and I'd love to see it expanded.
Has culture cards as well
Conclusion
Eggbun is free to download, but there are certain features and lessons within the app that are not available without upgrading to a premium account. The free content is great to give you a taste of what the full app has to offer, but it's really with the premium account that Eggbun shines (and no, the links in this post are not affiliate links, I just honestly love this app). An auto-renewable monthly subscription is $5.99 and a yearly subscription is $28.99 (both give you access to all existing and future content).
I have to say that Eggbun has played a big part in keeping me interested and engaged with my Korean language learning. I have truly enjoyed my experience using the app and working through the lessons, especially since the majority of the vocabulary and phrases have been relevant for me personally (particularly because my goal is conversational fluency). I really look forward to future additions and improvements to the app. As long as I don't finish working through the content too quickly (I do use it an awful lot), it's definitely something that will be a regular part of my Korean study.
Eggbun on Facebook
Download the App on iTunes
Download the App on Google Play
Eggbun Website
What about you?
What language learning apps make your language studies more enjoyable?
I'd love to hear from you in the comments below!
Shannon Kennedy
My name is Shannon Kennedy and I'm the language lover, traveler, and foodie behind Eurolinguiste. I'm also the Resident Polyglot at Drops and the Head Coach of the Fluent in 3 Months Challenge.