HelloTalk Review | A Language Exchange App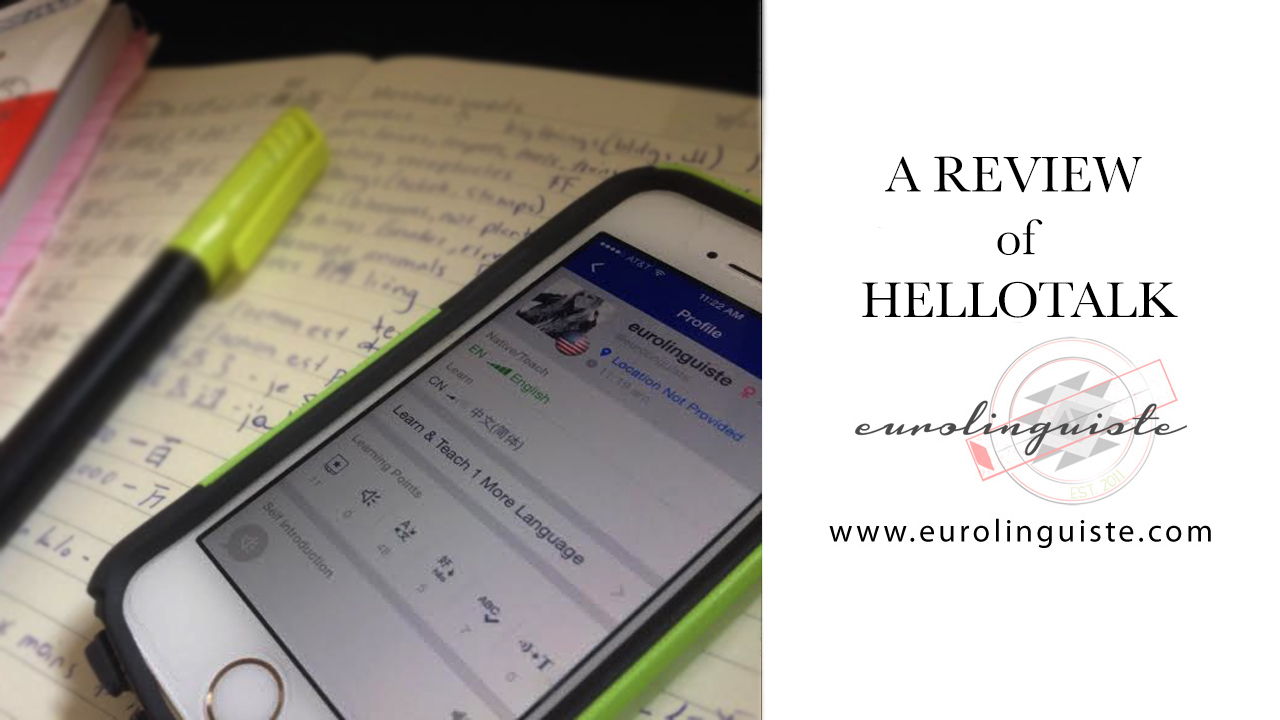 Finding language exchange partners is always a bit of a challenge. Connecting with a serious partner who is willing to work with you to create a fair exchange – and that you enjoy talking to – can become an endless search. Especially when you're searching for someone to get together with regularly.
This only becomes more difficult when you're working across drastically different time zones and you either have to stay up late or wake up early to find a time that works for you and your partner to talk.
So when I discovered there was another option, I was thrilled.
Rather than having to set a specific language exchange meeting with one specific person, I discovered that there's an app that I can login to, respond to conversations, chat briefly with anyone who speaks my target language and who happens to be awake, and then go about my day without the stress of being prepared for an entire hour worth of conversation. And that doesn't even begin to get into the amazing features that the app offers.
Meet HelloTalk
The app that I'm referring to is HelloTalk. I recently started using HelloTalk after they contacted me and asked me if I would be interested in reviewing their app.
I'm always interested in trying out new language learning tools and so I decided to give it a try. I was pleasantly surprised by several of HelloTalk's features, and so, I wanted to share my thoughts with you.
About HelloTalk
HelloTalk is a language exchange social networking app that allows you to connect with language exchange partners in over 100 different languages.
It is available for both the iPhone and Android with both paid and free options. One month is $0.99, three months is $2.99, and one year is $8.99. The pro options give you unlimited translation, transliteration and transcription. You also can see your chat history and chat with groups with up to 50 members.
Upgrading to get more transliterations and translations is definitely a pretty good incentive. During a conversation I ran out of transliterations and the struggle was real!
Things That I Love
I love that there are so many options when it comes to how you do your exchanges through HelloTalk. The features available are numerous and it makes chatting in your target language a breeze.
There are voice to text options where you can speak into the app and it translates what you would like to say for you. There are text to voice options where you can hear the pronunciation of any messages you save or receive.
There are also transliteration options for languages in a different script (Chinese, Korean, Japanese, Russian, etc.).
Lastly, there are two voice options. For those of you who don't feel quite ready for a full on conversation in your target language, you can instead practice individual sentences or phrases with their audio messaging option. My favorite feature is absolutely this recording option. There isn't the pressure of a full on conversation like Skype or a phone call. You can record one sentence at a time and listen back to one sentence.
They also have a VOIP (voice over IP) option so that you can make calls to your language partners from within the app.
I also love that the app sends you a warning message whenever someone asks of your personal contact information. For younger users this is a really great feature and I'm glad that they've implemented it.
Things That Could Be Better
Partner Requests Can Be Overwhelming in Number
When I first signed up for the app, my account was somewhat overwhelmed with requests. I discovered the filter settings and it has since been better, but I can see that being an issue for some users. I think it would be best if the filter settings were part of the setup when you first start using the app. That way you don't have to try to find them later on when you are completely inundated with partner requests.
There Are Quite a Few Limitations
You are limited to just one language with the free account. Although I can understand that this is done to give users a reason to upgrade their account, there are plenty of other limitations on user accounts that they could let learners select two languages without problem.
The translations and transliterations are limited. I understand why, but it makes me feel as though I have to limit the number of conversations I have, or the length of them. I would prefer they limit requests you can receive/send instead but that could also be a bummer if you get ignored or don't find a good partner. Perhaps you send a query and if it is ignored for 10-15 minutes the credit reverts back to you.
Tips for Using the App
Be Thorough in Your Profile Introduction
Be sure to make note of what you're looking for in a language exchange partner in your profile introduction to help cut down the number of people who send you partner requests.
Use the Audio Feature
Rather than using the app to primarily work on your reading and writing, be sure to take advantage of the audio features.
Will I continue using this app?
In all honesty, I really enjoyed using HelloTalk. I feel as though it has been incredibly helpful in helping me gain confidence conversing in Mandarin. It's really easy to connect with others and practice your target language and I am a huge fan of all the different built in translation and transliteration features. It may not be something that I use on a daily basis, but it will definitely become something that I use on occasion.
Shannon Kennedy
My name is Shannon Kennedy and I'm the language lover, traveler, and foodie behind Eurolinguiste. I'm also the Resident Polyglot at Drops and the Head Coach of the Fluent in 3 Months Challenge.