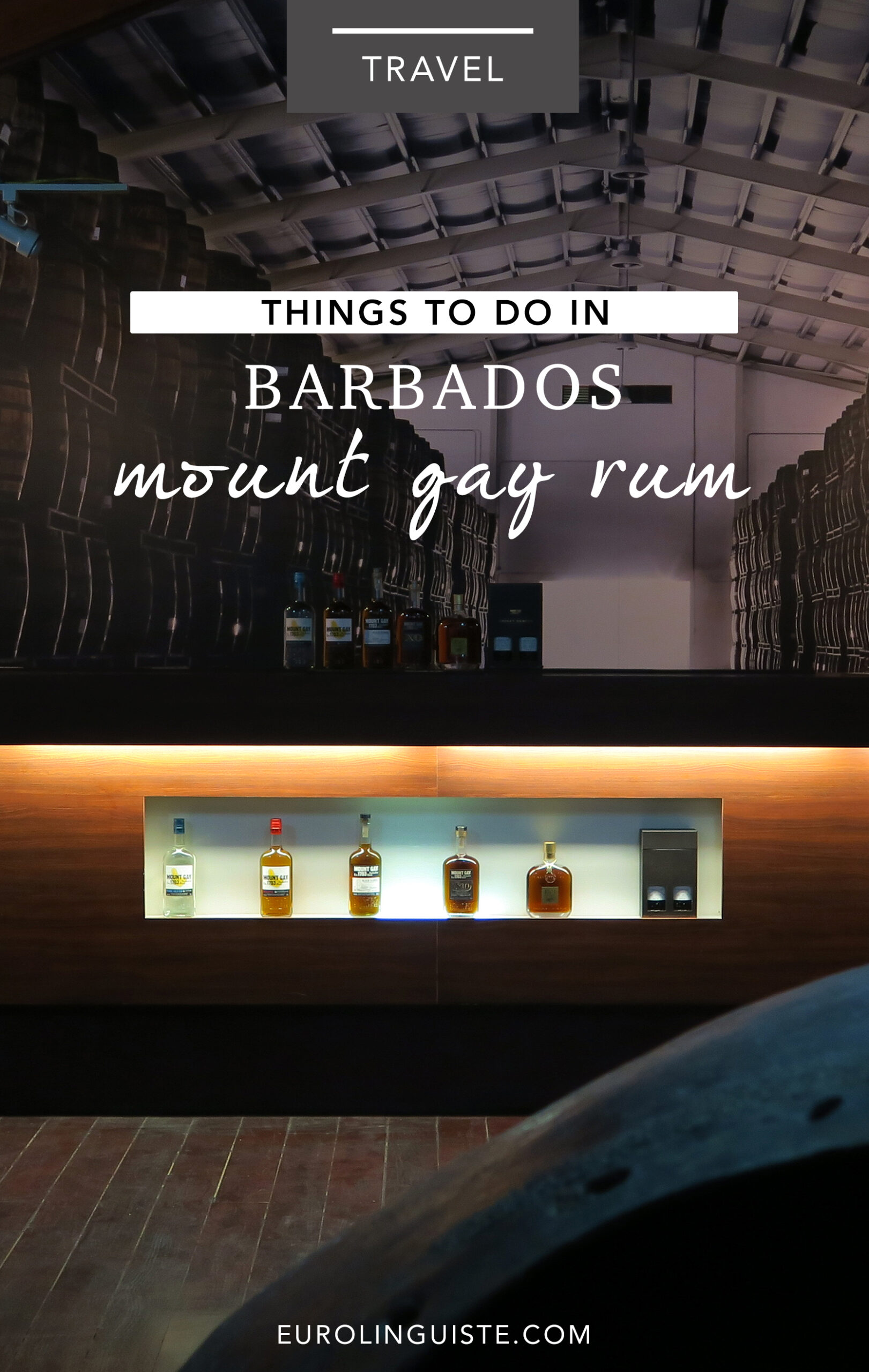 Since leaving Ireland, I've become fascinated with visiting places where you can learn about, see, or experience the process that goes into creating something. It all started when I got the touristy experience in Ireland, taking friends or family down to Guinness or Jameson in Dublin when they visited.
Seeing the history and process that went into creating their beers and whisky fascinated me. As I continued to travel, I made a point to continue to visit places like this, touring the salt mines at Veuve Cliquot in Reims and watching the painters/calligraphers in Beijing.
On our cruise through the Caribbean, I knew that M and I just had to check out Mount Gay Rum in Barbados. And it was an incredible tour.
The Mount Gay Rum premium rum tasting tour starts with a small cup of rum punch, and a quick introduction in a small room that also serves as their "museum". Our tour guide was engaging, hilarious and incredibly knowledgeable and he made the experience very entertaining and informative.
After the brief welcome, we were taken into a small theater where we watched a short video about the history of rum in general, as well as that of Mount Gay Rum.
After the short film, you're taken to the tasting room where your guide explains the different rums available and you're given a taste of 3-4 of them: the Pure Silver, the Eclipse, and the Black Barrel (and if your guide is feeling generous, the XO).
Our guide explained the tasting process and spoke a little on each rum before we tasted and it was interesting to compare notes with the other members of the group.
You're then taken to the production hall where you can see how the rum is packaged and prepared for shipping before wrapping up at the bar where you can order a rum based drink (for an additional charge) and then peruse the gift shop.
It was fascinating learning about the history of Mount Gay Rum, said to be the oldest rum producer in the world and of the discovery that the byproduct of sugarcane could be made into rum.
In addition to the premium rum tasting tour, Mount Gay Rum also offers:
A Lunch Tour // This includes the signature tour and then lunch on their deck
Cocktail Tour // Where you're taught to make your own rum-based cocktails
Rum Pairing Tour // Your rum tasting is paired with small plates
Signature Tour // It isn't clear on the website, but it seems this does not include a tasting as children are allowed to attend.
Mount Gay Rum is named for Sir John Gay Alleyne, 1st Baronet of Four Hill who ran the facilities for his friend John Sober (ironic, I know) starting in 1747. Sir Alleyne was not only a great company leader, but he was also a philanthropist and was active in speaking out against slavery.
After the tour, M had to rush back to the ship to meet someone, so I decided to explore the island a bit and stumbled across a lovely local stand where they served fresh fish and drinks. I asked the waitress to surprise me with one of the catches of the day and a local drink that wasn't rum punch and she didn't disappoint. Plus the restaurant had free wifi, and if you've ever been on a cruise, you know that's a HUGE plus. So obviously, I Facetimed my mom to show her the view of the beach, my food and to make her jealous. 😉 Just kidding (kind of). I called her to check in and see how things were at home.
Mount Gay Rum
Barbados
Hours
Monday to Friday
9:30am – 2:30pm
What about you?
What are some of the things that you love to learn about or experience whenever you're traveling?
I'd love to hear from you in the comments below!
Shannon Kennedy
My name is Shannon Kennedy and I'm the language lover, traveler, and foodie behind Eurolinguiste. I'm also the Resident Polyglot at Drops and the Head Coach of the Fluent in 3 Months Challenge.