A Tasting & Tour of Veuve Cliquot in Reims, France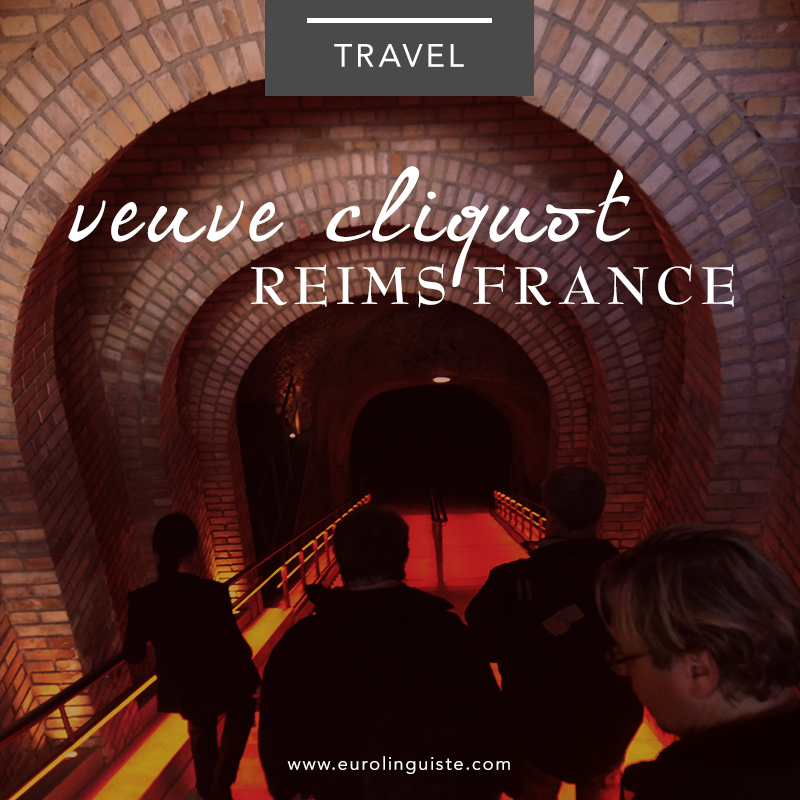 When one thinks of France, one of the images that often comes to mind – along with Paris, the Eiffel Tower, and cheese, of course – is that of Champagne.
The historic Champagne region is located in the northeast of France and is best known for – you guessed it – the bubbly, white wine that shares its name with the region. According to EU laws and the laws of most countries, the term "Champagne" is reserved solely for wines that are from this region.
There are a total of five districts that make up this wine producing region, but Reims and Éperney make up the commercial centres of Champagne. It was the former to which we decided to make a day trip, or local adventure, since it was only about an hour drive outside of Paris.
A Brief History of Veuve Cliquot
Founded in 1772 by Philippe Cliquot-Muiron, Cliquot champagnes came into prominence in 1805 when the widow of Cliquot's founder's son, François Cliquot, was left with control of the company. Barbe-Nicole Ponsardin became the first woman to take over a champagne house and she led it to great success.
Les Caves at Veuve Cliquot
Tours of Veuve Cliquot are by reservation only and are 50 euros per person (at the time we went). This includes a historical tour of the facility, a trip down into les caves, and a single tasting at the close of the tour.
A photo posted by Shannon Kennedy (@eurolinguiste) on Dec 4, 2015 at 8:03am PST
The Tour of Veuve Cliquot
The tour of Veuve Clicquot begins with an historic introduction to the company while viewing some of the various documents, bottles, and tools used by the company over its 300+ years of operation. The process of champagne-making is explained in detail and after learning about the 393-hectares of land that make up the vineyards for Veuve Cliquot, you're taken across the street and to the secret door that leads down into the old chalk quarries that have been used as a wine cellar since 1909.
The look into the cellars begins with a long descent down a flight of stairs into a cool, lowly lit chamber filled with racks of champagne bottles covered with dust and finger-drawn messages from previous visitors. You're shown a map of the layout of the quarries and are warned not to stray from the group. There are countless chambers and one can easily get lost!
You're then taken through a variety of rooms where you can see the bottling and preparation process that goes into champagne making at various stages.
Finally, you're guided back to the visitor center where you're served with a chilled glass of Veuve Cliquot champagne and are left to wander the gift shop. It was my first glass of Veuve Cliquot (!) and it was incredible.
A photo posted by Shannon Kennedy (@eurolinguiste) on Jun 19, 2015 at 7:04pm PDT
A Few Fun Facts About Veuve Cliquot
Sabering Champagnes // The tradition of removing the champagne corks with a sword was started when Veuve Cliquot wines were given to soldiers during the Napoleonic era.
The oldest bottle of Veuve Cliquot was found in Scotland // The oldest bottle of Veuve Cliquot champagne was discovered in pristine condition in the Torosay Castle, Isle of Mull, Scotland. It is now on display at the visitor center in Reims.
Veuve Cliquot made a breakthrough in the mass production of wines // When the riddling rack was invented by Cliquot along with winemaster Antoine de Müller, the process of wine making became that much more economic. The riddling rack improved the process of removing sediment from wines.
Hours
Tues – Sat, 9:30 am to 12:30 & 1:30 pm – 5:30 pm
Veuve Cliquot
1 place des droits de l'homme
51 100 Reims, France
Tel: +33 (0) 3.26.89.53.90
Fax: +33 (0) 3.26.89.53.95
[contact-form-7 404 "Not Found"]
Do you have something that you love to photograph? I'd love to hear about it in the comments below!
Shannon Kennedy
My name is Shannon Kennedy and I'm the language lover, traveler, and foodie behind Eurolinguiste. I'm also the Resident Polyglot at Drops and the Head Coach of the Fluent in 3 Months Challenge.