How I Adapted the Goldlist Method to Fit My Vocabulary Study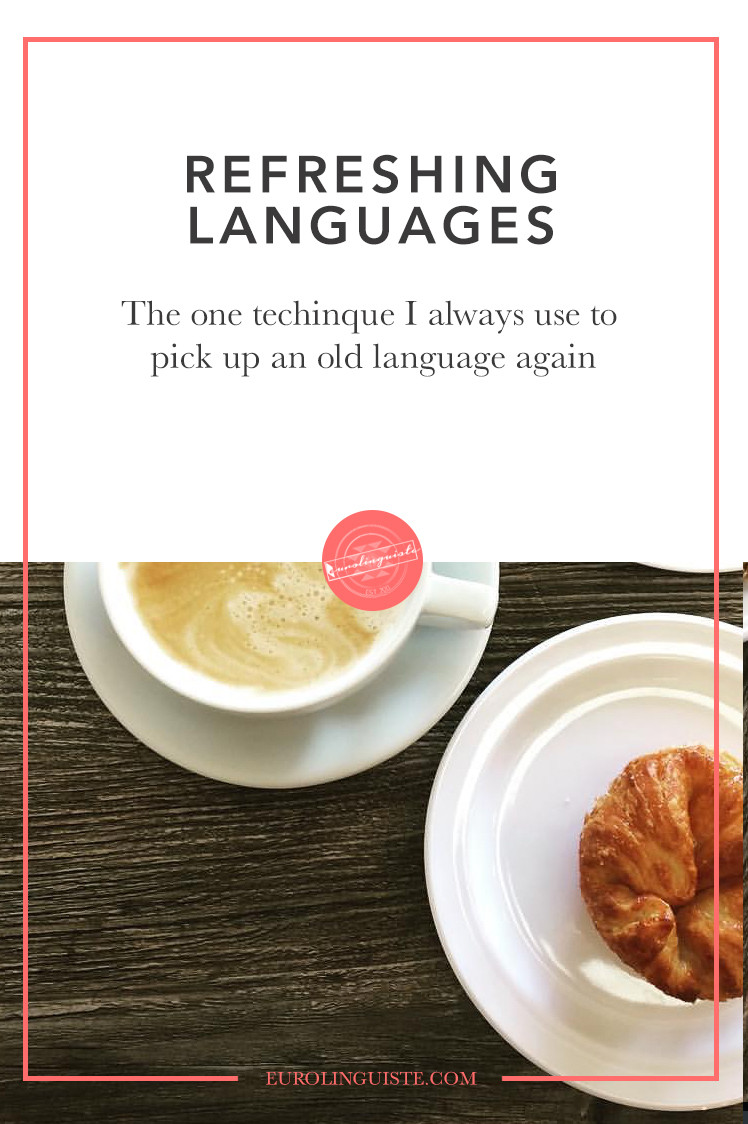 Recently, I wrote that I am restarting both my Croatian and Russian language studies. I earlier shared the exact steps I took to go about my three day Italian language refresh, and while I'll be using some of the same tactics, my strategy will be far less intensive because I do not have a deadline for refreshing either Russian or Croatian.
Whenever I get back into a language after a long break, I do everything I can to keep from starting over. Rather than picking up material and working from square one all over again, I spend the time doing the tactic I am going to share with you today.
The #1 Thing I Do When I Refresh a Language
One of the most important things I'll be doing from the start with both Russian and Croatian is something that I've mentioned in passing on numerous occasions but have never actually taken the time to explain.
Today's the day that I will finally share my method for doing a language refresh in detail.
A while back, I wrote about how I experimented with the Goldlist method and how it wasn't for me. But that wasn't to say that the method wasn't without merit. It works fantastic for a lot of language learners and while as a whole, it wasn't right for me, there was one part of the method that I adapted to suit my routine.
But that's part of what makes building a language learning system so individual and personal. You take the things that work for you and build on them and discard the rest (otherwise you waste valuable study time trying to make things work for you that just don't).
So what about the Goldlist method did I decide to adapt?
The idea of distilling.
Distilling Your Language Notes
I don't go about distilling in exactly the same way outlined in the Goldlist method (you can read about how it works in detail here). Rather, I approach it slightly differently and at two distinct stages.
Let me share what they are and how I do it:
Distilling as a Part of a Language Refresh
The first distillation I do is whenever I pick up a language after a break. So for both Croatian and Russian, this was one of the very first things that I did.
What does this look like?
To start, I grabbed all of my language notes for the languages. These were spread out over lesson printouts, in notebooks and on single sheets (from when I didn't have my notebook on hand). I then started a new notebook (or in this particular case, turned to a new section of my notebook).
Going through all my old notes, I copied down all of the phrases I found useful AND didn't remember. If I remembered how to say something, it didn't go into my notebook. Instead, just the conversational words and phrases I couldn't remember, but knew I'd use went in.
It took me a few days, but I did this for both languages, condensing all of my previous notes down to about 10-20 pages in my notebooks (one for Russian and one for Croatian).
This worked to reactivate both languages for me, gave me the opportunity to review what I had already learned, and re-evaluate what I deemed important in the language. It was a fantastic launching point for me to reinitiate my studies in both languages.
Distilling at the End of a Notebook
The second distillation I do is whenever I completely fill up a notebook.
This may seem like an epic undertaking, and I thought it would be too. That is, until the first time I did it. As I worked through the old material in my filled up notebook, I was surprised just how much I had retained and how much I no longer considered relevant.
My first end of notebook distillation was after I finished filling my 250-page (500 pages if you count back and front) notebook for Chinese. I thought, "geez, I'm going to have to copy over so much". But by the end of my distillation, I only had four pages (front and back) filled in my new notebook.
The majority of what I had jotted down in my old notebook was either 1) something that turned out to be irrelevant or 2) something that stuck with me and I didn't need to note it down anymore.
Why I Love This Method
I love distilling my old notes because it gives me a personal way to review and refresh my languages. I've found it incredibly useful in picking up both Croatian and Russian once more. It's also really helped me consolidate all of my old notes and learning into something more concise and immediately useful.
What about you?
What are some of the methods that you use to pick up a past language or make use of your old notes?
I'd love to hear about it in the comments below!
Shannon Kennedy
My name is Shannon Kennedy and I'm the language lover, traveler, and foodie behind Eurolinguiste. I'm also the Resident Polyglot at Drops and the Head Coach of the Fluent in 3 Months Challenge.