Mandarin HQ Review | Learn Real, Conversational Chinese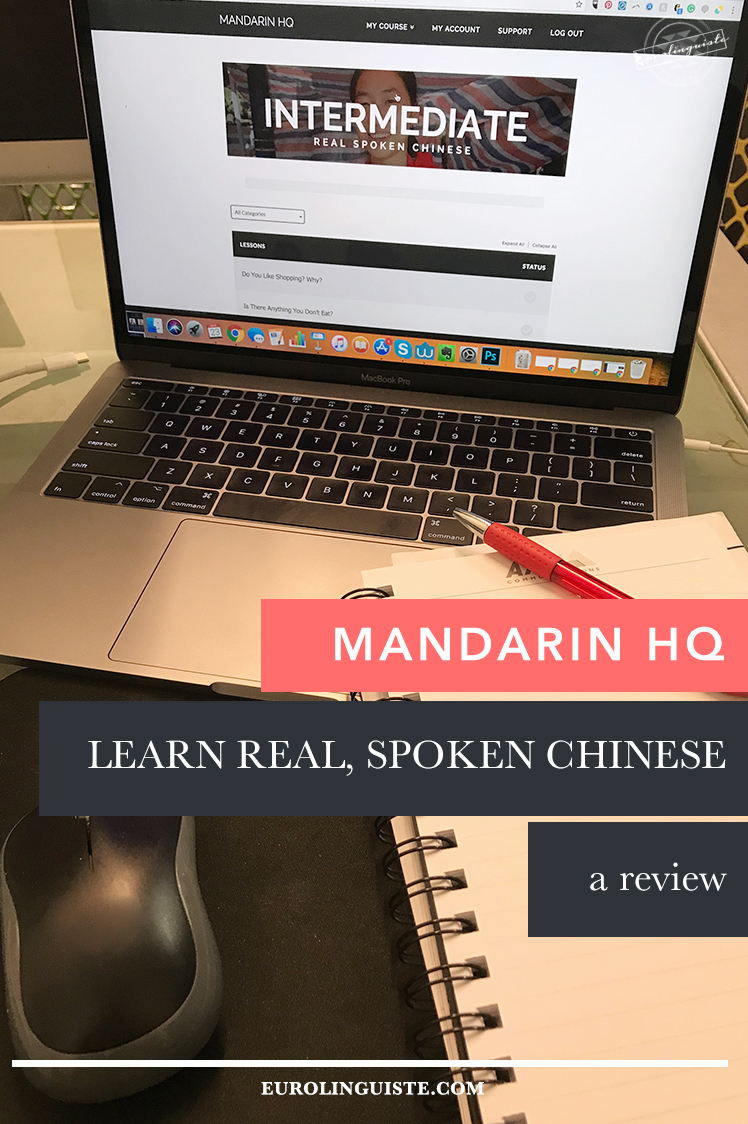 The majority of my intensive Chinese language study was in preparation for the HSK exam. For a year, I focused on test preparation, having to put speaking and learning conversational language on hold until after I sat the exam.
The minute the test was over, I immediately for more colloquial lessons and learning material. After learning textbook Chinese for so long, I was eager to speak the language more naturally.
I began following different Twitter channels and somewhere along the way, I discovered Angel Huang.
Mandarin HQ
Angel Huang is one of the co-founders of Mandarin HQ, a course designed to "help you bridge the gap between textbook Chinese and real spoken Chinese."
The videos range from beginner to elementary to intermediate, and they feature useful phrases and even dialogues with people out on the street in Mandarin. Each level contains more than fifty video lessons on a wide range of topics.
My Experience Using Mandarin HQ
I'd seen Angel free's video courses on YouTube and her website, but I didn't realize how thorough her lessons were until I joined The Vault. And even a year into starting the program, there is still a ton of material for me to get through.
The videos teach you useful expressions in four steps.
Audio
Audio and Chinese subtitles
Audio and English subtitles
Test
You get to spend time with each of the lessons, really getting to know the material in detail so that when you're out in the real world, your confidence using the expressions taught in Mandarin HQ.
In each level, all of the videos are available to you. You don't have to progress through a set path, so you can work through the material in the order that is most suitable for you. That way, you really maximize the time you spend with this resource.
Plus, you can loop any part of the videos with the control panel. So if there's one section you have a hard time understanding, you can focus on it. And, if you struggle with word order or grammar, there is also a section where you can see literal translations. That way you can take steps towards mastering Chinese word order and grammar.
Personally, I didn't work through the lessons in order. Instead, I bounced around selecting those that covered topics that were of personal interest to me. In each lesson, I made sure to do the listening without subtitles and with Chinese subtitles. It was only if I truly felt I needed the help that I completed the third module, the version of the video with English subtitles.
I thought it was well done by Mandarin HQ to have the Mandarin and English subtitles separated. That way, you can focus on comprehension with each. You're less likely to "cheat" when the third step is when you get the English translations. The course certainly does its job in training your listening comprehension.
Things that I Like About Mandarin HQ
The presentation // I really enjoy Angel's teaching style. She does a great job presenting the material and breaking everything down.
The content // There is a wide range of content on Mandarin HQ. Everything from colors to work vocabulary, celebrations to describing appearances, plans to routines. Regardless of why you're learning Mandarin, you'll find lessons to suit your interests within the course. And with more than 150 lessons, you'll get a lot out of Mandarin HQ.
Intermediate material // As an intermediate/advanced Mandarin learner, finding suitable material is tough. Especially great quality audio material. Thankfully, there's plenty of it in Mandarin HQ.
You get to hear many different accents and speakers // Each lesson features several native Chinese speakers, so you get to hear several different genders, accents, and speaking styles. This is really excellent for boosting your listening comprehension.
The quizzes // I love the way that the quizzes are structured. You're asked to listen and select all of the versions of the phrase that you hear. I found that, compared to other listening quiz styles, this is challenging. So in completing the quizzes, I know I'm taking my listening comprehension to the next level.
Things that Could Be Better
More topics // Even though there is a wide variety of topics on Mandarin HQ, I would love to see more video lessons on topics that aren't usually covered by other courses.
An advanced level // Of course, with such great content presented so well, it goes without saying that having an advanced level would be incredible.
Navigation // You need to click and navigate manually more than many of the other course interfaces. I'd love to see some of the next screen navigation happen automatically so that the user doesn't need to scroll and click around as much to figure out where to go next.
The loading is sometimes slow // After each quiz question and to get your quiz results, the loading is sometimes pretty slow.
To Sum Up
Mandarin HQ is a high quality course with useful conversational material presented in an extremely effective format and by a charismatic teacher. Angel Huang has done a wonderful job with this course and I truly benefitted from the time I spent working through it. I definitely look forward to seeing what is in store in the future. In the meantime, I plan to continue to enjoy the lessons within Mandarin HQ and Angel's blog. Recommended.
What about you?
Have you tried Mandarin HQ? What did you think?
What Mandarin audio resources have you loved?
I look forward to hearing from you in the comments below.
Shannon Kennedy
My name is Shannon Kennedy and I'm the language lover, traveler, and foodie behind Eurolinguiste. I'm also the Resident Polyglot at Drops and the Head Coach of the Fluent in 3 Months Challenge.