Need a Language Breakthrough? Discover the Power of Language Retreats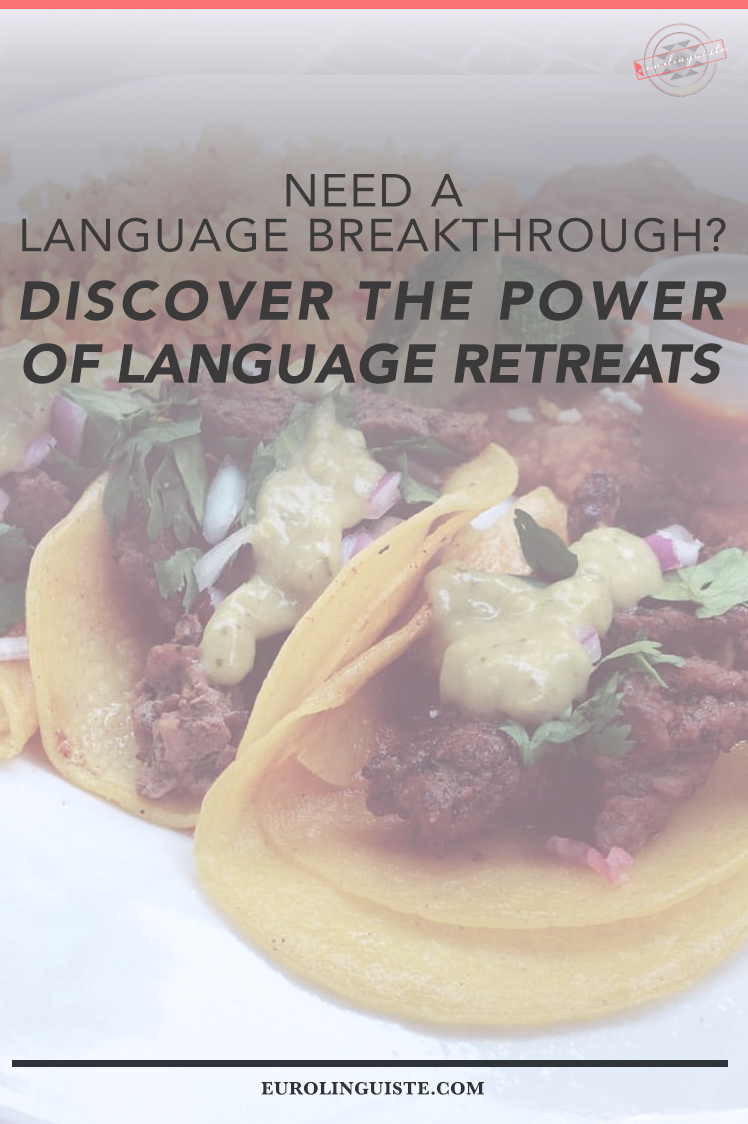 So you've been flirting with Spanish.
When people ask you how long this has been going on, you tell them it's been about a year or two, your eyes glued to the floor.
The truth is, you barely have enough courage to order at your favorite taco stand in Spanish!
If there were a way to kickstart your language learning would you take it? How about if you were stuck in the intermediate plateau and have yet to make any conversational breakthroughs?
Or maybe you've lived in a Spanish-speaking country for a while with the hopes that being forcibly immersed would lead to a transformation in your fluency.
But it hasn't.
Let's Rethink Immersion
Immersion is often spoken of as the ideal way to learn a language.
While this is true for a child who seems to learn in an effortless manner, attaining staggering results in just a few short months, for you, as an adult, this isn't the case. Instead, it can be a brutal ride with many moments of embarrassment or feeling like a failure.
This has nothing to do with age, but rather well, life — the responsibilities one assumes as an adult.
Let's be honest, moving to a new country is never easy.
There's so much to do! Getting the house set up, finding a new circle of friends, understanding this new foreign culture, the list goes on and on!
At times you may feel quite vulnerable and the truth is that for some, your language may be the only comfort zone you have left.
Even if you don't move to another country, the same still holds true.
The last thing you want to do when getting home from a day of work is putting in an hour to study a language you don't even use at work!
I know for myself by the time I finished work, spent time with my family and put my son to bed at 8:00 PM, language learning was out of the question.
It may be considered lazy by some, but all I wanted to do was have a nice glass of wine and relax…
This is where the power of language retreats comes in.
Language Retreats Change Lives
"A change of pace plus a change of place equals a change of perspective." -Mark Batterson
Meet Jerome.
He was happily living in France and enjoying his job as a mergers/acquisitions attorney.
Then the unexpected happened.
He was told he would have to relocate to Shanghai and learn English within the next 6 months.
His company hired him a language coach to come to the office every other day, but with the distractions of work and meetings that often ran longer than expected, his progress was not anywhere near what he needed.
Jerome was given three weeks to visit the French countryside distraction-free and immerse himself in English.
He spent the time wondering through chateaus, touring the vineyards and enjoying all of the wonderful food France has to offer.
If you asked him before the retreat, he would have never thought what happened next would be possible. On the fourth morning, he came down to breakfast and admitted he had even dreamt in English that night!
This was the distraction free space that he needed.
Because he was relaxed and enjoying his time, he forgot that he was learning for work and because of this, made staggering progress.
This is what a retreat offers you.
A retreat immerses you in a language. And it does it in an amazing vacation-style setting with a small group of similar-minded people in a unique class prepared just for you.
You may have been told that language learning needs to be fun because it maintains our concentration and thus propels our learning exponentially… And guess what>
It's true.
Just think about it.
How much faster would our learning be if kayaking, museum trips, and VIP treatment as we explore some of the areas best-kept secrets was all a part of the package?
Because it can be!
What Happens in a Language Retreat?
The entire day is spent with your language coach. A person devoted to strengthening your command of the language and giving you the courage to speak in what will soon be an effortless manner.
Each day includes classroom time with lessons perfect for your level and interests, mouth-watering meals and exciting activities which allow us to place emphasis on practical communication to help to develop fluency and confidence.
Accent work, colloquial speech, cultural exchange, you got it!
The best part is that all is done in a relaxed environment which not only helps you learn but also increases memory skills. The retreats are all customised to ensure you are learning things that are of interest to you.
You may be thinking this will be costly, however, when you look at the results you get and what you would pay for a language coach on a weekly basis, you will soon see that not only are you getting a luxurious vacation for free, you may also be seeing some savings.
Here's what some past participants had to say "The language retreat was a life-changing experience and worth every cent."
"...the week was full of laughter as well. I have years of experience in learning several languages with a number of different texts and resources, and I truly consider this retreat one of the best experiences I have ever had."
The most astonishing point which gets the most amount of praise is the time that is no longer wasted.
Rather than having time to forget things between lessons and not having the proper balance between theory and practical, you will see tremendous improvements throughout the week and a surprising burst of confidence.
As said earlier, if you're looking for something to kickstart your language learning or move you out of the stagnant language plateau, a language retreat is for you.

Here's a video interview with Fiel if you'd like to meet your coach beforehand.
Ready to sign up?
The next Spanish retreat is September 16 – 21, 2018 in San Diego, California with Fiel Sahir of the Between 3 Worlds podcast. For more information on upcoming retreats or to customize your own, contact Therese LaFleche or visit LaFleche Lingo.
---
The above is a guest post from fellow language learner and musician Fiel Sahir, and host of the upcoming retreat. If you have any questions about the retreat, you can leave them for Fiel in the comments below!
Shannon Kennedy
My name is Shannon Kennedy and I'm the language lover, traveler, and foodie behind Eurolinguiste. I'm also the Resident Polyglot at Drops and the Head Coach of the Fluent in 3 Months Challenge.