Experience Language Immersion with Abroad With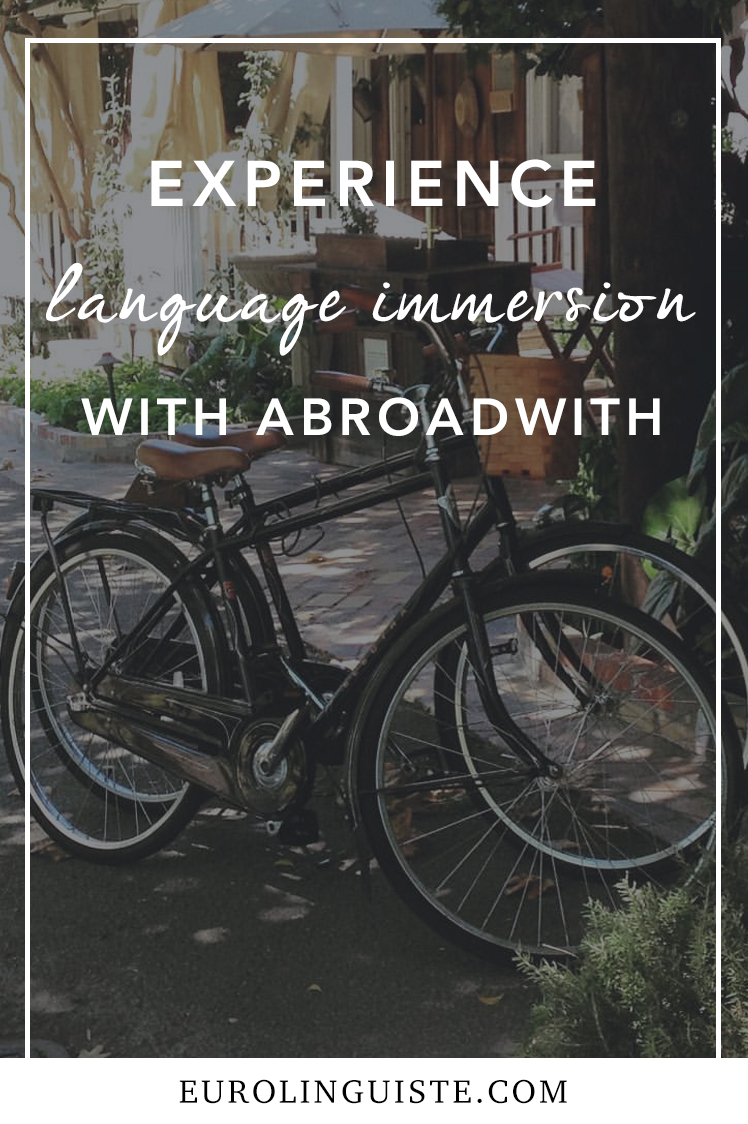 One of the things many learners aim to do at some point along their language journey is immerse themselves abroad.
But for those without much travel experience, it may be tough to figure out how to do that.
Do you enroll in an immersion program? Simply travel to the country and hope for the best? How do you avoid expat bubbles or the prevalence of English is tourist areas if you're trying to truly immerse yourself in a foreign language?
The options are overwhelming.
And while there's no escaping the work required to get the most out of your immersion experience, you can avoid some of the stress involved in planning and immersion trip.
Meet Abroadwith
Abroadwith is a Berlin-based company that offers students a more authentic immersion experience at affordable prices. You get to stay with locals, practicing your target language in real life situations at an affordable price while getting to explore the area.
If you're looking for a personalized immersion experience, it's certainly a fantastic option.
Abroadwith allows you to choose between hundreds of cities and hosts from around the globe so that you can find someone who shares your interests so that you can really maximize your language immersion experience.
They have three options:
Stays: Live with a local and choose hourly conversation times.
Tandems: Live with locals and learn their language while you teach them yours during weekly conversation times.
Teachers: Live with a local language teacher and choose weekly teaching hours.
All three also give you the option of booking a course at a nearby language school.
The Pro's of Traveling with Abroadwith
There are certainly many advantages to using a platform like Abroadwith to book your stay abroad:
1. Everything is available to you in one convenient place. // You don't have to do a ton of research to find somewhere to stay, an exchange partner or a local language school. Abroadwith finds all of this for you.
2. The stress of travelling is alleviated. // If you've ever travelled alone, you know how stressful getting to a foreign country can be. By booking with Abroadwith, you can add on additional services for a nominal fee. These include meals, airport pickup/drop off, access to laundry, and more.
3. It's not just couch surfing. // With Abroadwith you're actually staying with a tandem partner, native speaker or tutor who is paid to spend time practicing the language with you as a part of your booking fee.
4. You get to experience local culture. // Rather than staying at a hotel where the atmosphere isn't quite the same, you get to experience the culture by living with a local.
5. You save money. // Your stay is significantly less expensive than it would be when you stay at a traditional hotel.
Things That I Thought Could Be Better
Honestly, my biggest concern with a platform like Abroadwith would be about safety. I am a little more conservative than most, so I would personally be a bit hesitant to stay with strangers. That said, it seems as though you can communicate with your potential host (and they with you) prior to reserving your stay, so that alleviates some of the nervousness I'd normally feel about this (although in all honesty, not all).
There are those that are more daring than I, and who likely wouldn't be as uncomfortable with staying with strangers. In their terms and conditions, Abroadwith states:
Homes and their educators are verified via ID checkup, personal interview (Abroadwith verified) and address verification.
So it's nice to know that they verify the hosts that sign up for their platform.
To Sum Things Up
If you're looking for an immersion experience that actually works, Abroadwith is definitely worth your consideration.
The majority of the hosts are located within Germany, Spain, and the US, but as the program grows, more choices will likely become available.
I had the chance to talk to Isabel, a student based in Berlin, Germany about her experience using Abroadwith to book a stay in Madrid, Spain and here is what she said:
I was recommended [to Abroadwith] by a friend who hosted a language student through their program. I choose [them] over other programs because I didn't want to learn a language in a big city. I realised I could stay with a teacher in a rural part of Spain which was perfect for me. Abroadwith was cheaper than a lot of other programs and I liked the idea of living with a teacher and being able to speak the language with them all the time.
My favourite part of the trip was doing a hiking trip in the mountain ranges of Sierra de Guadarrama. I also enjoyed cycling to the market every day into the local town for picking up groceries and mingling with locals in the town, madrileños seemed very open and friendly to me and the town feels small, after a couple of days you see the same faces over and over and people stop you in the street to chit chat and get to know you.
The program helped me improve greatly – I developed from holding a basic conversation and asking for directions to being almost fluent. Having lessons with Javier every day in his home really improved my confidence and his family was very patient and helpful. Doing everything from the beginning of the day until the end in Spanish and having a teacher to solve your doubts at home is probably the best way to go. You get to see how people speak the language at home and learn some slang and idioms, without this context you might hear those expressions but it is hard if you have no native speaker to clarify what they mean.
– Isabel, Germany
You can learn more about Abroadwith and their program at their website. You can also follow them on Twitter and Facebook.
What about you?
Have you ever travelled in order to have an immersion experience? How did it go?
I'd love to hear from you in the comments below!
Shannon Kennedy
My name is Shannon Kennedy and I'm the language lover, traveler, and foodie behind Eurolinguiste. I'm also the Resident Polyglot at Drops and the Head Coach of the Fluent in 3 Months Challenge.