Where to Find Croatian Food in Southern California + Croatian Food Vocabulary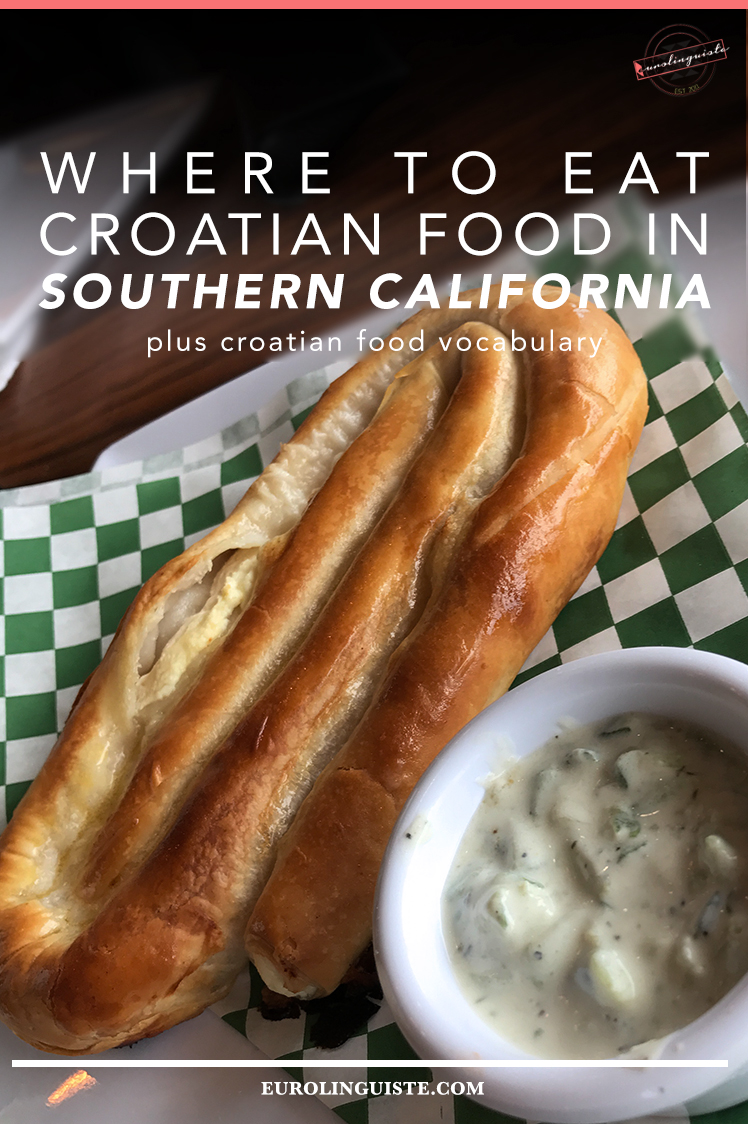 Los Angeles is often deemed the cultural hub of the Pacific Rim. Its inhabitants speak more than 224 recorded languages, so it's no surprise that restaurants in and around the area reflect this diversity.
Growing up, I unknowingly ate quite a few Croatian dishes. These were recipes that were passed down and that were just things my dad made when he was in charge of dinner – sausages, cabbage rolls, homemade bread, the works.
As I grew older, I also grew more curious about the foods he viewed as "comfort foods". My dad is a great cook, but I also wanted to try these foods (and more of them).
I took to Yelp and began my search for Croatian restaurants in Southern California.
The results, however, weren't necessarily Croatian, but Bosnian.
Thankfully, many of the traditional foods in Croatia are also common in Bosnia, so they have many menu items in common.
Here are the two restaurants that made the top of my list:
Sofra Urbana | Fountain Valley, CA
You'll find Sofra Urbana tucked into an unassuming shopping plaza in Foutain Valley. It's a small, but cozy restaurant with charming decor and a friendly staff.
They serve both Italian and Bosnian food and at first glance, might appear to be just another pizza and wings joint. But it is so much more.
To start, in addition to popular pizza dishes such as sausage or barbecue chicken, they have the restaurant's namesake, the "Sofra Urbana". It's a delectable blend of mozzarella, mushrooms, arugula, bresaola, truffle oil, and shaved parmesan served upon a pizza crust that was baked to perfection. This item alone is worth coming for, but because we were there for the more traditional items, we also decided to sample a few other foods.
The ćevapi, ground beef sausages, is served with a small cup of kajmak and another of ajvar. These, spread across the mouth-watering lepinje followed by a light sprinkling of freshly cut onion, results in one of the tastiest sandwiches designed to share, but easy to easy to keep for oneself.
Other traditional dishes include:
Burek – Sofra Urbana offers meat, cheese, spinach or potato burek served with their version of tzatziki
Shopska salad – a mix of tomatoes, cucumber, red onion, green olives, feta cheese, roasted red bell pepper, canola oil, salt and pepper
Cockta – a Slovenian soda
Sofra Urbana
17098 Magnolia St
Fountain Valley, CA 92708
Open 11am – 9pm
Aroma Café | Los Angeles, California
Aroma Café is another excellent Bosnian restaurant, set apart by its adorable grocery inside. While there, I was able to stock up on Croatian/Bosnian goodies AND feast on a tasty lunch. Plus, I couldn't help but bring home a few sandwiches for dinner that night (they were wrapped up well and tasted amazing even after being reheated).
Here too, the ćevapi is a classic and absolute must. Their housemade lepinje is outstanding, though a touch of ajmak was certainly missed.
Since we went with cheese burek at our first stop, we decided to indulge in spinach burek here. It was delightful and Little Linguist voted it 10 out of 10.
Served with fresh pita and a yogurt dip, you can order either stuffed cabbage rolls or pita, but our server was awesome and brought us a mixed plate so we could try both. It was hard to choose a winner, but after a vigorous taste test, I can confidently recommend the stuffed grape leaves as the victor.
Finally, my favorite and the star of the menu. Those sandwiches I took home? Those were both the Aroma sandwich. A mix of cheese, pita, beef prosciutto and bell pepper. I could honestly eat it every day.
And of course, I can't forget the Turkish coffee! Served at the perfect temperature and with a piece of Turkish delight. It was an enjoyable way to end the meal.
Other traditional dishes served here include:
Grilled peppers or grilled feta cheese – marinated in garlic and olive oil
Shopska salad – here it's served over a bed of lettuce with tomato, cucumber, red onion, bell pepper, and feta
Bosanka lonac – slow-cooked vegetables served in a chunky beef stew
Pljeskavica – a beef patty served on housemade pita
Aroma Café
2530 Overland Ave
Los Angeles, CA 90064
Open 11am-10pm
Croatian Food Vocabulary
While we're on the topic of Croatian food, I thought it would be fun to introduce a few useful vocabulary words on the topic. Here are a dishes and menu items you may find useful.
Foods/Dishes in Croatian
Burek | a phyllo dough pastry stuffed with cheese, spinach, beef, or potatoes
Janjetina | roasted lamb
Zagrebački odrezak | veal breaded and fried, stuffed with ham and cheese
Lignje | squid
Crni rižot | black risotto
Brodet | fish stew
Grah i zelje | bean stew with sauerkraut
Riblji paprikaš | spicy fish stew
Žganci | cornmeal dish
Štrukli | stuffed pastry
Punjena paprika | peppers stuffed with minced meat
Lepinje | flat bread
Cooking Styles in Croatian
S roštilja | roasted on a grill
S ražnja | roasted on a spit
Pečeno | roasted
Prženo | fried
Pod pekom | cooked on a stone while covered with a metal lid and hot coals
Na lešo | boiled
Croatian Cooking Ingredients
Maslinovo ulje | Croatian olive oil
Paški sir | sheep cheese
Kupus | cabbage
Češnjak | garlic
Ajvar | a spicy eggplant spread
Pekmez od šljiva | plum jam
Dimljena paprika | smoked paprika
Kajenski papar | cayenne pepper
Med cvjetni | flower honey
What about you?
Have you tried Croatian (or Bosnian) food? What did you like most?
What restaurants in your area feature delicious foods from far away places?
Shannon Kennedy
My name is Shannon Kennedy and I'm the language lover, traveler, and foodie behind Eurolinguiste. I'm also the Resident Polyglot at Drops and the Head Coach of the Fluent in 3 Months Challenge.