Christmas in China with Hanbridge Mandarin | 12 Days of Christmas Around the World Day 2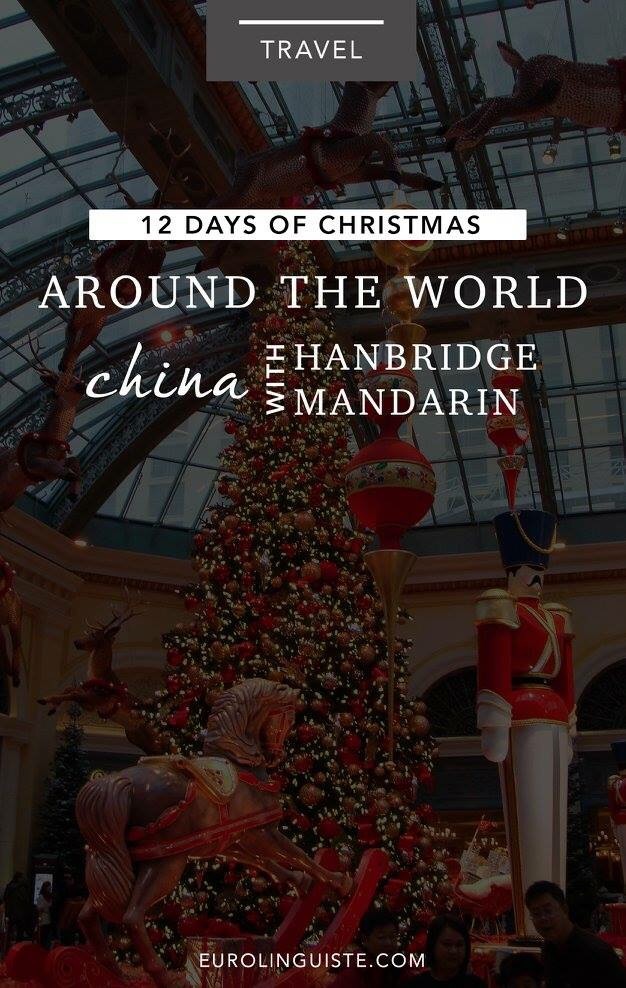 About the Author // Hanbridge Mandarin is a Chinese language school based in Shenzhen, China with more than ten years of experience. They teach courses both online and on campus. Their tutors are all bilingual (they have tutors that speak languages other than English), and they are all required to not only have a Bachelor's degree (not to mention that 60% have Master's degrees), but they also are required to go through a rigorous training program to ensure consistency and quality for students. You can also read my review of Hanbridge Mandarin here. They are also currently offering a 10% discount on lessons as part of their holiday promotion.
Christmas in Chinese and English // Christmas 圣诞节 shènɡ dàn jié
When Christmas is celebrated
In China, Christmas is celebrated the 25th of December. However, many prosperous commercial streets and shopping malls will start putting up Christmas decorations and trees in early December to evoke the Christmas spirit.
The legend or story behind the origin of Christmas
Some Chinese young people are influenced by western culture and they started to celebrate Christmas in imitation of westerners. At the very beginning they started by going to church, and it wasn't long before some merchants realized the potential gold mine. They launched various activities in restaurants and bars, in turn, attracting young people to visit and celebrate Christmas with their friends.
How Christmas was celebrated in the past
Chinese people didn't celebrate Christmas in the past. It spread to China in 19th Century. The holiday has become more and more popular in recent years due to a large number of expats living in China and due to Western influence amongst young Chinese.
How Christmas is celebrated today
In mainland China, Christmas is widely celebrated in big cities, but not in rural areas of China. However it's quite different from the celebrations in western countries. It's more along the lines of a festival related to money and festivities, rather than something involving religion, tradition, relatives or gifts.
Many Chinese youth celebrate Christmas in a different way, they see it as a fun time to go out and celebrate. They enjoy visiting lively places with their families, friends or partners. City centers, tourist areas, downtown streets, etc are beautifully decorated and crowded with people and sales and promotions are abundant. Young people also go to parties held in hotels, restaurants, bars or KTV.
Christmas is viewed as a relaxing day to hangout with friends, rather than staying at home with families like many western traditions.
The western tradition of gift giving on Christmas, however, is one that is practiced in modern China. People exchange beautiful Christmas gifts with each other. These Christmas gift are the ideal way to express one's love and care to those important to them.
Christmas in China is very commercial and some might even argue that it's quite comparable to how young Chinese people celebrate Christmas more likely as Shopping day or Valentine 's Day.
In Hong Kong, Macau, and Taiwan
Christmas is a two day public holiday in Hong Kong and Macau, due to the British and Portuguese influences.
In Hong Kong Christmas Day (December 25) and Boxing Day (December 26) are both official public holidays. Banks are closed on these days. Boxing Day is a British tradition. It is a day for shopping for after-holiday sales and for employers to give gifts to employees.
In Macau Christmas Eve (December 24) and Christmas Day are official public holidays. Both days and December 26 as well are bank holidays.
In Taiwan, Christmas is generally celebrated more than in Mainland China, but less than in Hong Kong or Macau.
Chinese vocabulary relevant to Christmas
Chinese
English
平安
peace and well-being
苹果
Apple
平安果
Apple
圣诞快乐
Merry Christmas
圣诞老人
Santa Claus
圣诞袜
Christmas Stocking
圣诞帽
Santa hats
圣诞树
Christmas Tree
圣诞卡
Christmas Card
驯鹿
reindeer
雪橇车
sleds
圣诞礼物
Christmas gift
圣诞狂欢
Christmas carnival
圣诞大促
Christmas Promotion
生蛋节
literally means laying an egg; homophone of 圣诞节 in Chinese
庆祝生蛋
圣诞大餐
Christmas dinner
平安夜
quiet or silent night
圣诞节前夕
Christmas Eve
圣诞晚会
Christmas party
互换礼物
exchange gifts
圣诞歌
Christmas songs
金够败 金够败 金够LV
Chinese homophone for 'Jingle bells, jingle bells Jingle all the way', which means money is enough for shopping, money is enough for shopping, money is enough for buying a LV product
A recipe for a dish that is cooked for Christmas
There is no special food or dish for Christmas in China. Mostly, young Chinese people just eat an Apple on Christmas Eve, which stands for peace and well-being. They often go to a decent Chinese or Western restaurant to have dinner, or cook a proper meal at home.
**A note from Eurolinguiste
Since there isn't a Christmas-specific recipe for China, I thought it would be fun to share a recipe using something that is related to something Christmas in China – apples!
Here is a recipe for a delicious fruit candy found in China.
Apple Bing Tang Hu Lu 冰糖葫芦
Notes
wood skewers
1/4 cup corn syrup
2 cups sugar
3/4 cup of water
2 apples cut into small pieces (about the size of half a slice)
Sesame seeds, to taste Combine the corn syrup, sugar, and water in a medium sauce pan, stirring so that the sugar does not lump.
Over medium heat, allow the mixture to come to a boil without stirring. Keep the mixture boiling for about 18-20 minutes.
Prepare your wood skewers by sliding them through the apple pieces. Be sure not to break any of the pieces or apple or the weight of the candy will cause them to fall from the stick.
Once the candy mixture is ready, spoon it over each skewer individually, turning it as you do so to get an even layer covering every side of the fruit. Sprinkle with sesame seeds (optional). Allow skewers to cool on a piece of wax paper.
Would you like to download a copy of this recipe and vocabulary? Enter your email below and I'll send you the password and link to the page on this site where all 12 of the recipes and vocabulary sheets will be posted!

Shannon Kennedy
My name is Shannon Kennedy and I'm the language lover, traveler, and foodie behind Eurolinguiste. I'm also the Resident Polyglot at Drops and the Head Coach of the Fluent in 3 Months Challenge.