5 Ways to Make a Difference While Traveling (Guest Post)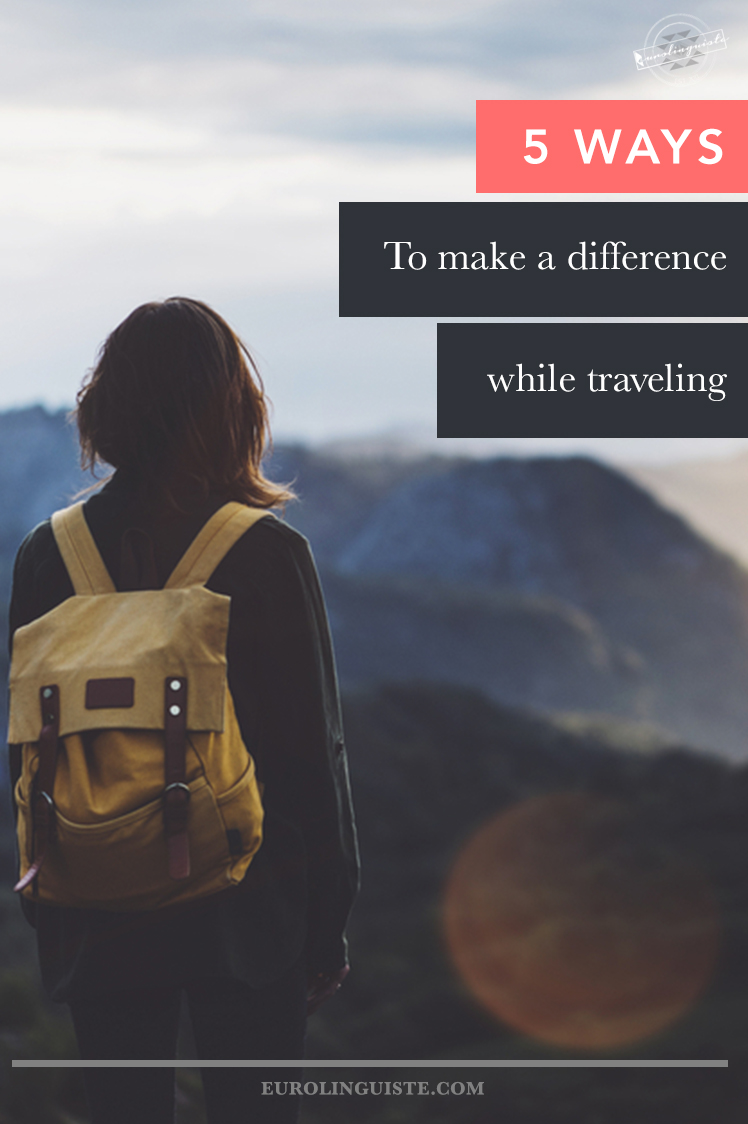 Getting out and traveling the world is a popular bucket list item, something which many of us aspire to throughout life. Whether it's planning a visit to a particular place or doing a grand worldwide tour, the thirst for travel is something the majority of us will experience at some point.
But while you are planning your next adventure, it's important to spare a thought for the countries, cultures and people you will be visiting. Although this depends on where you will be traveling to, in many areas you are highly likely to come into contact with a vast majority of different cultures, beliefs and ways of life; it's vital to recognize and celebrate these differences wherever you go.
Similarly, you should always work to ensure that you are a caring, thoughtful and considerate visitor. Aim to banish the rude tourist stereotype and instead, leave your footprint on the world in a positive manner.
Here are five ways in which you can work to make a difference on your travels.
Project Participation
While the idea of heading abroad to volunteer or working with an organization in order to provide a positive impact on the area you are visiting won't appeal to everyone, for some, this is the ultimate way to get out and see the world while contributing to the future of people across the world. Organizations like WWOOF and Turtle Teams allow you to pick a project that suits you, and with varying opportunities available across the world, there's bound to be something to suit every personal preference.
Doing Your Bit
Similarly, it is always important to try and do your bit at all times throughout life, but especially while you are traveling. Committing to help others while you are out and about can have a big impact on the lives of the local people in the areas you are visiting. After all, sometimes even the smallest acts of kindness and generosity can go a long way towards helping someone who is less fortunate than you.
Going Green
If eco-friendliness is more your thing, luckily, there are plenty of ways to see the world without increasing the size of your carbon footprint. Instead of opting for frequent plane travel, why not try something a little different and experience the world from a whole new perspective? For those who are looking for a challenge, backpacking is a great way to get to know the heart of a country, its scenery, its culture and its people. On the other hand, public transport is a much more sustainable method of transportation than hiring a car, for example, if you need to cover larger distances.
In addition, choosing local dishes and home-grown produce will provide a benefit to local farmers and retailers while reducing your carbon footprint even further – what could be better?
Learning Languages
When you travel to a country where the locals speak a different language to your own, communication can be tricky at times. Although many people in popular tourist hotspots will speak English, if you're traveling off the beaten track, don't expect people to automatically speak your language. It's always good practice to learn some keywords and important phrases that you might need before you travel, just in case you run into difficulties or encounter the language barrier. After all, why should you expect the locals to do all the work and learn your language if you refuse to learn theirs?
Education and Inclusivity
Traveling is a constant learning curve – no matter where you go, you will always be learning about different cultures and embracing an entirely different way of living. While it may sound obvious, it's always important to keep in mind the fact that your home away from home may not actually be like your real home, particularly when it comes to cultural differences and an alternative lifestyle. Instead of becoming rude or frustrated when things don't happen as you expect them to, try to embrace these differences and just go with the flow. If you're worried about what's expected of you in a particular country or culture, you can always do some research and brush up on the culture and etiquette before you travel.
Of course, these are just a few tips and suggestions. In reality, the possibilities for making a difference while you are traveling are endless. Next time that you are planning a holiday or a trip, why not aim to incorporate one or more of these ideas into your getaway? After all, you never know – trying something a little different might just provide you with the trip of a lifetime!
About the author: Lorna McCann is a freelance professional with a keen interest in travel and the outdoors. When not busy with her day to day tasks, she can be found planning her next adventure, out exploring, or reading a good book.
Shannon Kennedy
My name is Shannon Kennedy and I'm the language lover, traveler, and foodie behind Eurolinguiste. I'm also the Resident Polyglot at Drops and the Head Coach of the Fluent in 3 Months Challenge.