Two Days In Asunción, Paraguay (and Where to Go Next)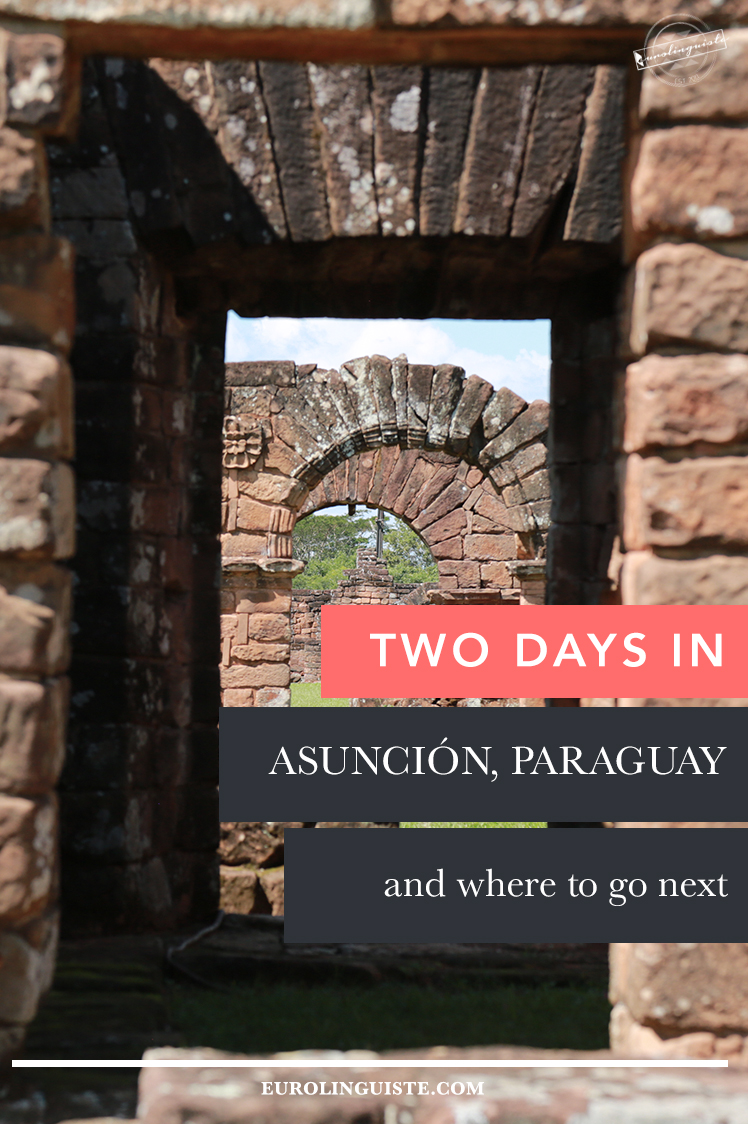 Paraguay is a wonderful country so often skipped or passed through quickly on multi-country trips to the region. But that's a shame as the place has a lot to offer. Take the capital for example, Asunción.
It's not quite as huge and daunting as other capitals in the region, and can easily be enjoyed in a couple of days like a local if you follow this guide.
Day One – City Streets and a River Beach
Your Asunción adventure will likely start in the centre of the city. Day one of this guide will show you the best the city centre has to offer.
The centre of Asunción won't take long to discover. It's easily doable in a morning.
Start your day by admiring the cathedral and head out in any direction towards the centre in search of some of the great street art that adorns the city walls. Along the way, you'll encounter the general city life of Asunción and perhaps even get lost in your own little corner of the city.
All roads lead to Lido though and you'll want to head back for lunch towards the main plaza, which consists of four plazas, where you'll find Lido Bar on the corner of Plaza Pública de los Héroes. Lido is on the corner where streets Chile and Palma meet. (The other plazas that make up the four are Plaza de la Libertad, Plaza de la Democracia, and Plaza Pública Juan E. O'Leary.)
Lido Bar is something of a local institution and a great spot for people watching at lunch alongside some traditional Paraguayan fare on your table.
You'll notice that among the milanesas and empanadas adorning the menu, there's perhaps some words that look unfamiliar to Spanish. These are Guarani words, an indigenous language that lives alongside Spanish in the country.
Some dishes with Guarani names to look out for at Lido Bar include chipa guasu, a savory 'cake' like dish with a cheesy flavour, and vori vori, a cheesy soup with cornmeal balls.
Once you're pleasantly full of delicious Paraguayan food, if you're intrigued to learn more about Guarani, El Lector on the corner of Plaza Uruguaya just a few blocks down is the place to go. They stock a small selection of Guarani books from grammar guides and dictionaries to full on courses. It's better than anything I found available to buy online before I came away.
After the morning in the centre, it's time to head a little further out. The centre of Asunción is bordered by river, so there's still space for a beach in this landlocked country!
The costanera is a relatively pleasant spot for an afternoon stroll and after posing for a selfie at the big "Asunción" letters, take some time for a sit on the beach itself after all your sightseeing of the morning! Grab a fresh coconut and relax as you watch the sunset across the river.
Day Two – Shopping Malls and Park Strolls
If you're staying in the centre, at first Asunción may seem like a crumbling Latin American city, but venturing into the suburbs is a must to discover a whole new side to the place. On day two, we're going to do just that!
Take the 30 bus up Avenida Espana (take care to read the card tucked in the bottom of the window as some 30 buses take Avenida Mariscal Lopez instead of Espana) and you'll pass plenty of shops, car dealerships, and even a TGI Fridays. You'll notice instantly it's very different to the centre!
Get off at Shopping Del Sol to experience a side of Asunción you maybe didn't expect. After a stroll and perhaps a drink in there, head out towards the two wavy glass towers. Beneath, you'll find Paseo La Galeria, another mall with a cinema, Mundo Cartoon Network and plenty of shops and restaurants.
Cafe Martinez and Havanna are my personal favourites for great coffee and cake stops. Martinez lets you pick your coffee bean while Havanna sells super tasty alfajores.
From here, you can either pull over another 30 bus (or most going in the direction of the city centre) to head back down Espana the way you came – now I'm going to take you to my favourite cafe in Asunción!
Alternatively, you can walk back down too as it's not too far, and you'll get a taste of street life in this hot capital.
When you spot that TGI Friday's I mentioned, turn left opposite it down Malutin and you'll find yourself heading into a quiet, pretty network of streets.
El Cafe De Aca is a great spot for a range of drinks and traditional Paraguayan food and snacks as well as more international fare. Head out back for a table in their relaxing courtyard to really enjoy an hour or so in peace.
My favourites on offer here include an ice cold terere, the yerba mate based drink you will have seen everyone carrying around with flasks and a cup by now; cocido, the hot and sweet version of yerba mate; mbeju, a cheese stuffed flat savory 'pancake' covered with yuca starch; and their warm tasty yuca chips!
After you roll out of El Cafe De Aca, stuffed to the brim with mbeju, chipa guasu, and sopa paraguaya, it's a short walk from here to Parque De La Salud.
Take a form of ID with you as you'll need to show it to enter and exit the park, but it's free to enter and totally worth it to cool off in the afternoon heat as the 1.5km path of the park is relatively shaded from the sun.
Not only that but the trees are labeled with their names in Guaraní – so you'll get a little language lesson too!
Head out the entrance and turn left and you'll soon spot God's Pan, a bakery with cakes as good as its pun name. If you're hungry for more than cake, they also have a buffet style restaurant available at the back.
If you're heading back into the city to your hotel, Avenida Espana is a short walk from the park and you can catch most buses going in the direction of the centre.
Another option on the park front is the Botanical Gardens, 2km north of Parque de la Salud.
There's a relatively spacious zoo, a small natural history museum, and plenty of open nature to escape from the traffic for a moment or two.
Where To Go After Asunción
After a couple of days in Asunción, it's definitely worth venturing further into Paraguay to discover more about this often ignored land.
The bus station is around 5km from the centre and a great jumping off point for the rest of the country. If you're unsure where to head next, here's a few ideas…
San Bernadino
A simple day trip from Asunción or longer if you fancy getting away from the city for a night or two, San Ber as it's lovingly referred to by locals is a lovely spot to see how locals relax.
Watch the kite surfers on the lake, stroll the main drag and grab an ice cream or take the bus along the road out towards Altos to stumble across one of my favourite souvenir spots in the country.
As you follow the road out of San Ber towards Altos, look out the right side of the window for a small house with bright wooden parrots and other arty pieces for sale out front. I got two handmade parrots from this lovely man, for 10,000 each, one of which is now snug in his new home of my mother's plant pot!
Encarnación
This city is known as the Pearl of the South, and with good reason. It's a pleasant centre to stroll and grab some food but the real highlight is the river beachfront overlooking Posadas in Argentina on the other side.
You can even visit Argentina easily for the day by taking the bus or, even easier, the train across the bridge for just 10,000 guarani (yes, their money is called 'guarani' too!).
Of course, remember your passport and ensure that the officer stamps you out of Paraguay and back in on your return at the immigration booth on the Argentinian side.
Trinidad and Jesuit Missions
An easy half day trip from Encarnacion, Trinidad is a beautiful place.
The Jesuits came here not long after the Spanish to convert the local Guarani population to Christianity and their presence here changed the shape of the language forever because they were the first to write the language down as it had been an oral language beforehand.
The ruins of the missions that remain are a real sight to behold and photograph beautifully on a sunny day. The red copper tones of the brick against the blue sky and green grass makes for stunning photos even if you don't consider yourself a photographer.
Ciudad Del Este
A bustling city full of cheap goods that Brazilians and Argentinians flock across the border for. The real draw to visit here is the Itaipu Dam and Iguazu Falls that you can visit easily from the Brazilian or Argentinian side.
El Chaco
If you really want to get off the beaten track, El Chaco is the wild frontier you're after. There's plenty of adventure awaiting you in the dusty land of El Chaco.
I hope this post has inspired you to spend a little time in Paraguay. Whether you're passing through on a multi-country trip or looking for a relatively tourist-free country to explore, Paraguay has a lot to offer.
And a few words of Guarani won't go amiss either. Even just telling locals I was learning the language made us friends!
If you want to learn more about Guarani, the final episode in series one of Language Stories is a good place to start. To listen to the podcast and watch the sister video episode, click here now.
Have you ever visited Paraguay? Where did you go? If you haven't, are you interested after reading this? Share in the comments!
A big thanks to Lindsay of Lindsay Does Languages for sharing her experience in Paraguay! You can find more information on Lindsay and hear about her adventures here.
Shannon Kennedy
My name is Shannon Kennedy and I'm the language lover, traveler, and foodie behind Eurolinguiste. I'm also the Resident Polyglot at Drops and the Head Coach of the Fluent in 3 Months Challenge.