Korean Street Food Recipe | Tteokbokki 떡볶이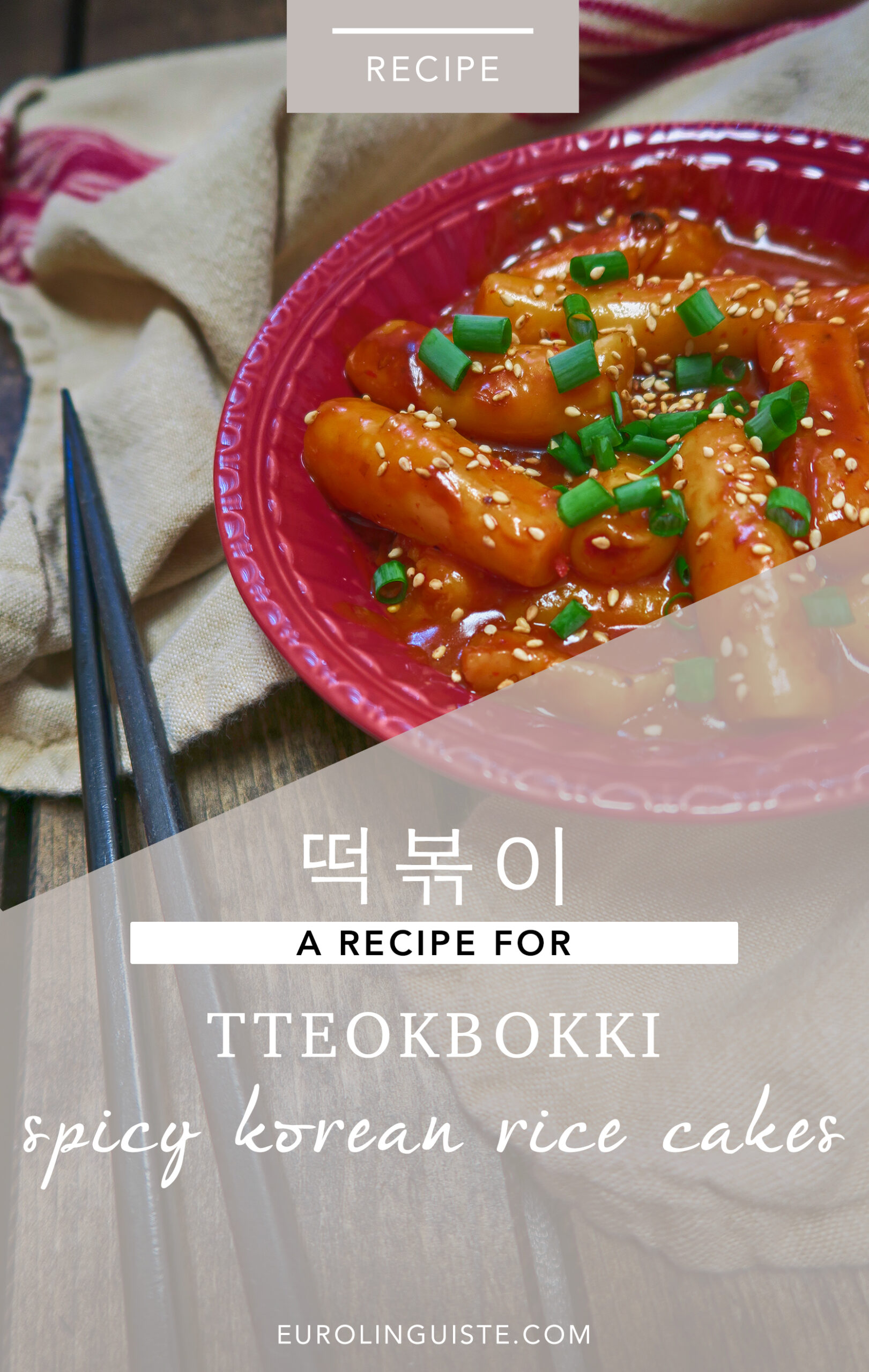 One of my goals in learning the Korean language, in addition to getting to a "conversational level", is to one day visit Korea and navigate my way around on my own.
In order to kind of psych myself up about my trip (and to remind myself why I'm working on the language), I often scroll through a bit of eye candy on Pinterest – photos of Seoul and Korean street foods from other travel bloggers.
To be totally honest, Korean street foods are one of the things that I most look forward to experiencing on my upcoming trip. But then I realized, I don't have to wait until I'm in Korea to try some of these things out… There's a Korean market not too far from where I live and I was sure they had plenty of what I needed to try my hand at making some of these dishes on my own.
So I made the trip out, bought a few snacks and ingredients and spoiled myself (and M, I saved a little bit for him too) with a few Korean treats.
If you saw my Korean snack video, you'll know just what I'm talking about.
I ended up making two Korean street foods – hotteok and tteokbokki. The first I used a mix, so it's obviously not a recipe of my own, but the latter I made using many of the ingredients I already had (from some of the other Korean dishes I've made), so it's definitely one I can share with you.
Tteokbokki is a spicy rice cake dish that is made from fish cakes, gochujang (Korean chili paste), fish cake, soy sauce, sesame oil, and a touch of sugar and garlic. It's definitely a spicy dish, so if you are sensitive to spice, you can try toning it down by including less paste or even neutralizing the spice with a bit of mozzarella cheese melted over the top.
Korean Street Food Recipe: Tteokbokki 떡볶이
Notes
2.5 c water
4 tablespoons gochujang (Korean chili paste)
2 tablespoon soy sauce
1 tbsp sesame oil
1 tablespoon sugar
2 cloves garlic, minced
600g Korean rice cakes (tteok, 떡)
Vegetable oil for cooking
1 stalk green onion, sliced
Toasted sesame seeds, to taste
Optional: shredded mozzarella cheese, to taste
1. Place water in a saucepan with chili paste, soy sauce, sesame oil, sugar and garlic. Stir to mix well.
2. Bring mixture to a boil.
3. Add in rice cakes, making sure they are completely covered by liquid. Lower heat to simmer for 20 minutes or until sauce is reduced, stirring occasionally. Towards the end, stir continuously to prevent sticking.
4. Remove from heat and serve hot, garnished with green onion and sesame seeds (and mozzarella if desired).
I used fresh Korean rice cakes to prepare this recipe, but if you are unable to find them, you can use the dried rice cakes. Just follow the instructions on the package to prepare them.
| | | |
| --- | --- | --- |
| Korean | Transliteration | English |
| 고추장 | gochujang | Korean chili paste |
| 떡 | tteok | Rice cakes |
| 떡볶이 | tteokbokki | Spicy Korean rice cake dish |
| 조선간장 | oseon ganjang | Soy sauce |
| 매워요. | maewahyo. | It's spicy. |
Shannon Kennedy
My name is Shannon Kennedy and I'm the language lover, traveler, and foodie behind Eurolinguiste. I'm also the Resident Polyglot at Drops and the Head Coach of the Fluent in 3 Months Challenge.