Tikka Masala Chicken Pizza Recipe with Homemade Naan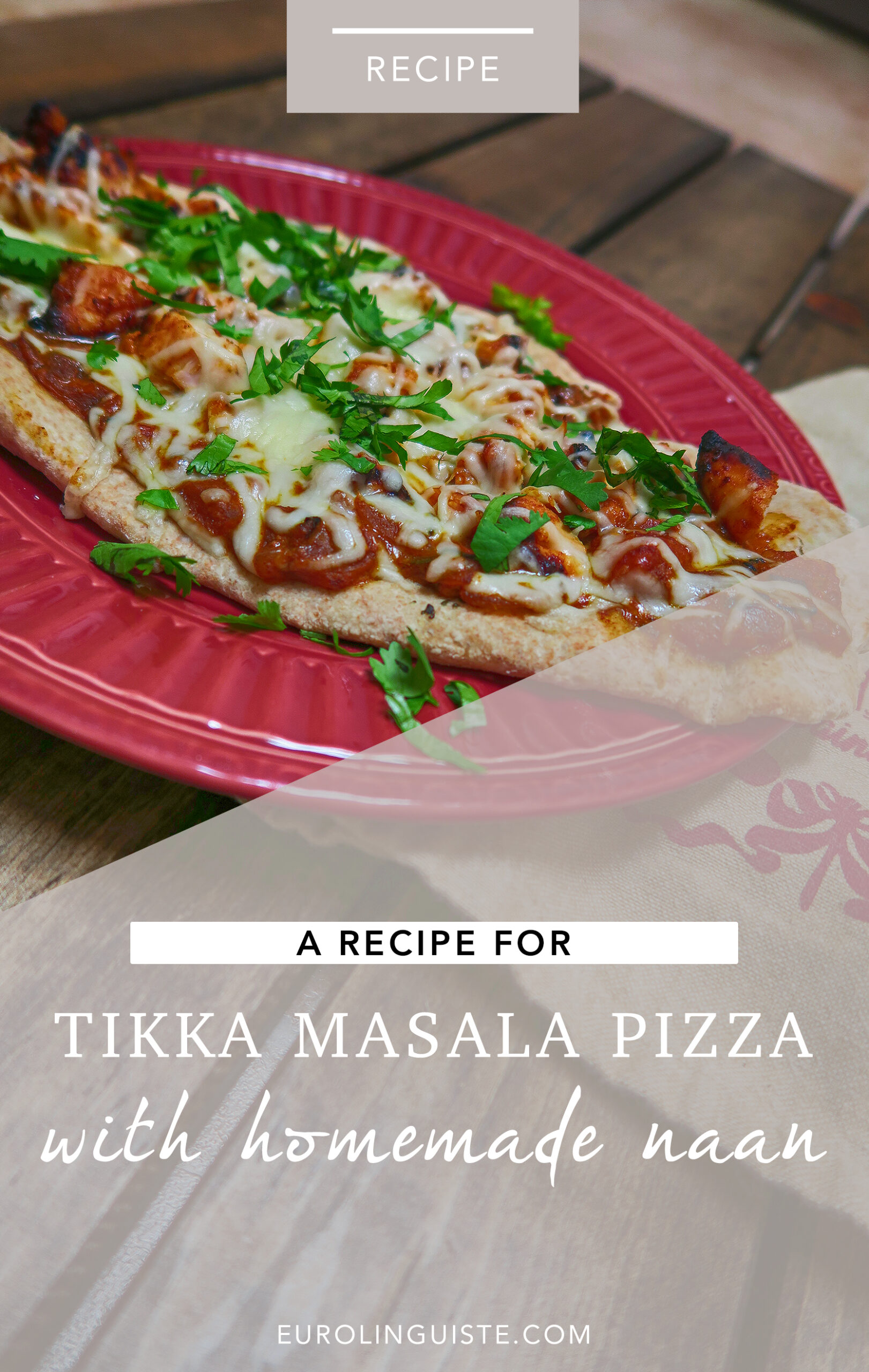 I don't know what it is, but lately I've been craving pizza like something crazy. But there are only so many times I can eat cheese and olive or my homemade blue cheese and balsamic glaze pizzas before I start wanting a little variation.
Thus the inspiration behind today's recipe, but I think it merits a little bit more of an explanation.
Every so often we go over to my parents' house for 'pizza night'. It's fun evening where we all get together, cover the table with pizza toppings and open up a bag of naan bread (how my mom came up with the idea to use naan bread for pizzas, I'll never know). We chat as we each create our own personal, mini pizzas before passing them off to my dad who heats them up on the bbq for us.
I guess, somewhere in the back of my mind, I had 'naan' and 'pizza' linked because of this. Then, after a recent trip to a local Indian restaurant with a friend, I realized that I essentially used my naan bread as a spoon, scooping my curries onto the bread rather than eating them separately. So I thought, why not just prepare a dish where it already comes that way – it'd essentially be a pizza. And thus, this recipe was born.
Tikka Masala Chicken Pizza with Homemade Naan Recipe
Notes
For the chicken tikka:
1 lb chicken tenders
1/4 cup lemon juice
salt, to taste
1 tbsp grated ginger
2 tbsp grated garlic
1 tsp cumin
1 tsp paprika
1 tsp chili powder
6 tbsp whipping cream
1/2 tsp <a href="http://amzn.to/1tjvROZ" target="new">masala</a>
3 tbsp olive oil
For the masala sauce:
4 tbsp olive oil
1 onion, diced
1 tbsp grated ginger
1 tbsp cilantro
2 tbsp grated garlic
1/4 tsp masala
1/2 tsp <a href="http://amzn.to/1XOkJqF" target="new">turmeric</a>
1 tsp chili
2 tsp paprika
1 cup yogurt
2 medium tomatoes, sliced
1.5 cups chicken broth
2 tsp corn starch
For the naan:
2 tsp yeast
3 cups flower
2.5 tbsp canola oil
1 tsp garlic
1 cup warm water
1/2 cup milk
1/2 tbsp sugar
1 tsp salt
garlic butter to taste
sesame to taste
Final touches:
Mozzarella cheese to taste
Cilantro, finely chopped to taste
For naan:
Place warm water and yeast in a small cup and allow to sit for ten minutes. While this is sitting…
For chicken tikka:
In a small bowl, rub lemon juice and salt into chicken. While that sets, prepare tikka marinade by combining grated ginger, garlic, cumin, paprika, chili powder, whipping cream, and masala in a separate bowl. Pour over meat and mix well. Cover and place in refrigerator.
For naan:
In a large bowl, combine yeast flour, canola oil, garlic, water, milk, sugar, and salt. Knead dough until it is the desired, smooth texture (about five minutes). Cover and set aside for one hour.
For masala:
Pour oil into a medium pan and add in diced onion. Once the onions start to brown, add in the tomatoes and cook until the tomatoes until they are pulpy.
Add ginger, cilantro, garlic, masala, turmeric, chili, paprika, yogurt, corn starch and broth. Mix well. Turn heat to low and allow to simmer until sauce thickens (about 30 minutes).
For chicken tikka:
Place on barbecue on low heat. Cook about ten minutes each side or until each side has slightly browned. Set aside to cool slightly.
For final assembly:
Preheat oven to 500 degrees Fahrenheit. Coat your cutting board with flour and using a knife, cut dough into six equally sized pieces. Roll out each to desired thickness and place on baking tray. Cook in oven for five minutes, then remove, brush on garlic butter and sprinkle with sesame. Place back in oven for an additional three minutes or until bread starts to brown and is cooked thoroughly.
Remove once more from oven and set aside. Slice chicken into small pieces. Then coat each naan with a thin layer of masala. Sprinkle pieces of chicken over each piece of naan as well as mozzarella cheese. Place back in oven for an addition three minutes or until cheese is melted. Remove from oven and add cilantro to taste. Serve warm.
Use less chili powder for a less spicy version of this recipe.
This recipe is also delicious without the chicken tikka. You can instead just use the masala sauce as the pizza sauce and cover with cheese. You can also use tofu in place of the chicken to make tofu tikka.
The Tikka Masala Chicken was Adapted from The Happy Foodie
Shannon Kennedy
My name is Shannon Kennedy and I'm the language lover, traveler, and foodie behind Eurolinguiste. I'm also the Resident Polyglot at Drops and the Head Coach of the Fluent in 3 Months Challenge.