The Best View of Paris | Le Printemps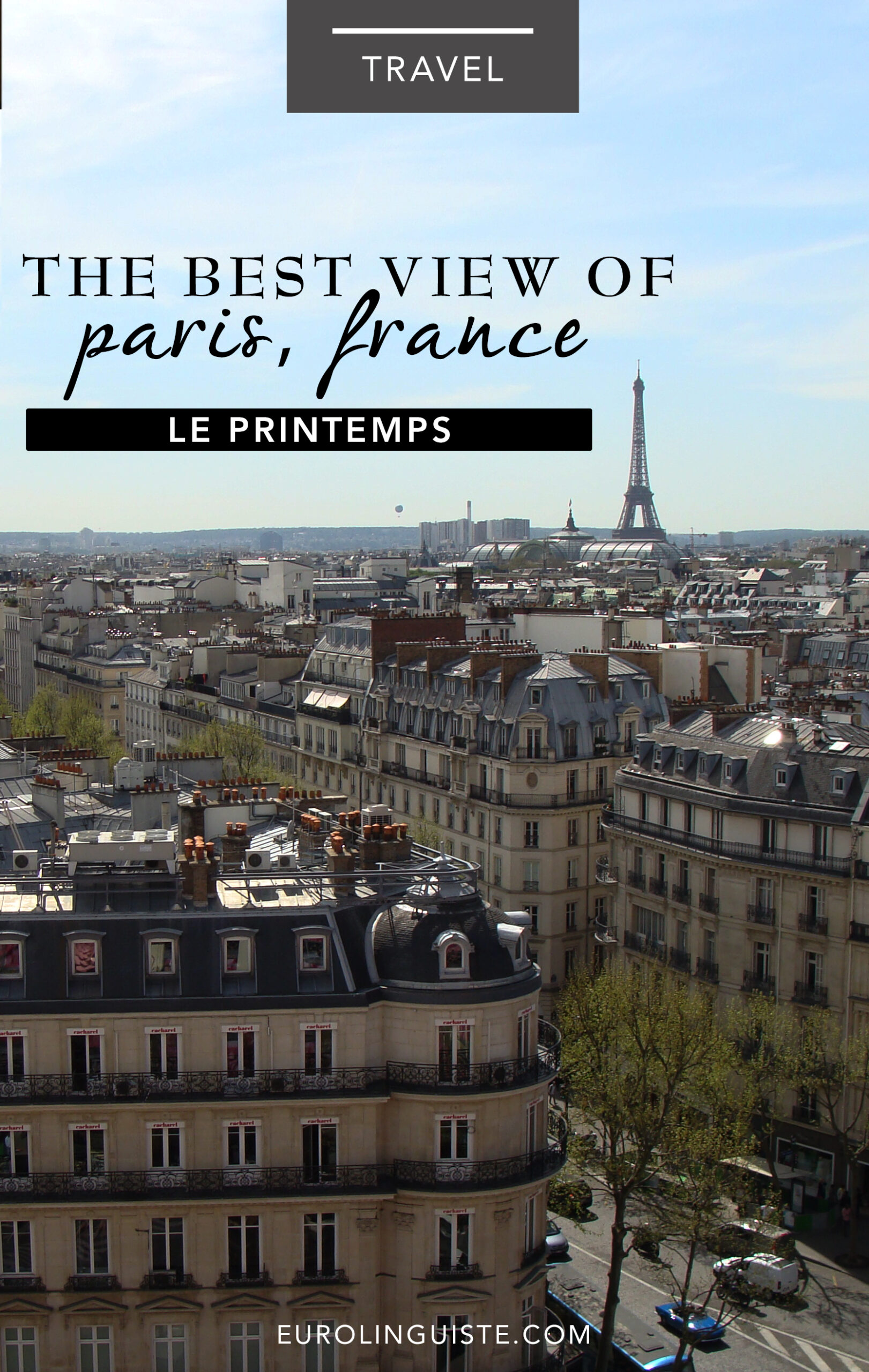 I don't quite remember where I heard about it from, but on my last trip to Paris, France, my sister took me to a place with the best view of Paris. And the most awesome thing about it? It's totally gratuit. (Don't worry, I have a glossary of French words used in this post at the bottom of the article!)
And despite the great price and the incroyable view, this site is not by any means crowded. Il n'y a pas du monde. In fact, it almost seems as though the majority of tourists have yet to discover this incredible rooftop café in the heart of Paris.
After all the years I've lived in and all the times I've visited Paris, Le Printemps has been one of my most favorite places to visit.
After wandering around the shopping center's divine chocolat and macaron shops, breathing deeply near the perfume departments, or cooing over adorable children's clothing as one makes their way up the various floors via escalator, you arrive at Le Printemps rooftop where you can indulge in snacks, a sandwich, un café or even un verre of wine.
Sacre Coeur is often touted as one of the best views of Paris, but after enjoying the rooftop at Le Printemps, I certainly beg to differ. The location of Le Printemps – nearer to Eiffel Tower and many other well-known sites – places it at the top of my list.
A photo posted by Shannon Kennedy (@eurolinguiste) on Jul 20, 2015 at 4:14pm PDT
Le Printemps was établi by Jules Jaluzot and Jean-Alfred Duclos in 1865. It was one of the first stores to use electric lighting in 1888 as well as one of the first shopping centers to have direct subway access (1904). The sales practices utilized by Le Printemps revolutionized department store shopping. They were one of the first shopping centers to establish set pricing (au revoir haggling) and they also popularized the use of sales promotions to clear out-dated stock. They were also pioneers in the use of window displays.
A photo posted by Shannon Kennedy (@eurolinguiste) on May 30, 2015 at 12:12pm PDT
The main Printemps building is located on Boulevard Haussmen near other well-known shopping centers like les Galeries LaFayette. During our visit, the center was celebrating its 150 year anniversary and the buildings were beautifully decorated with flowers and displays.
A photo posted by Shannon Kennedy (@eurolinguiste) on May 3, 2015 at 5:59am PDT
A photo posted by Shannon Kennedy (@eurolinguiste) on May 2, 2015 at 6:35pm PDT
Gratuit // free of cost
Incroyable // incredible
Il n'y a pas du monde // it isn't crowded
Un café // a coffee
Chocolat // chocolate
Un verre // a glass
Établi // established
Au revoir // goodbye
Maman // mom

Le Printemps
64, BD HAUSSMANN
75009 PARIS – FRANCE
TÉL : 01 42 82 50 00
Open Monday to Saturday 9:35am-8:00pm
What We Recommend
Indulging in a bit of chocolate from La Maison du Chocolat
Heading up to the roof to enjoy a coffee or a glass of wine and the view
What are some of your favorite views of your famous cities? I'd love to hear about them in the comments below!
Shannon Kennedy
My name is Shannon Kennedy and I'm the language lover, traveler, and foodie behind Eurolinguiste. I'm also the Resident Polyglot at Drops and the Head Coach of the Fluent in 3 Months Challenge.