Tandem App Language Exchange | A Review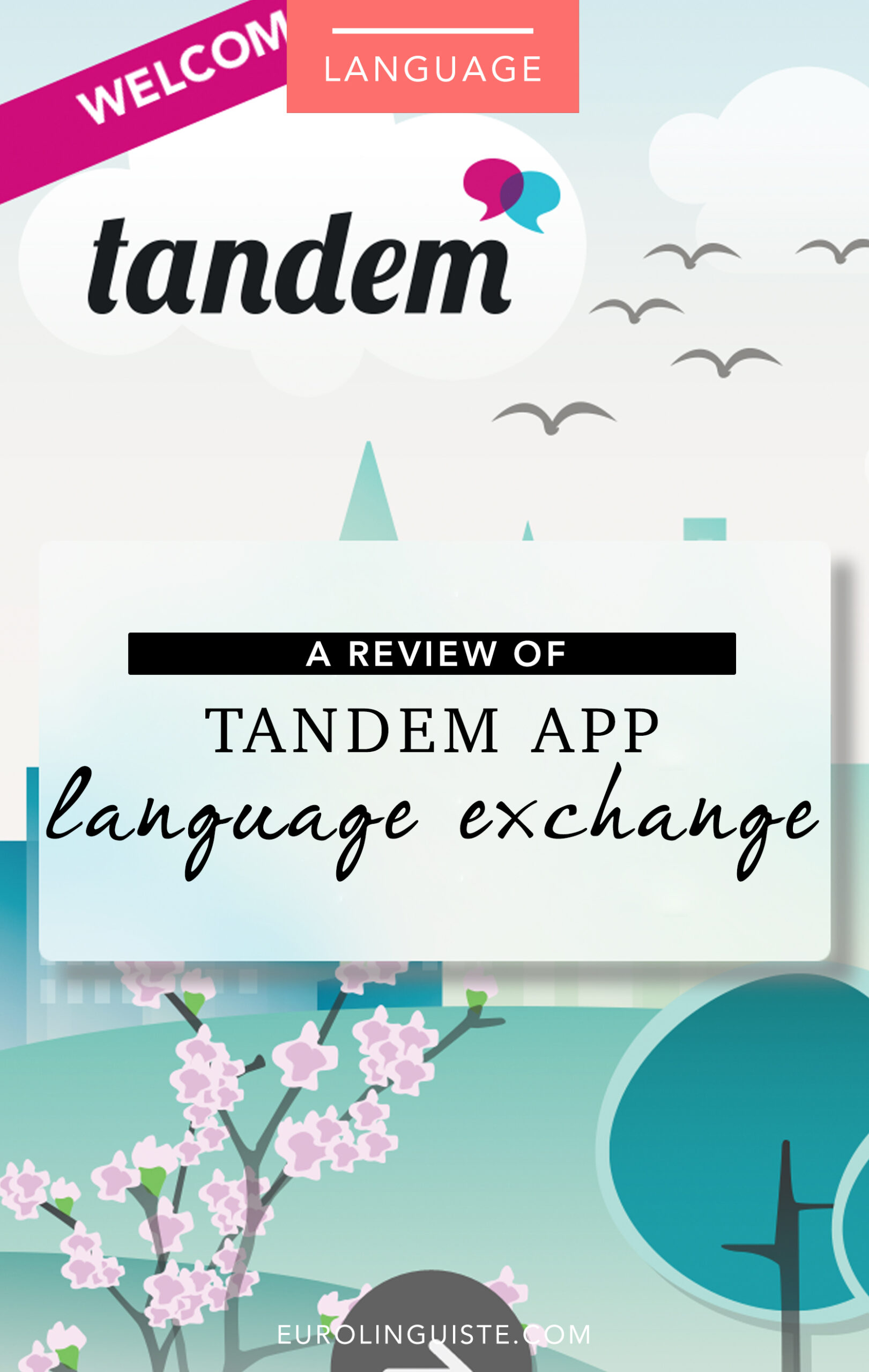 You've spent hours sending messages back and forth with a variety of potential language partners, weeding out the ones that aren't a good match with you, finally setting up a time to sign on to Skype and chat with one that seemed a good fit.
The day arrives, you've studied the topics you'd like to go over, sign onto Skype and the person doesn't show up.
Or maybe they do but the pressure of a thirty-minute or hour-long exchange grows awkward after the first ten minutes or so.
Wouldn't it just be so much easier if you could quickly discover language exchange partners who share your interests and whom you could connect with almost immediately?
The good news is that it can be just that because that's exactly what the creators over at Tandem App had in mind when they created their mobile platform. And from any where in the world, you can join with a community of more than three million people to practice your target language(s) at any time.
About Tandem App
Tandem App is a community-based application that enables its members to practice their languages one on one via text, audio recording, audio call or video call. It is currently only available to iOS users.
Things That I Really Like About Tandem App
Human Moderators Keep the Community In Check // In order to setup a profile on Tandem App, each user needs to go through a moderator check. As a serious language learner, I think that this feature is fantastic. I've seen quite a bit of abuse of other platforms and it's nice to know that the people I'm connecting with are there for the sole purpose of language practice. Users are also able to give those they call with "good vibes" which in turn, helps other users to find good language exchange partners.
Conversation Prompts // Tandem allows you to create conversation prompts as a part of your profile to help you avoid that awkward "so what do we talk about?" moment that is almost inevitable with every first exchange. These are things like "let's talk about music" or "can you teach me a few words in Korean" and so on. The prompts also help you choose partners that share your interests without the initial "interview" process.
Tutor Feature // Tandem App also has a tutor feature built into the application that allows you to connect with a teacher in a variety of languages.
The App is Completely Free // For exchange use, there aren't ads or hidden fees. The only costs associated with the app are for tutors and they are very reasonably priced (15 minutes for free, 20 minutes for $5, 60 minutes for $15, and even 90 minutes for $22.50 at the time of writing).
Intuitive Interface // The app is simply designed and easy to navigate. There aren't any hidden features or settings that you need to worry about and how to use Tandem is really clear.
Things That I Thought Could Be Better
Filters // While you can filter out who sees your profile (which is great), you can't filter the profiles that you see in the same way. You can filter who you see by interest and location, but not by other criteria. I wish this feature had a little bit more flexibility.
Difficult to Carry on Long Conversations with Other Users // Unlike in-person or scheduled Skype exchanges, it's much more difficult to keep the conversation going after a few minutes, even if it's going well. Due to the mobile nature of the app, it seems as though retention both in time per single use and continued use of the app were both low.
No Built in Translator // Tandem does not feature a built in translator, so if you're using the text chat feature, you have to copy the text, exit the app and enter your preferred translator to paste in the text and get the translation. It's not a huge pain to do this, but it would be really awesome if they made this a feature.
The Delay in Profile Approval // Many users have complained about the delay between signing up for Tandem and having their profile approved, but this honestly didn't bother me. I appreciate what Tandem is doing by monitoring their users, so I was totally fine with waiting to gain access. Tandem also only allows you to sign up via Facebook. This can present a few issues (for example, this limits users in China since Facebook is blocked) and my not be ideal for those who do not want their Facebook account connected to their profile.
Conclusion
If you're looking for a great way to connect with other language learning enthusiasts, Tandem is a great way to do it quickly and on the go. If you don't have the time (or energy) to set up a more "traditional" language exchange, then Tandem is the perfect app for you. Or even if you do want to set up a longer Skype exchange or in-person exchange, Tandem can help you arrange this too!
Ps. If you're looking for a few tips about how to get the most out of your language exchanges, check out this post: 12+ Ways to Ensure You're Getting the Most Out of Your Language Exchanges.
What about you? Have you tried Tandem? I'd love to hear about your experiences in the comments below!
Shannon Kennedy
My name is Shannon Kennedy and I'm the language lover, traveler, and foodie behind Eurolinguiste. I'm also the Resident Polyglot at Drops and the Head Coach of the Fluent in 3 Months Challenge.