Sweet & Spicy Tofu Recipe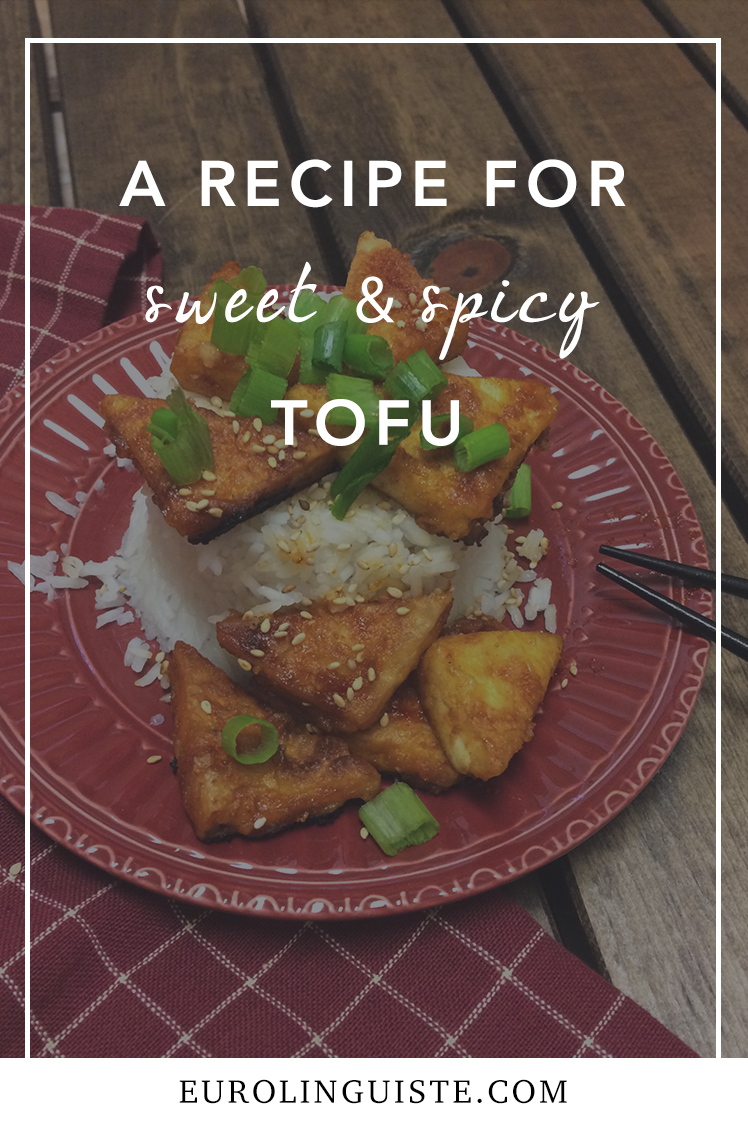 Tofu seems to be one of those foods that people either love or hate. I have always fallen on the love side of the line, but M has never been a fan.
Preparing two separate dishes was always a pain, so I've made efforts to find recipes for tofu that he'd enjoy as well.
And I finally found a winner.
Pulling together ingredients I happened to have on hand – yay for fridge raid meals – I was able to put together an adaptation of the Honey Sriracha Tofu recipe on Pickled Plum.
It's delicious, M loved it and is officially a convert, and I now make this dish about once a week. It's quick and easy to make and definitely a favorite.
Sweet & Spicy Tofu
Shannon Kennedy
A delicious spicy tofu dish with a touch a sweet.
Notes
1 block, firm tofu (about 14 oz)
3 garlic cloves, finely chopped or 1 tbsp garlic paste
2 tbsp Korean pepper paste Gochujang
1 tbsp Hot Mama Sauce or soy sauce
1 tbsp honey
1 tbsp rice vinegar
flour to coat tofu
2 tbsp sesame oil
Sesame seeds, garnish
Diced green onion, garnish
Drain the tofu, then wrap it in a paper towel to remove excess water. Set aside and re-wrap if paper towel becomes too damp while you prepare sauce.
Combine garlic, pepper sauce, hot mama (or soy) sauce, honey and rice vinegar in a bowl and set aside.
Cut tofu into triangles about 1/2 in. thick. Lightly coat tofu with flour on all sides.
Use a medium-sized pan and add oil, turning heat to high. When oil becomes hot, add in tofu (being careful of splashing). Fry on each side until you see a small crust form on bottom of tofu, about 2-3 minutes. Cooked sides of tofus should be golden brown.
Add sauce to pan, mix lightly to coat tofu cubes. Continue to cook for about 3 minutes.
Serve. Add sesame seeds and green onion to taste.
Hot Mama Sauce is a bottle of soy sauce to which I've added diced Thai chili peppers. I then let the bottle sit for at least one week before I start using the sauce.
Adapted from Pickled Plum.
Shannon Kennedy
My name is Shannon Kennedy and I'm the language lover, traveler, and foodie behind Eurolinguiste. I'm also the Resident Polyglot at Drops and the Head Coach of the Fluent in 3 Months Challenge.