A SPIN AROUND SINGAPORE IN THE SINGAPORE FLYER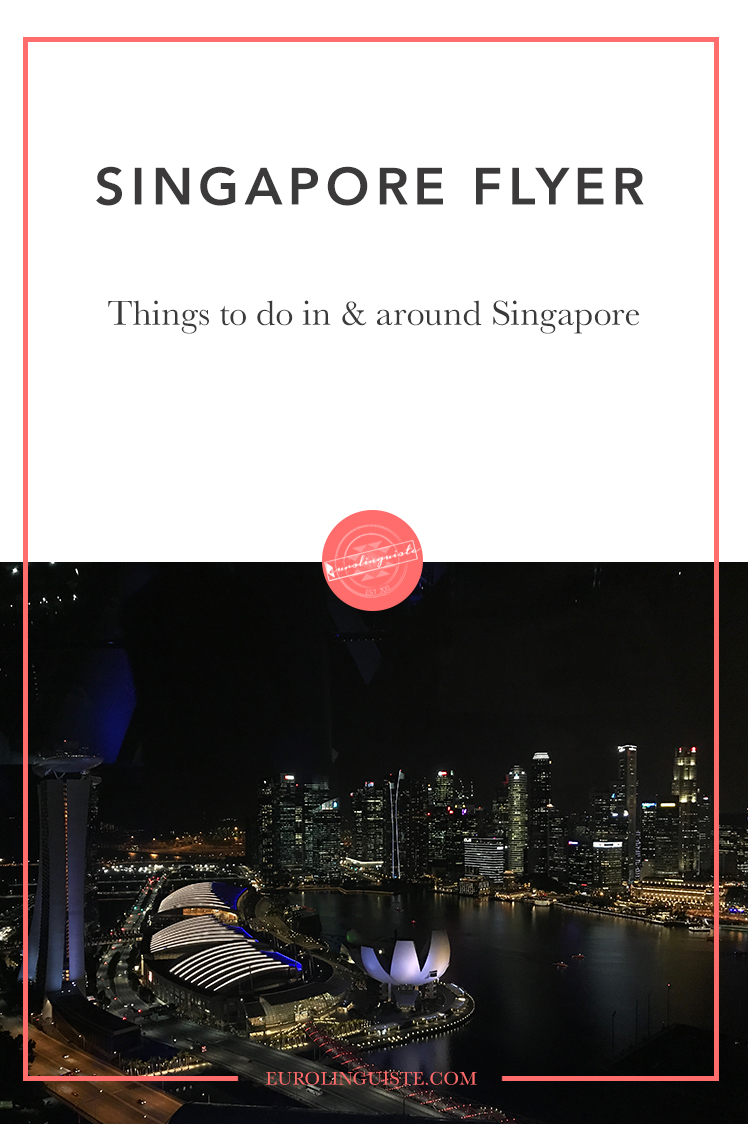 When visiting Singapore, there are two structures that stand out – the Marina Bay Sands hotel and the Singapore Flyer. Both offer breathtaking views of the city, and both are, on their own, amazing sights.
At 541 feet, the Singapore Flyer was the tallest Ferris wheel in the world, until the High Roller in Las Vegas snuck in at 550 feet. The Singapore Flyer took two and half years to build, carrying its first paying passengers in March 2008.
The wheel offers twenty-eight air-conditioned capsules, each able to contain about twenty-eight guests. The time in the capsule and away from the heat in Singapore was nice – especially because we had done quite a bit of walking prior to arriving. On our trip, the capsule was full, but the walking space around the seating area was wide enough that we were all able to wander freely and without feeling too crowded.
We opted to take the Singapore Flyer at night. It's somewhat removed from some of the larger hotels and buildings, so the city lights don't interfere with your view of the city. As the wheel turns, you're greeting with an excellent view of the harbor and as it reaches the top and begins to descend, you get to admire the city's architecture.
A complete trip from bottom to top and back takes just over 30 minutes. At times, it feels long, but if you're into snapping photos as a way of chronicling your travels, it's time very well spent.
In addition to normal seating, the Flyer offers a two-rotation dining experience that includes a host, a four-course meal (Chinese or Western-style), and priority boarding. The reservations can be made for two and guests are seated in a capsule "restaurant" with up to ten total guests.
The center where the Singapore Flyer is located is several stories and is the home to a number of shops, dining options, and activities. In addition to taking a trip around the wheel, you can try out the center's flight simulator, visit a fish spa, enjoy the XD sensory theater, or explore their mini rainforest.
Singapore Flyer
30 Raffles Avenue
Singapore 039803
Hours: 8am-10pm
What about you?
What places have you visited where you were able to enjoy the view, in particular?
I'd love to hear about them in the comments below.
Shannon Kennedy
My name is Shannon Kennedy and I'm the language lover, traveler, and foodie behind Eurolinguiste. I'm also the Resident Polyglot at Drops and the Head Coach of the Fluent in 3 Months Challenge.