A Review of Baselang | Unlimited Online Spanish Language Learning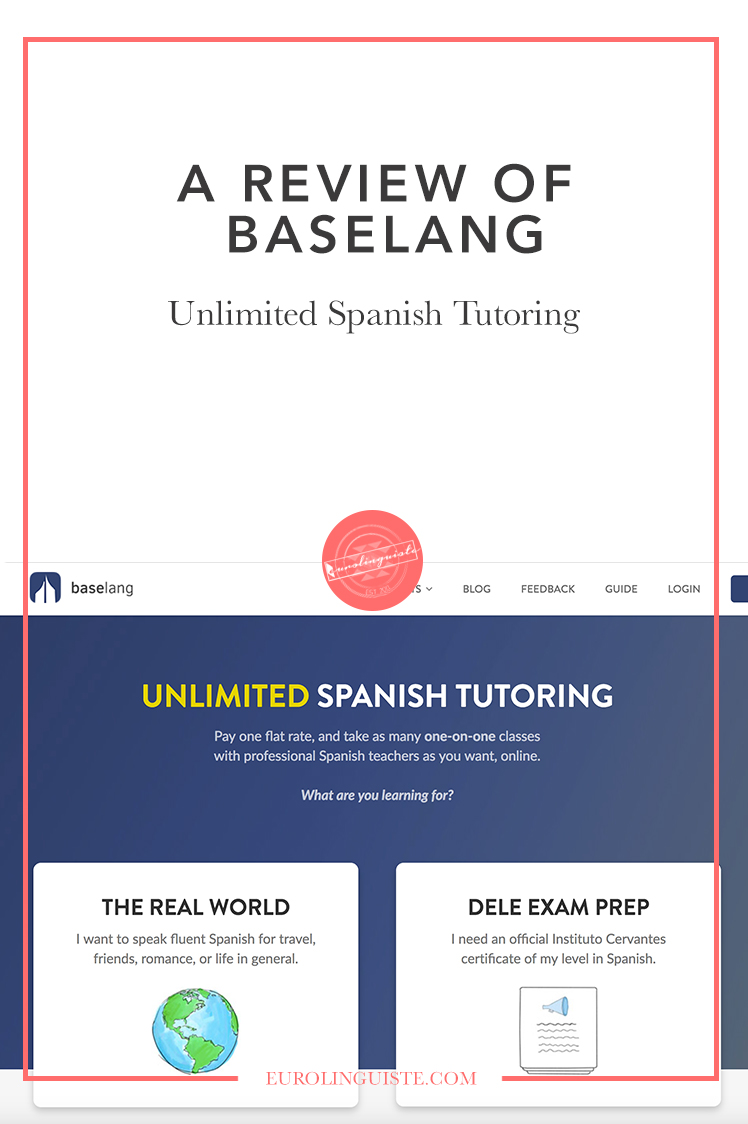 Please note that I was given a month trial to Baselang in order to write this review. All opinions are my own.
After studying Russian, I decided I needed a break. Something that in comparison, with my background in French and Italian, would be easier.
Spanish seemed to be the perfect solution.
I began dabbling in the language, trying it on to see how it fit. And to my surprise, the fit was just right. It was exactly what I needed to maintain my motivation and take a break from cases, a different writing system and words that are tough to pronounce.
There are tons of tutoring platforms and online schools, particularly for Spanish, so I hesitated signing up with a tutor. I was intimidated by all the different options, so I just didn't know where to start.
But then I was introduced to Baselang. Immediately, I knew I had found the solution to my Spanish tutoring needs. Unlimited Spanish lessons for just $129/month? Sold.
Baselang
Founded by Adrian Castañeda and Connor Grooms, Baselang is an online platform that connects you with tutors and offers a "hacked" version of a language course book so that you can maximize your Spanish learning.
The platform is based on the model that one needs to really SPEAK to master a language, and while they offer special Memrise flashcard decks and their digital course book, it isn't their primary focus.
The company got its start following Connor's project to learn Spanish in a month with Adrian's help. You can watch the documentary below.
The Technical Stuff
Classes through Baselang are available from 6am to midnight Eastern time and they happen online through Skype. You can book your lessons by tutor or by availability and sessions are available for 30 minute intervals (but you can book as many consecutive 30 minute sessions as you like).
I loved that you can book your lessons at the last minute (if you know you'll have a thirty minute window five minutes from now, you can go ahead and reserve it), but you're only able to book five days in advance.
Lessons With Baselang
The lessons on Baselang, for the most part, were pretty informal. In my experience, they centered around conversation and the tutors left it up to you as the learner to steer things in the direction needed.
I occasionally asked to work through specific grammar points; in one lesson a tutor and I practiced speaking in the past tense and in another we discussed subjunctive. But for the majority of my sessions, I simply choose a topic and we would chat about it the 30 minutes.
[distance1]
Over the period that I used Baselang, I worked with six different tutors. Several of them I had across multiple sessions (I used the time availability booking feature rather than tutor based), but I liked the variation because it exposed me to the different ways Spanish natives speak (at least in Venezuela).
The tutors are flexible and quickly adapt to your level, making sure that you're getting what you need from your sessions. They take notes (in some system somewhere) about what your session covered and what you need/want to work on for other tutors, so moving from lesson to lesson or tutor to tutor is relatively seamless.
When you get started, there are numerous tutorials and messages to help you get going with the platform . You can reply within the pop-ups with any questions, so it's really easy to get the help you need.
The tutors I worked with were all wonderful and fun to talk to. Plus, they were incredibly patient as I stumbled through my very first unplanned and unscripted lessons. They often checked in with me to ask how I like my lessons to be structured and if what we were doing was working for me. It was really great to get that kind of attention.
I loved that they had grammar lessons available to you in the portal so that you didn't have to waste your lesson time working through them. Instead, you could work on them at your own pace and then put them to practice in your lessons. But if you do have questions, the tutors are more than happy to help you sort through whatever you're struggling with.
The (internet) connection for my first two teachers really wasn't all that great. It made me a bit nervous that it was me who didn't understand or couldn't make myself understood, but it was actually the delay caused by our Skype connection. *Edit: BaseLang has informed me that they offer classes via "Zoom" (a faster alternative to Skype) and plan to make it the default option in the coming weeks. This should combat any connection issues.
The Cons
In order to feel like you're getting your money's worth with Baselang, it's easy to be overambitious and overwhelm yourself with lessons. I noticed that at the beginning, I was much more enthusiastic and consistent with my bookings, but as time went on and reality set in, I reserved lessons less often.
If you take a one hour lesson once a week, you're spending about $60 a month on lessons. That means with Baselang, if you're not taking at least two hours of lessons each week, you're not getting your money's worth. So, if you can't commit to about two hours per week, it's probably not the right investment for you.
That said, spending that money could be a great incentive for you to up your Spanish game and really invest in your learning.
My only other wish for the platform would be that you could see your lesson history. The tutors have access to this, but if it's available to you as a student, I couldn't see it.
Conclusion
If I decide to continue taking Spanish language lessons, I would 100% chose to do so with Baselang. I love the conversational approach and the fact that you can book your lessons so last minute. For me, with an unpredictable schedule, this is so important and I really appreciate that they offer it.
Currently, you can try out Baselang for a week for just $1. Each month after is $129. I also adore their confidence in their program. If you decide within the first 35 days that Baselang isn't for you, they'll not only refund you, but send you an additional $20.
For anyone interested in learning Spanish, especially Latin American Spanish (although this is still a pretty broad category), I think that Baselang is a worthwhile investment. You have a fantastic opportunity to really go to work on your Spanish and you definitely can't make the excuse that you can't find a tutor or exchange partner who is available when you are.
It's an incredibly convenient platform with great quality teachers and I absolutely recommend it.
Shannon Kennedy
My name is Shannon Kennedy and I'm the language lover, traveler, and foodie behind Eurolinguiste. I'm also the Resident Polyglot at Drops and the Head Coach of the Fluent in 3 Months Challenge.