15 Popular Study Abroad Locations Among College Students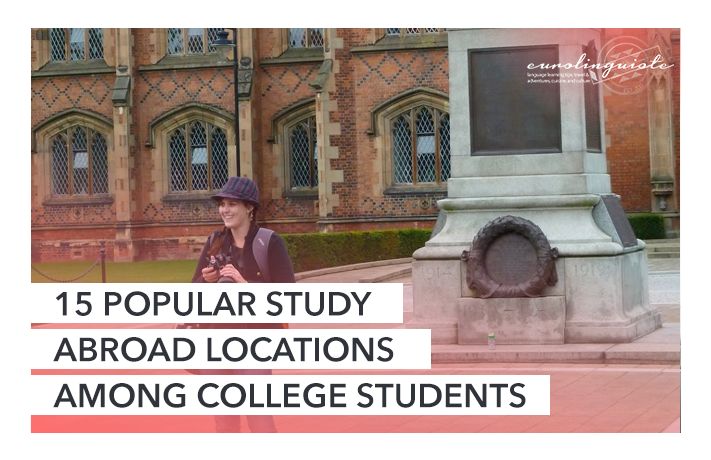 If you're thinking about studying abroad to better grasp and appreciate another language or culture, or you simply want to take an opportunity to expand your horizons and see a bit more of the world, your options are incredibly diverse.
Let's take a look at some of the great places you could choose and everything they have in store for you!
1. Spain
You can really get your money's worth by making Spain your study abroad option, since it's one of the least expensive places to study in Europe when compared to U.S. costs. Plus, there's over seventy universities to choose from.
While you're there, you'll be able to enjoy a lively music scene, the delectable cuisine, and major metropolitan destinations like Barcelona, Granada, Seville, and more.
2. Norway
If you're looking for a really cost-effective opportunity, you might want to consider Norway since it is a free option for everyone both inside the EU and out. This is limited to public universities, and does not cover certain specialized programs, but it's certainly an attractive offer to consider.
When you have time between classes, you'll be able to explore the region's amazing landscape, including in such regions as the Alps, Geirangerfjord, and the Arctic Circle where you can see the marvelous Northern Lights.
3. Brazil
Want a warmer climate? Brazil might be your perfect destination for studying abroad. The country offers numerous programs for students, particularly within the bustling city of Rio de Janeiro.
Guests to that city love the exciting nightlife, outdoor possibilities like hiking and swimming in the ocean, world-class restaurants, and more!
4. New Zealand
New Zealand boasts an impressive statistic when it comes to study abroad options – all of its eight universities are within the top 3% of the world. As a visiting student in the country, your opportunities for fun and fulfillment are nearly limitless, too. Some popular activities include kayaking, skiing, rafting, bungy jumping, whale watching, and so much more. You can also take the opportunity to learn more about the country's Māori culture.
5. South Korea
South Korea's study abroad programs are another excellent option for students, particularly if you examine Korea University, considered an equivalent to the United States' Ivy League schools. With the area's delectable cuisine, gorgeous mountainside and beachside views, host of museums, and ease of public transport, this is one opportunity to definitely keep in mind.
6. France
With over 3,500 higher education institutions for students to choose from, including many within the City of Light itself, France is a wonderful possibility if you're looking to do your studying abroad in Europe.
The sky's the limit when you want to engage with the region's culture, too, as you can visit any number of first-rate restaurants and vineyards, see masterpieces at the Louvre, explore the Paris Catacombs, and so much more.
7. Costa Rica
Costa Rica not only has sixty universities for students to choose from, but the cost of living in the country is rather affordable as well, making the country an enticing option to add to your list. Visitors enjoy plenty of outdoor activities, lively sporting events, easy and cheap travel, and, of course, the amazing and scenic beaches.
8. Japan
Those who want to experience the full spectrum when it comes to a country's culture should consider Japan, as it lays claim to both cultural sites that stretch back thousands of years along with some of the most advanced technological innovations on the planet.
You'll delight in this unique disparity as a student, and will further appreciate the culinary wonders, historic sites, and splendid landscapes that await you.
9. Russia
Russia has a strong emphasis on education, with 54% of their population between 25 and 64 having university degrees. So if you want to travel somewhere with a focus on academics, and especially if you're studying Russian, this may be the place to go.
While there, you'll also be able to attend the country's many museums, marvel at its unique architecture, and more. Also, studying in Russia can be particularly affordable because of the free housing Russian schools provide, called obshagas. If you're looking to immerse yourself in a culture and meet lots of new people, this is an excellent way to do so.
10. United Arab Emirates
For students who are honing their Arabic language skills, UAE can be a great study abroad option. There are numerous programs within the country, including several for the major metropolis of Dubai.
If you end up choosing Dubai as your option, you'll be able to explore all of the amazing projects the city has been working on such as Burj Al Arab Jumeirah, the Dubai Frame, the market and cultural fair Global Village, and IMG Worlds of Adventure which is the largest indoor theme park in the world.
11. Germany
Students who have an academic interest in areas like business, the hard sciences, and, of course, the German language, will feel right at home in one of the country's many universities. During downtime you can scope out the region's impressive art scene in places like Dresden, hike through the picturesque Black Forest, or engage in some afterhours fun in one of many beer halls.
12. China
China has the fastest-growing influx of international students in the world, and for good reason. With its top-rated universities and major presence in both world affairs and commerce, choosing China as your study abroad option can be greatly beneficial to your future.
But let's not overlook the amazing and authentic cuisine you'll be able to have while in the country, or the key historical sites you can visit like the Lintong District's Terracotta Army, the illustrious Summer Palace, and, of course, The Great Wall.
13. The United Kingdom
With the wide variety of excellent schools the country offers, and the lack of a language barrier for Americans, it's no wonder so many students choose the UK for schooling. In fact, the collective of countries has been known to often hold over 10% of U.S. study abroad students.
And since the UK is comprised of four separate countries, during your downtime you can visit England, Scotland, Wales, and Northern Ireland to see key cultural and popular sites like Stonehenge, Buckingham Palace, Loch Ness, Portmeirion, and the Giant's Causeway.
14. Italy
Students who are drawn to Italy's study abroad programs can come from a variety of backgrounds, but many have an interest in business, languages, or the fine arts. And because of the region's food, wine, beautiful architecture, and rich cultural history, the country is one of the world's most popular study abroad locations.
While there, be sure to visit the wide variety of museums, churches, and more to take advantage of all the country has to offer. And we can't recommend Venice enough if you're looking for a beautiful and picturesque city to spend time in.
15. Switzerland
Switzerland has been ranked second in the world for teaching quality, making it an ideal choice for students looking to study abroad. Swiss universities are also known to make innovative learning models and global-minded education a priority.
As a visitor, you'll be able to engage in a variety of outdoor activities like hiking and skiing, take day trips to historic, fairytale-like castles, and get your fill of delicious Swiss chocolates.
---
About the author: Linton Lewis works with Kent State's MCLS department which provides an online Master's in Translation in six separate language tracks.
Shannon Kennedy
My name is Shannon Kennedy and I'm the language lover, traveler, and foodie behind Eurolinguiste. I'm also the Resident Polyglot at Drops and the Head Coach of the Fluent in 3 Months Challenge.