New Language Project: Learn Persian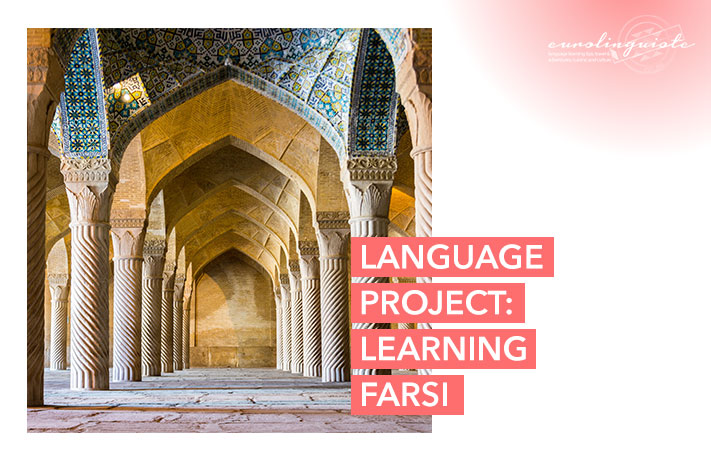 I'm learning a new language.
Yes, this means I'm up to my 14th language I either am in the process of maintaining, learning, or using on a somewhat regular basis.
What's the motivation for doing this? Let's get into the reason behind it.
My New Language Project: Learn Persian
Since Drops released Persian, I've toyed with the idea of learning the Persian language (also known as Farsi). Where I live, we have a large community of Persian speakers, many of whom I count as friends and I'd love to share the language with them.
Given that my last language project didn't pan out as planned (I intended to learn Hebrew for a trip to Tel Aviv that didn't happen due to COVID-19), and the fact that travel guidelines are still restrictive, I decided to learn a local language. Something that I could use while still at home.
My Goal Learning Persian
At the end of about 90 days, my goal is to surprise some friends with my ability to speak Persian. They've occasionally taught me a word here or there in the language, but I haven't yet seriously studied the language and I know they'll be thrilled to find out I started learning it on my own.
I plan to practice the language in other settings leading up to the "big reveal", but I'm hoping to surprise them like I did my co-workers at Drops with Hungarian a while back.
How I'm Going to Learn Persian
My Farsi Language Learning Tools
I plan on taking weekly lessons (perhaps more) during the duration of my Persian learning project. I'm currently trying out several different tutors on Preply, and will hopefully have one selected by the end of the week!
PS. Have you seen Preply's learning goal dashboard? It's amazing! You can select a study goal and it'll break down how much you'll have to study to reach it. I set the ultimate goal of B1 in the language and it estimated how many weeks and hours of study I needed.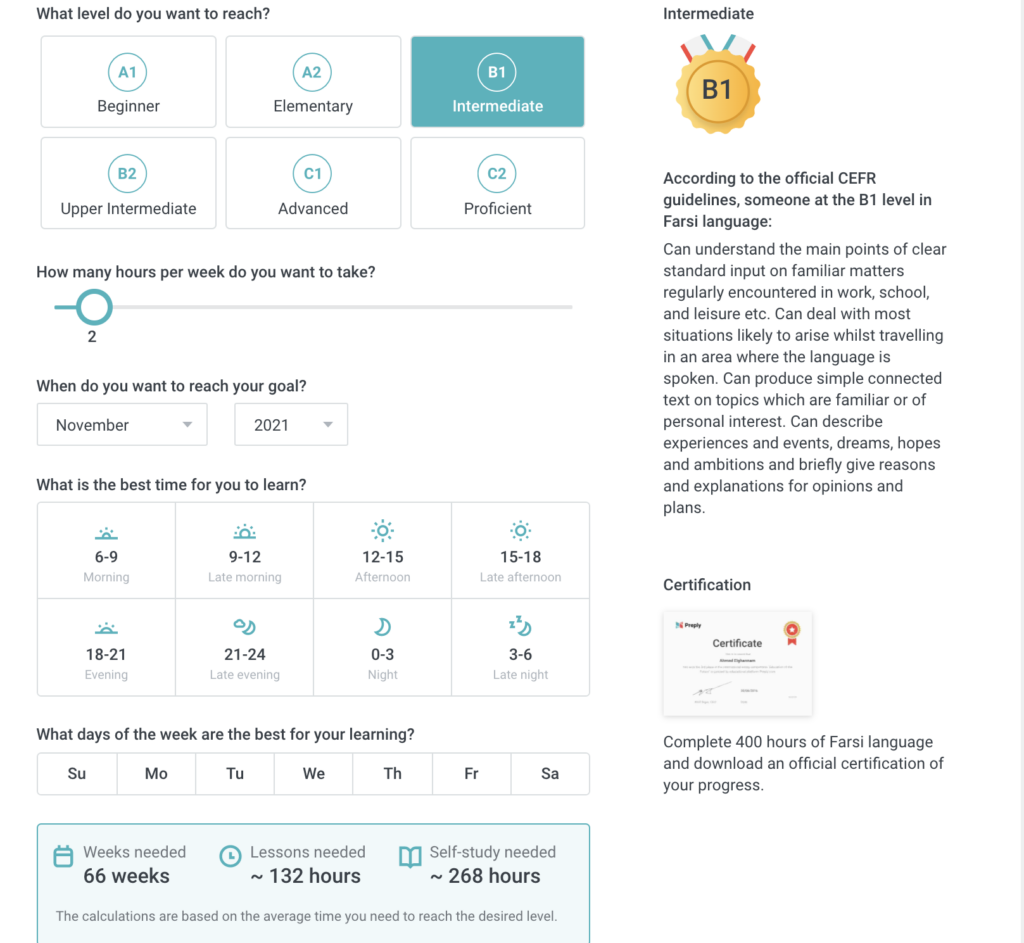 To start building my vocabulary and foundation in the Persian language, I'll study new words each day with Drops.
I'm joining a challenge a bit late (just over a week), but I plan on taking part in an Fi3M challenge for the extra accountability and community while learning a language.
PersianPod101
In my first week, I like to dig through all the Pod101 videos available to quickly learn basic phrases.
One of my favorite resources when starting to learn a new language is Pimsleur because it's been a great way to get in both listening and speaking practice.
My Language Learning Routine
My routine for learning Persian will look like this at the start of this project:
Every day:
5-15 minutes of vocabulary study with Drops
15-30 minutes of video lessons with the PersianPod101 Youtube channel
30 minute Pimsleur lesson
Every week:
1 lesson with my Farsi tutor
Additional research and study as needed
My Initial Plans for My First Week of Learning Persian
In the first week of learning Persian, I'd like to accomplish the following:
Learn the Persian writing system
Get my self introduction down in Persian
Learn around 100 words
My Updates
I'll update you on my progress about once every two weeks either by blog post or by video. To keep everything in one place, I've put this page together so you can find all my Persian updates in chronological order.
Have any questions about this project? Let me know in the comments below! I'm putting together an "Ask the Polyglot" video and post answering many of the questions you've sent me about my Persian language project—whether it's about starting a new language or about my learning strategies in general.
I also plan to make regular videos on Instagram and Youtube – so be sure to follow me there.
In the meantime, do you have any advice for me as a new Persian learner? Have any resource recommendations you couldn't live without while learning the language? Let me know in the comments below! I look forward to hearing from you.
Shannon Kennedy
My name is Shannon Kennedy and I'm the language lover, traveler, and foodie behind Eurolinguiste. I'm also the Resident Polyglot at Drops and the Head Coach of the Fluent in 3 Months Challenge.