Maille Mustard in Paris, France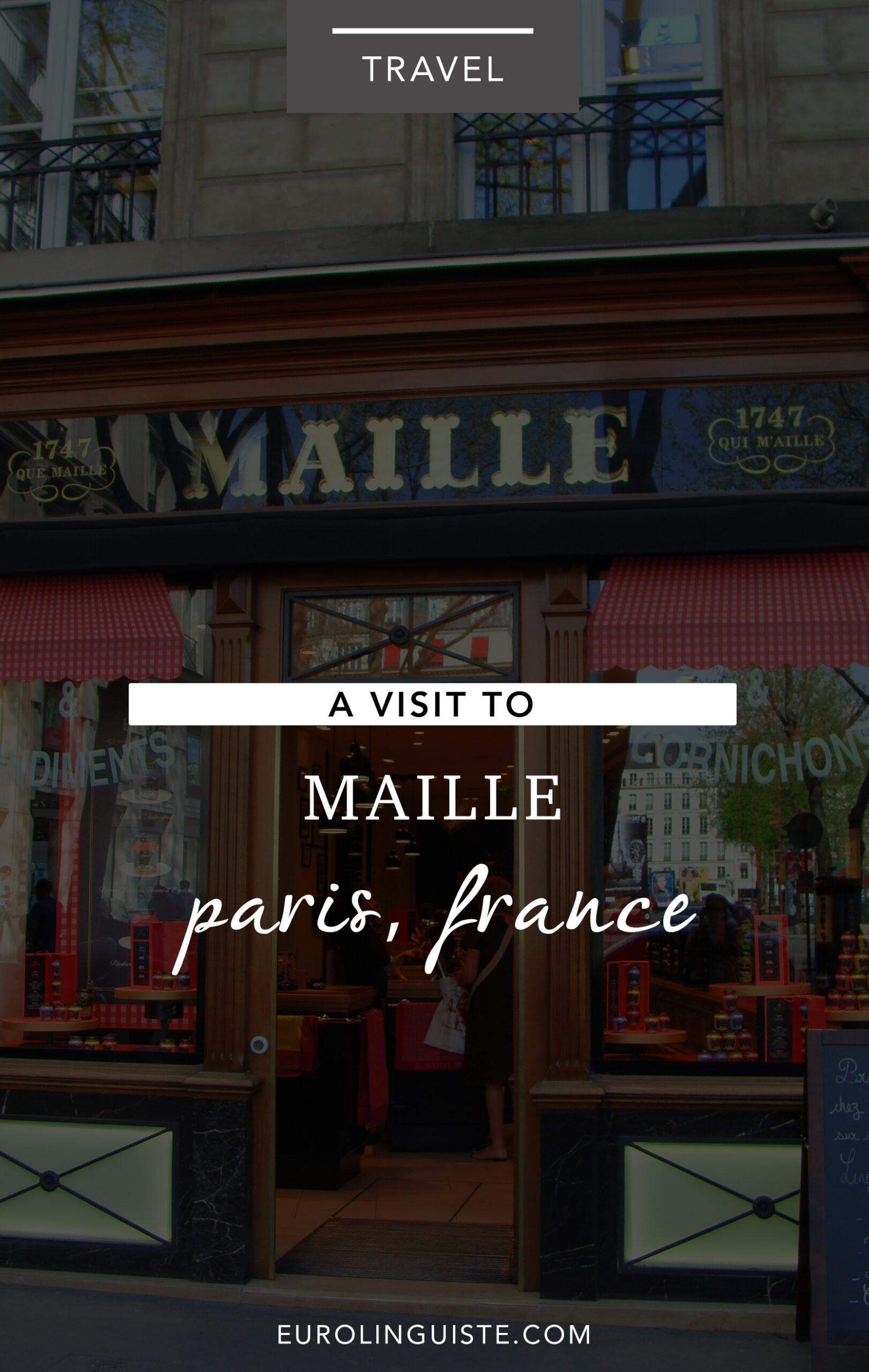 Established in Marseille, France in 1723, Maille has since opened boutiques featuring its mustards, cornichons, salad dressings, and oils in Paris, London, New York, and Bordeaux.
Antoine-Claude Maille, a distillateur-vinaigrier (distiller and vinegar-maker), saw great potential in vinaigre (vinegar) and so he invented the "Vinaigre des quatre voleurs" (Vinegar of the Four Thieves) meant to be swallowed by the teaspoon along with water to fight the "ravages of the plague".
His son, also named Antoine-Claude, continued the trade, registering as a Maître Vinaigrier (master vinegar-maker) with the union. The mustards he produced quickly become popular after he opened his first boutique in Paris, becoming the official supplier of mustards to court of Louis XV, thus establishing La Maison Maille.
Upon Antoine-Claude's (son) death in 1804, Maille was producing 20 flavors of mustard and 50 flavors of vinegar.
Maille Mustard in Paris, France
The boutique located within the Place de la Madeleine, where I had the pleasure of visiting, was opened in 1996 on the 250th anniversary of Maille. The boutique, in addition to a wide variety of oils, moutards (mustards), vinegars, and dressings, offers mustard servie à la pompe (on tap) in refillable jars as well as a tasting table where visitors can try out an assortment of mustard saveurs (flavors) before making their purchases.
The mustard tasting area was definitely the best part of our visit to the store. They provide small breadsticks for you to try out the different seasonal flavours of mustard and with an impressive of mustards set out to taste, it's quite hard to move your attention away to any other section of the store!

And with flavors that range from olives and herbs of Provence to blue cheese, and apricot with curry spices to pesto and arugula, there's certainly a little something for everyone. The best news is, that you can take a little Maille home with you, safely wrapped and tucked away in your checked-in luggage.
After our visit, I went away with their black truffle and chablis mustard (from the tap) as well as blue cheese – two flavours we haven't found in stores here in California. In the US, we're regular buyers of the horseradish, old style, and original Dijon. But in France, there's something irresistible about their freshly poured mustards. Plus, the collectible jars they pour the on-tap mustards into are just too lovely to not want to bring them home.
My father is a huge fan of mustard – he even makes his own – so when my sister and I walked by it on an afternoon outing, I just had to stop in. And I am so glad that I did.
A photo posted by Shannon Kennedy (@eurolinguiste) on May 27, 2015 at 3:06pm PDT
Boutique Maille
6 Place de la Madeleine
75008 Paris
France
Phone : 01 40 15 06 00
Hours
Monday to Saturday 10h–19h
Have you ever stumbled across somewhere you just couldn't resist visiting on a trip? I'd love to hear about it in the comments below!
Shannon Kennedy
My name is Shannon Kennedy and I'm the language lover, traveler, and foodie behind Eurolinguiste. I'm also the Resident Polyglot at Drops and the Head Coach of the Fluent in 3 Months Challenge.