Mad Dumplings | Places to Eat in Southern California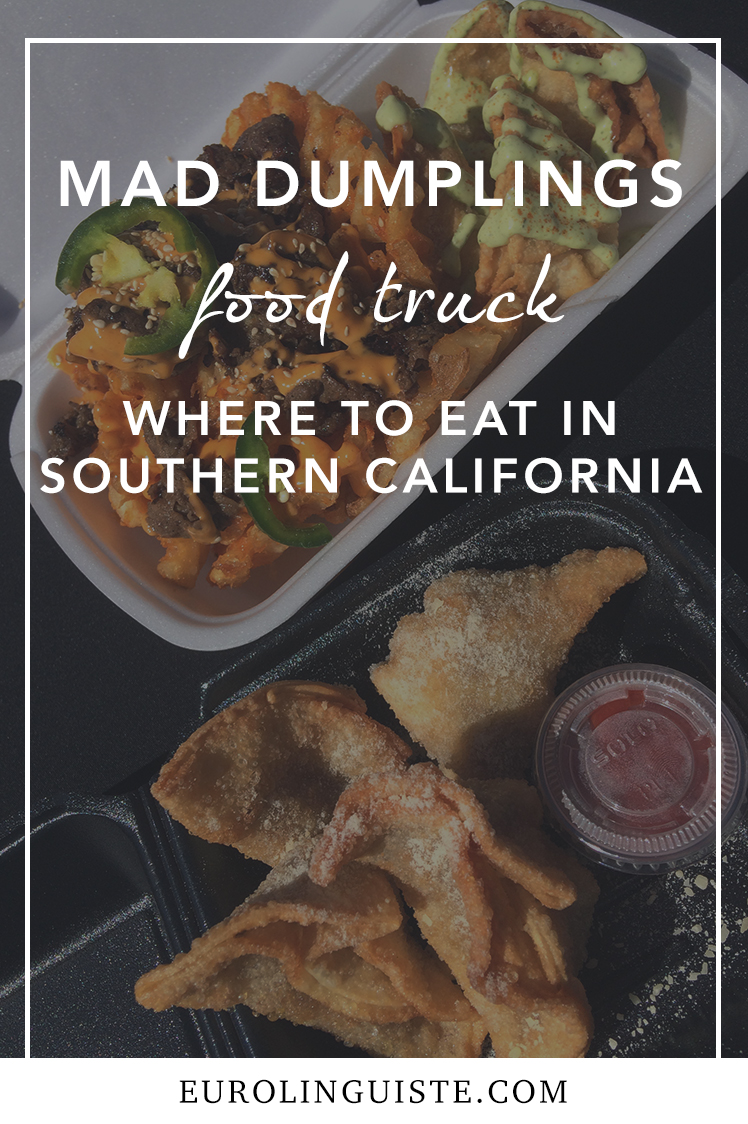 I'm no stranger to food trucks – at music conferences and festivals, there is often plenty to choose from and I've had the chance to try out some excellent items.
To be honest though, until recently, I'd never gone out of my way to try out a food truck.
For me, food trucks were mostly a thing of convenience. If there was one nearby when I was hungry, I'd try it out.
But then I heard about Mad Dumplings and for the first time, I decided I'd make the trip out so that I could indulge in their dumpling creations. I found, however, that it's a bit of work following a food truck and trying to coordinate your schedule so you're available to visit them when they are nearby.
So after a couple weeks of tracking Mad Dumplings, the stars finally aligned and I was free to try them out when they were about 20 minutes from my work.
I was ecstatic and they did not disappoint.
After making the drive, I was the first in line (I told you I was excited). I ordered way too much food so that I could try a bit of almost everything and then bring back whatever was left to share. My dad who is one of the pickiest eaters I know loved the dumplings I shared with him so much that he immediately demanded if they catered (the answer is yes, they do).
I tried:
The Mac Attack // a deep friend macaroni and cheese dumpling topped with a spicy cilantro mayo
The Broken Meatball // a classic Italian meatball stuffed into a deep fried dumpling, sprinkled with parmesan and served with a side of warm marinera sauce
The Nutella dumplings // a deep free dumpling filled with a mouthwatering spoonful of Nutella and topped with crumbled oreos, powdered sugar and a strawberry glaze
The Bulgogi fries // Crispy waffle fries with bulgogi topped with Sriracha mayo, sesame seeds and thinly sliced jalapeños.
And everything was amazing.
The Bulgogi waffle fries were definitely my favorite. The meat was perfectly marinated and tender, the fries warm and fried just right, and the jalapeños and Sriracha mayo were the perfect spicy touch.
A close second were definitely the Nutella dumplings. The Nutella was a gooey, delicious, melted mess complemented by the crumbled oreos, strawberry glaze and powdered sugar.
There are a few more items on the menu that I definitely plan on trying in the near future. Their Longanisa sausage dumplings are their most popular item and an order of these dumplings is definitely first on my list for the next time around.
Each order of dumplings includes five pieces unless you opt for one of their combos – the four dumpling and fries combo or the two sets of four dumplings. The food is cooked to order, but you don't wait long from the time you place your order to the time the food is ready. Plus, they have games like Connect Four set up on the tables just in case you get bored. It's the extra touches like this that really made them a favorite for me.
The prices are reasonable for the quality of the food and the amount you receive. The options are definitely innovative even though the menu is somewhat limited, but for those just looking for a classic vegetable or meat dumpling, they have those too.
The owners Edwin Lee and Fen Yi Chen seem like really great guys. I had the chance to chat with Fen Yi and he was incredibly genuine, easy-going and a pleasure to talk to. He made a point of calling customers by name rather than number and engage with them.
The Mad Dumplings food truck stops twice a day and is located around Orange County and Los Angeles, depending on the day. They're also available for catering. You can check out their schedule on their website.
What about you?
What are some of the places you've gone out of your way to eat at?
I'd love to hear about them in the comments below!
Shannon Kennedy
My name is Shannon Kennedy and I'm the language lover, traveler, and foodie behind Eurolinguiste. I'm also the Resident Polyglot at Drops and the Head Coach of the Fluent in 3 Months Challenge.