Dual Language Reading | Beelinguapp Review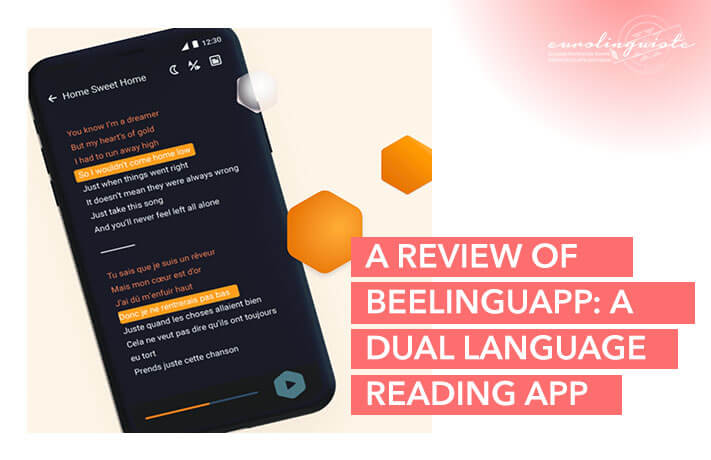 Once you figure out how to get started, the beginning stages of learning a language are a breeze. You make huge leaps forward with your language learning and you really get a quick sense of accomplishment from the time you spend studying.
The intermediate stage, however, is an entirely different beast.
If it isn't plaguing you with frustratingly difficult grammar, you're stuck in the doldrums of a learning plateau, at a complete loss as to how to break through and finally arrive at that upper-intermediate or advanced stage.
Lately, in an effort to avoid getting stuck at the intermediate level, I decided to make extensive reading a greater part of my language learning approach. In the past, for languages that are close to my native language – French, Spanish, Italian, and German – I found extensive reading to be effective. It was relatively easy to understand quite a bit of what I was reading by doing just a bit of deduction.
And when I started to apply the same method to more distant languages – Russian, Korean and Chinese – I discovered that the same rules apply, even if required looking things up more often.
Meet Beelinguapp
For new learners, a book in one's target language can be quite intimidating. There are a lot of things that might be too foreign all at once – pronunciation, vocabulary, grammar, etc. – and so the task seems overwhelming.
When this is the case, my first suggestion is to invest in dual language books (not children's books!). There are many different options when it comes to dual language books, but they can be hard to find for certain languages and even pretty expensive.
With Beelinguapp, however, dual language reading becomes more affordable and convenient than ever.
Beelinguapp is currently available for Android and iOS.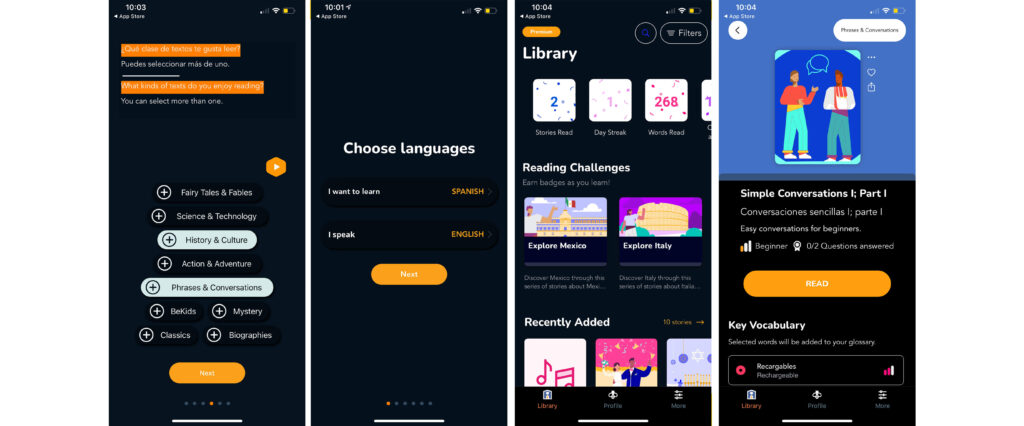 Things Beelinguapp Does Well: Features That I Like
It is available in 14 languages and you can use any language combination you wish. // Currently, Beelinguapp is available for learners or speakers of Arabic, English, Turkish, Hindi, Russian, French, Portuguese, Chinese, German, Italian, Japanese, Korean, Swedish, and Spanish. You can choose to read the selections in any combination of languages, so you can learn Portuguese through French or just study Russian using your native language.
There are several ways you can filter the available titles. // Language, level, and category are a few of the ways that you can view the titles available. You're sure to find something you like with all the ways you can filter the results.
The amount of free content. // At the time of writing, there are several free stories available. This is a nice selection of material for those not ready/sure about investing in the app. You're likely to find something you want to try out and read for free rather than force yourself through reading on a topic that doesn't interest you.
There is audio available for each of the readings. // For those interested in improving their listening comprehension or just curious about how the words they're reading actually sound, there are recordings from native speakers of each of the texts.
You can use the audio as a standalone feature. // You don't need to have the app open and viewable on your phone to use the audio feature. If you'd like to use the readings as an audiobook in your car or while on the go, the app still functions when the screen is locked.
You can turn off the side by side reading feature. // If you want to increase the challenge, you can turn off the side by side reading feature and just work through the texts in your target language.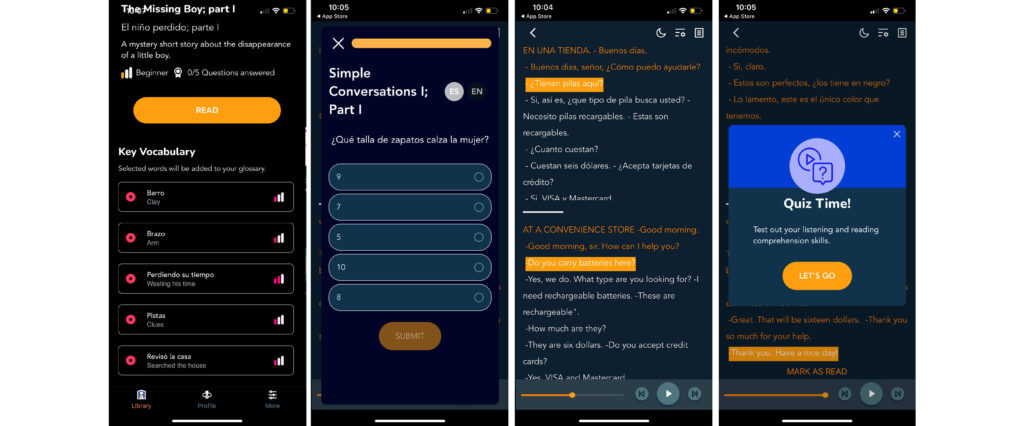 Features I That Were Improved Since My Original Review
Since my original review, many of the features I thought could use improvement have, in fact, been improved. For example:
Before, the accompanying images didn't match the content quality. // There are now custom images for each story that suit the app very well.
There were too many ads. // This has been reduced significantly and you can upgrade to Premium to remove ads.
The karaoke-style cursor doesn't always move in sync with the audio. // The timing on this has been improved significantly.
The audio is only available at one speed. // There are now three speeds available: 0.5, 0.75 and 1.0.
Features That I Still Think Can Be Improved in Beelinguapp
For me, the power of a language learning tool really comes from my ability to tailor it to my own needs and create custom content. While there's a wide selection of content available in Beelinguapp, there isn't an option to add your own content to the app.
Being able to use this incredible reading tool with my own content would be amazing, and as I said, my preference.
Conclusion: My Thoughts on Beelinguapp
Overall, I really enjoyed using Beelinguapp. Since I'm incorporating reading into my learning strategy more and more, I see a lot of potential for something like this – especially for those interested in tackling more than one language.
The reading selections are short, which makes them feel much less intimidating than taking on a full book. Plus they're on an interesting assortment of topics – everything from history to culture, fiction to science.
Beelinguapp was developed by David Montiel, a programmer from Mexico who now lives in Germany. He used texts and audiobooks to learn the German language, which is why he sought to develop Beelinguapp – it filled a gap he felt was missing from his learning tools.
You can learn more by visiting the Beelinguapp website.
Beelinguapp: Facebook | Twitter
What about you?
What are your thoughts about extended reading?
Do you have any apps or books or dual language books that you're digging into at the moment? Or that you enjoyed in the past? I'd love to hear about them in the comments below.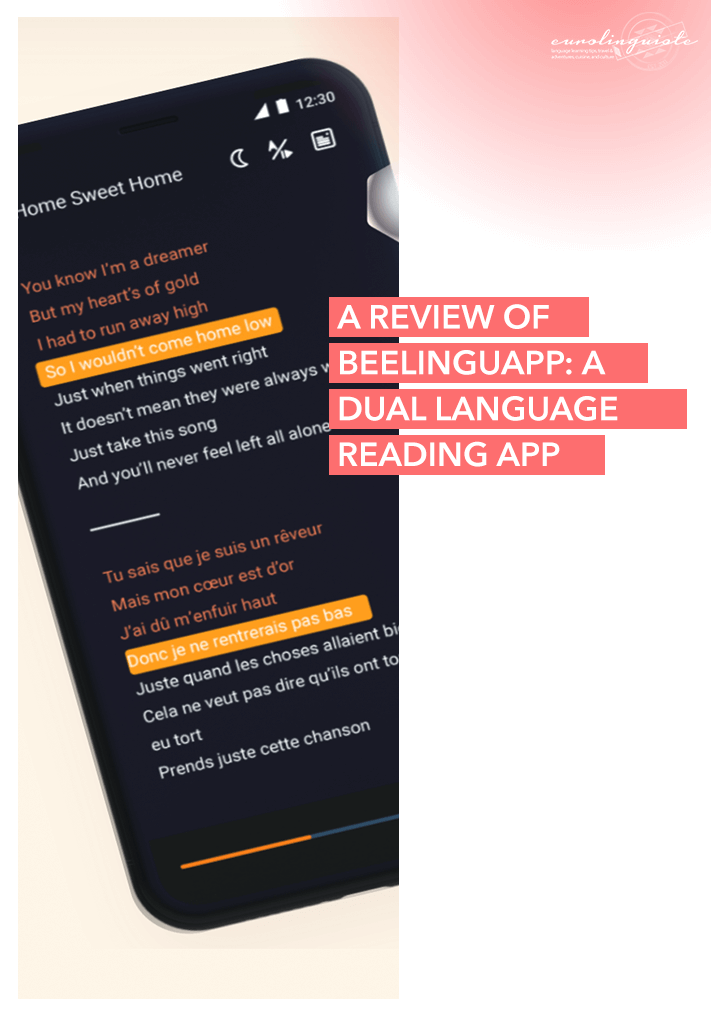 Shannon Kennedy
My name is Shannon Kennedy and I'm the language lover, traveler, and foodie behind Eurolinguiste. I'm also the Resident Polyglot at Drops and the Head Coach of the Fluent in 3 Months Challenge.