French Cuisine at Bouchon | Things to Do In & Around Las Vegas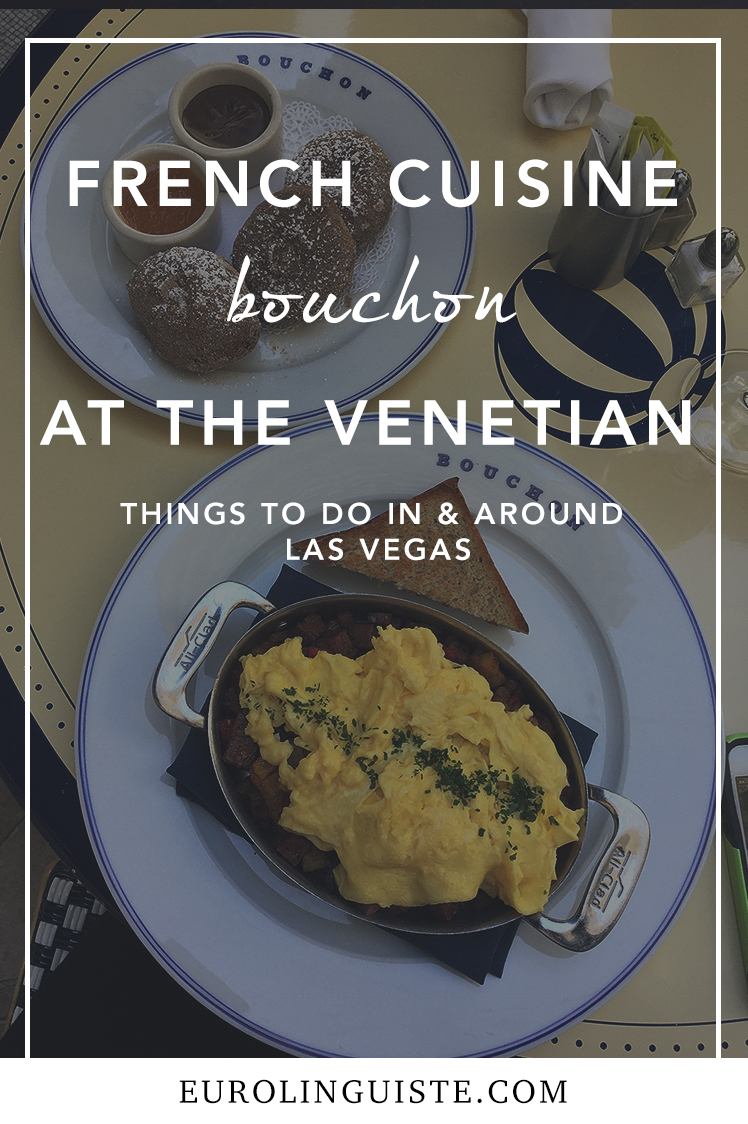 In French, Bouchon means "cork" or "plug", but in Las Vegas, Nevada, it's the French brasserie tucked away behind the reception desk at The Venetian.
On my last trip out to the city, I had a little bit of time to myself and decided to stop in for a late breakfast before my schedule took over my day. After browsing the menu, I ordered more food than I could eat, but it allowed me the experience of tasting a nice selection of items (plus it meant I had something delicious to snack on later).
A quick wander down a long hallway of marble and floor-to-ceiling windows brings you to the entrance of the restaurant, styled like many of the brasseries I've come to know and love in Paris.
Beautiful stained wood paneling, a lengthy and mirrored bar, and a gorgeous patio greet you as you step into Bouchon. Because of the odd timing on my arrival (long after breakfast, but enough before lunch), I was whisked away immediately to a table outside where I could admire the gazebo and the then unoccupied pool.
Glancing over the menu, I knew decided what I'd order would be a tough choice. Brioche French Toast with Blueberry Compote & Crown Maple Syrup or Sourdough Waffles with Caramelized Bananas? Foie Gras de Canard with a Toasted Baguette or a salad with warmed goat cheese?
Finally, something caught my eye – merguez. A delicious sausage that I had until that moment only found and enjoyed in France with family as a part of home-cooked meals. Wistfulness filled me, my mouth beginning to water, and I knew I had made my decision. The Hachis de Merguez, house-made merguez sausage hash served with two eggs any style and whole wheat toast, along with the Beignets du Jour would be my order.
As I waited for the food, I browsed the drink menu and faced another tough decision, but I went with a glass of champagne with cassis to get the full back-home-in-France feel to the meal.
The food came and the merguez has was incredible. I savoured every morsel, aiming to get the best egg/has ratio with every bite. It was looking like it was all set to be an incredible food experience.
But then, realizing my drink still hadn't arrived, I slowed down and waited. The bartender, apparently, was swamped and so my drink was delayed. My drink finally arrived, so I snapped a few photos of the complete meal. Then I reached for a beignet and came away disappointed. It wasn't the light, powdery flavor I expected. Instead, the beignets were more similar to a spiced donut in both taste and texture and less similar to the fluffy, lightness I normally associated with the treat.
Overall, I would still rate my experience at Bouchon 4 out of 5 stars. The waiter was amiable, the merguez incredible, and my drink refreshing.
What about you?
What restaurants have you visited in your travels?
I'd love to hear from you in the comments below!
Bouchon Bistro at The Venetian
3355 South Las Vegas Boulevard
Las Vegas, NV 89109
(702) 414-6200
Shannon Kennedy
My name is Shannon Kennedy and I'm the language lover, traveler, and foodie behind Eurolinguiste. I'm also the Resident Polyglot at Drops and the Head Coach of the Fluent in 3 Months Challenge.