Announcing Language Conqueror

I love learning languages.
It's a big part of who I am, but it's not the only part.
I'm a mom. A partner. A daughter. Someone who practices martial arts and who has recently taken interest in tumbling. I scuba dive. I love reading, especially history and fantasy. I'm a cooking fanatic. I enjoy video games. And spending time with my friends.
There are a lot of activities and relationships that make up who I am and what I do.
But the thing is, figuring out how to do all these things can be tricky.
And that's where Language Conqueror comes in.
Introducing Language Conqueror

There's nothing better than when you get the opportunity to team up with friends to create awesome content, and that's exactly what I'm thrilled to share with you.
Language Conqueror is all about bringing your language learning to new heights through passion-driven learning.
Each month, we're sharing a Quest with you.
These Quests are all about making language learning a part of your life, not about just fitting it in around everything else.
We share ways to rediscover your motivation for language learning, build enthusiasm for your studies, and combine your language with the other parts of your life that make up who you are.
How Does Language Conqueror Work?
Language Conqueror is a platform that releases new content on a monthly basis. Each month features a language Quest with loads of activities and resources to help you dive deeper. You can also commit to a year of Language Conqueror and get 12 Quests as they become available each month as well as bonus content (available for a limited time).
Each month includes:
A video lesson introducing the Quest
Daily prompts
A workbook with all the exercises and instructions you need to complete the Quest
A video demonstrating the Quest in action from one of our hosts (or special guests)
Trade secrets from Shannon and Caitlin: these are tricks you can use to succeed at your Quest
A Side-Quest: an action you can take to help you gain the confidence you need to complete your Quest
Access to the Quest community so you can collaborate with other learners, share what you're working on, and get support
Your Quest: the final assignment you complete to put everything you learned over the month into practice
Our current month, for January 2021, is called Go-Getting, Goal Setting. And it's all about… as you likely guessed, goal setting.
I'm going in-depth on the topic, sharing bonus videos and resources, and walking you through several goal setting methods (and systems). And it's great for beginner and advanced learners alike.
Coming up, we have Quests about using food to learn languages, building language habits, and more.
What's the Catch?
There is no catch! Language Conqueror is a paid course. Each month is $49, but if you buy the 12-month package, it's $499 (normally $588).
The course officially kicks off on January 1st, but you can pre-enroll now. And don't worry, we have content and the community for you while you wait!
Do you offer a trial period of Language Conqueror?
Because the Quests are each a month, we do not currently offer a trial period. But if you want to get a good feel for Caitlin and I, how we teach, and our learning philosophies, you can check out our free podcast, Snack-Sized Language.
Currently, we have episodes of Snack-Sized Language for Japanese, Korean, French, Mandarin Chinese, and general language learning. And we're always adding new content.
Any questions?
Let me know in the comments or send me an email! I look forward to chatting with you about the new course and seeing you on the inside.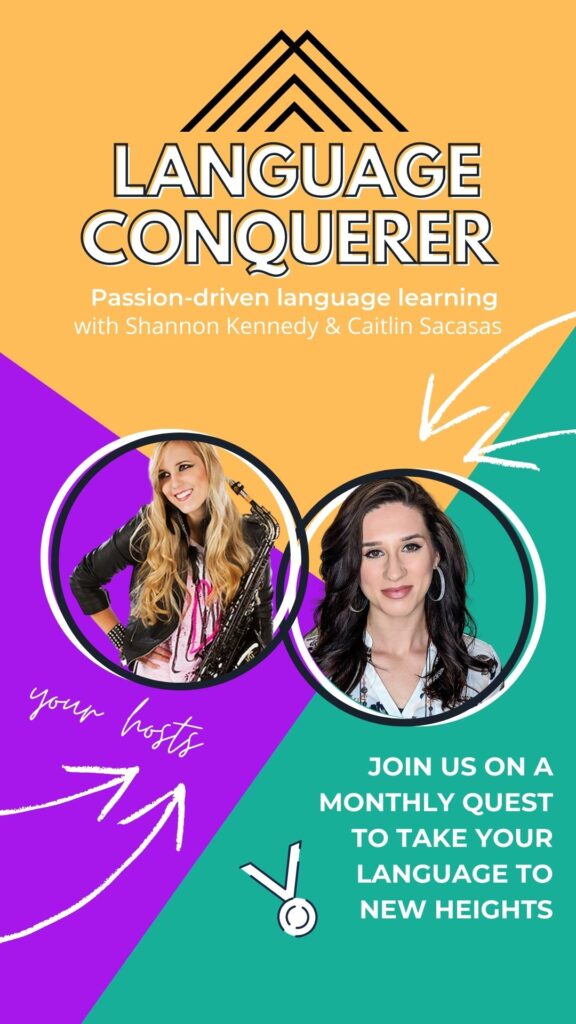 Shannon Kennedy
My name is Shannon Kennedy and I'm the language lover, traveler, and foodie behind Eurolinguiste. I'm also the Resident Polyglot at Drops and the Head Coach of the Fluent in 3 Months Challenge.