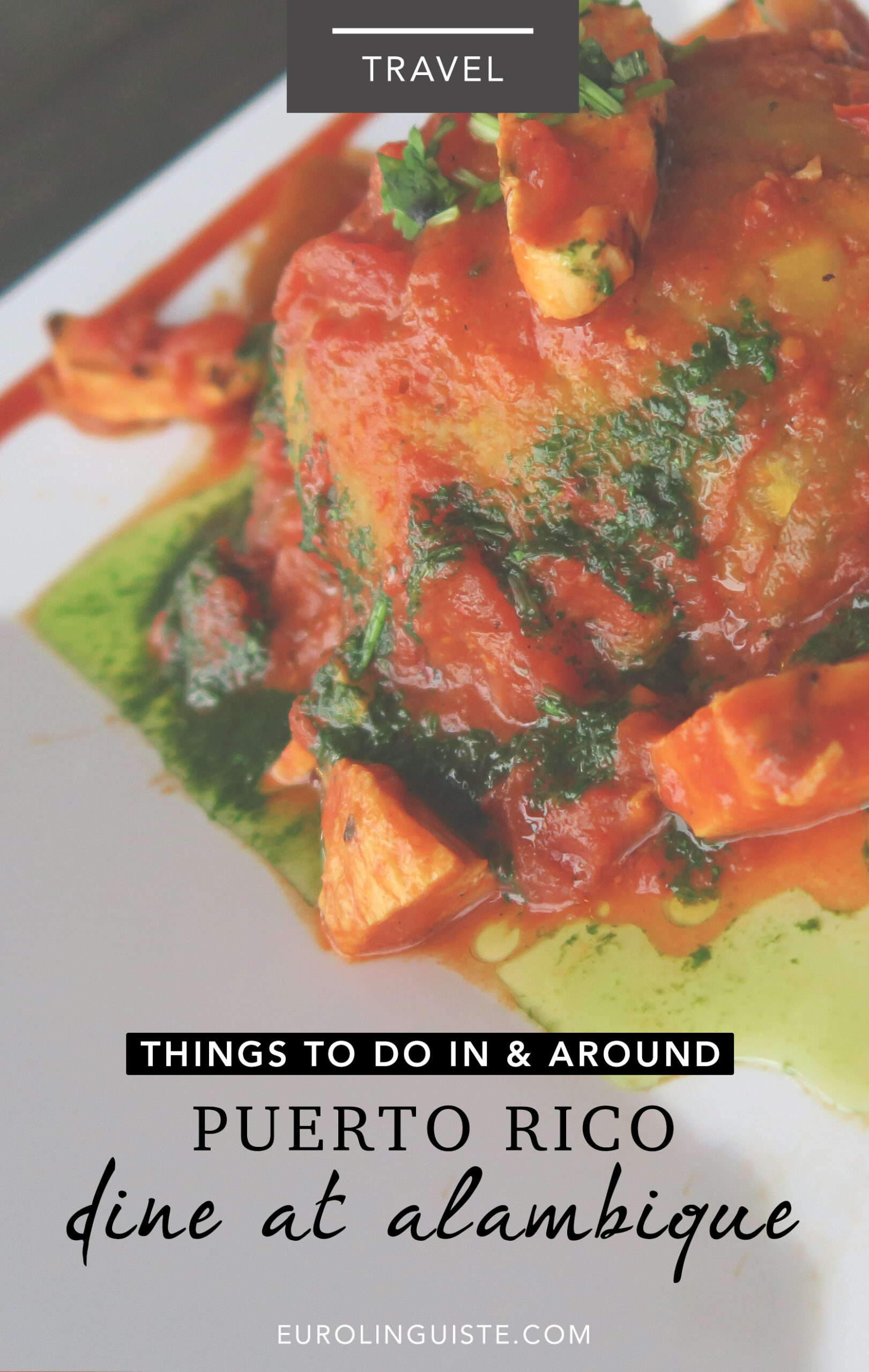 Local fare on the water in Puerto Rico? Why yes, thank you!
Our cruise ship left from Puerto Rico, so we had a day on the island before heading out. Rather than hiding from the heat (and rain) in our hotel room, we decided to venture out and enjoy lunch on the water at Alambique, a small restaurant and bar with a great view and incredible food.
When you approach the restaurant, it's easy to assume you probably can't expect much. And as you sit out on the humid patio, you might find the tables and seats a bit sticky. Poor cleaning or the result of the location? It's hard to tell. You only hope the food will be at least average. But after the first bite, you quickly realize that it's so much more than that and the reason Alambique is ranked #2 on Tripadvisor on Isla Verde is apparent.
M and I ordered a plate of fried fish, calamari, and we couldn't pass up the chance at trying a local dish – mofongo.
Everything was incredible.
For those unfamiliar with the dish, mofongo is made of fried plantains. They are mashed, then garlic, salt, and oil are added before being compressed into a tight ball. Ours was served with chicken, but they can be served with pork or seafood.
The dishes were all large portions, so we weren't able to finish all of our food, but it was worth it. Getting to try each of the dishes was amazing and of the three items we ordered, the fish bites were outstanding.
It's a long story, but this was my first experience eating fish after more than a decade of avoiding it. It was certainly a fantastic re-introduction to seafood. I really couldn't have hoped for a better experience trying fish again.
What We Ordered:
Sweet and Spicy Fried Calamari // Tossed in sweet chili, spicy banana peppers, with citrus and garlic aioli
Tender Fried Fish Bites // Tossed in sweet chili, red pepper flake sauce with red onions, cilantro, served with the house tartar sauce
Classic Mofongo // Creamy smashed plantains, garlic and butter, choice of creole or al ajillo garlic sauce with chicken (we went with creole sauce)
The day we went was a little overcast, but it was still a wonderful food experience and the only shame was that we weren't able to make it back before we headed out to sea.
For those looking for great local food in Puerto Rico, Alambique is highly recommended.
Alambique
5803 Calle Tartak Cond. Racquet Club
Carolina, Puerto Rico 00979
Hours
9 am – 3 am
What about you?
What are some of the local restaurants you've stumbled across in your travels?
I'd love to hear from you in the comments below!
Shannon Kennedy
My name is Shannon Kennedy and I'm the language lover, traveler, and foodie behind Eurolinguiste. I'm also the Resident Polyglot at Drops and the Head Coach of the Fluent in 3 Months Challenge.