A Review of Cool Japan Guide | An Illustrated Travel Guide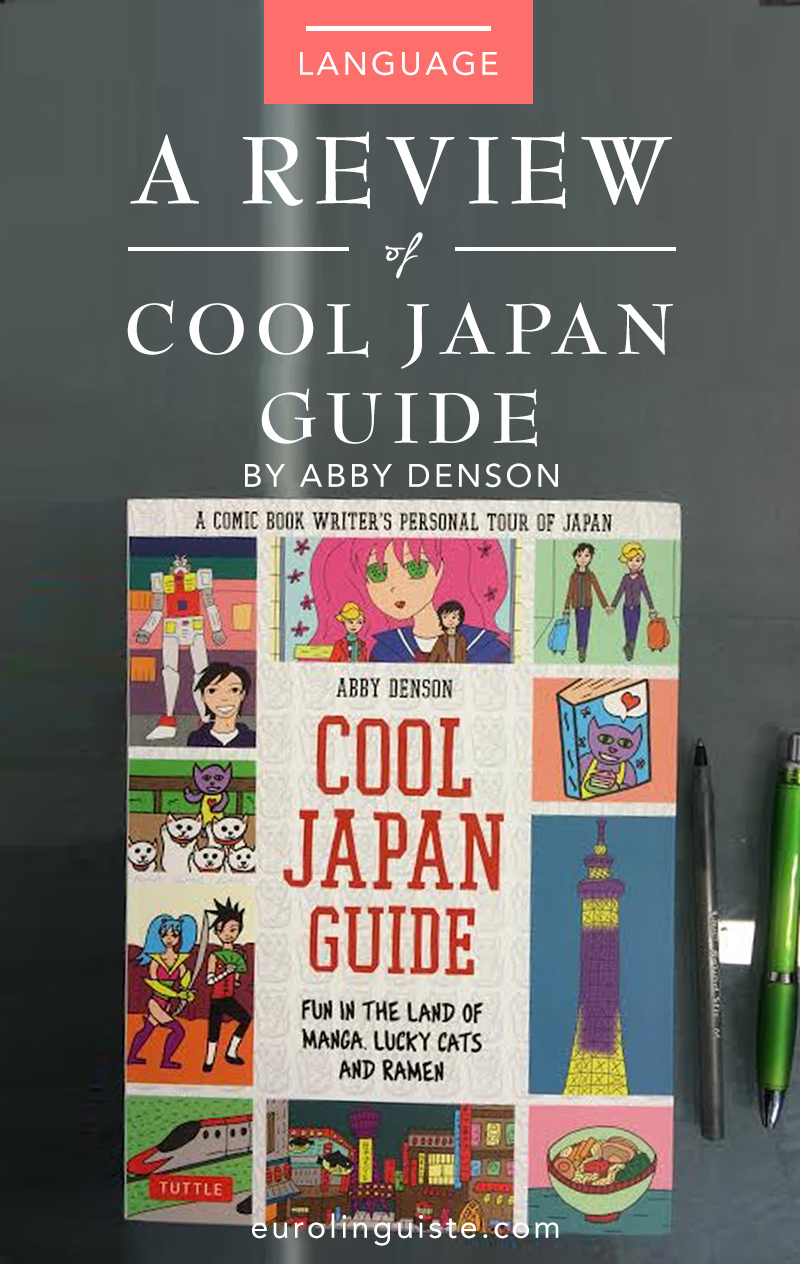 As many of you know, Japan is at the top of my travel wishlist. I'd love to explore Tokyo, Kyoto, and Okinawa, just to name a few places at the top of my list, but really, I'd be quite content to visit almost anywhere in Japan.
Since I've never really studied Japanese, and thus, haven't really learnt much about Japan, I've mostly relied on hearsay while planning a trip out that way. We had actually planned to visit this fall, but our performance schedule didn't permit it and I ended up visiting China instead (not that I'm complaining). But that's another story…
Back to Japan.
My father actually lived in Japan in his early twenties, and he's quite the storyteller, so I've heard plenty of tales surrounding the time he lived in Japan and Korea. I'd love to visit some of the places he's been to, following in his footsteps.
But there's so much more to Japan than just doing what my father did while he was there. Not to mention the fact that so much has changed since he lived there (it was a few decades ago, after all).
My dad has certainly inspired me to visit a few different cities while I'm in Japan, but as far as deciding just what I'll do while I'm there made me realize that I needed a more current source to plan a future trip to Japan.
Cool Japan Guide
While I follow a few really great bloggers who share a lot of interesting and detailed information on traveling in Japan – like Just One Cookbook and A Texan in Tokyo, for starters – I love to browse through travel guides. Especially when they're easy to read (no complicated transportation or travel jargon), nicely laid out, and not too bulky so that I can easily pack them into my carry on for reference during my trip.
I also love when travel guides throw in little bits of information on the local culture and useful words or expressions, which is why I really enjoyed reading Cool Japan Guide by Abby Denson.
Culture Meets Travel Meets Language
Cool Japan Guide is a whimsical, comic book style introduction to travel in Japan by American artist Abby Denson. The book takes you on a journey from the US to Japan, guiding you along as you prepare, first touch ground, and begin navigating your way through the country.
The author shares her experiences in Japan with the help of her husband Matt, a local friend named Yuuko, and her imaginary cat, Kitty Sweet Tooth. She suggests the best ways to enjoy your stay in Japan with tips on where to go, where to stay (I didn't realize there were so many different hotel options in Japan!), what to eat, and how to get around.
Cool Japan Guide begins with information on most everything you need to do when preparing for a trip to Japan. She shares her tips about whether or not a visa is required to stay in Japan, how to get a rail pass in advance, and even how long you should stay and what time of year you should go (depending on holidays and weather).
Things I Really Liked
The level of detail in certain sections of the book was really helpful. // She brought up things I wouldn't have thought of like the fact that temples close early in Japan and that getting tickets to the Ghibli museum requires advance preparation.
The vocabulary at the beginning of each chapter. // I loved that there were a few words at the beginning of each chapter. I felt like there were just the right number of words, too. I like that they were Romanized, but my only suggestion here would be to maybe have the words written in Japanese as well so that travelers might have the opportunity to recognize them when written!
The detailed resource guide in the back of the book. // At the end of the book, the author thoughtfully included a list of resources including websites for further research, the addresses to temples, emergency information while in Japan, and a list of festivals by month.
The accessibility of the book. // A lot of travel guides can be rather complex and I like how simple and clearly this book was written. The comic book format also makes it enjoyable to read.
Things I Thought Could Be Better
There were times I thought the author focused on things that weren't important for too long, and then glossed over things I would have liked to know more about (like public transportation, how to travel outside of Tokyo, etc.). // For example, the beginning of the book has tips on packing for a trip to Japan and I personally feel she spent too much time on how to pack a toiletry bag (especially since it was right after she discussed how much fun it is to buy toiletries at convenience shops in Japan). I felt like these sections made the book feel a little unbalanced.
There were also some things in the book that had nothing to do with going to Japan. // Like getting a massage at the airport while waiting to board your plane to Japan… While I understand the book was written from the author's personal experience, there were still a few things that I felt didn't belong.
I wasn't always 100% sure which city she was talking about. // Most of the book discussed Tokyo, but she did occasionally bounce to other cities. The way that it was written sometimes made it difficult for me to know when she transitioned from being in Tokyo to other cities and back. It didn't always feel clear.
Conclusion
Overall I think that Cool Japan Guide is a lot of fun and that it has quite a bit of really great, really useful information for someone getting ready to make their first trip out to Japan. The guide is personable, engaging and it definitely makes it easy to keep turning the pages (as opposed to other travel guides I have purchased that just sit on the shelf because I find them overwhelming).
Cool Japan Guide is an overview, and it is primarily focused on Tokyo, so I would probably pair it with something else. But either way, I think it's a fantastic starting point if you're thinking about going to Japan, or even if you're just interested in what the experience of visiting Japan might be like.
The illustrations are both colorful and fun, and the information in the book answered a lot of the questions I had about traveling to Japan. I'll definitely crack it open again before we make a trip out that way.
The Details
Book // Cool Japan Guide: Fun in the Land of Manga, Lucky Cats and Ramen
Author // Abby Denson
Publisher // Tuttle
Length // 126 pages
Please note that while I was given a copy of Cool Japan Guide in exchange for a review, all opinions and views expressed in this article are my own.
And now, for the Giveaway!
Win a Copy of Cool Japan Guide
Would you like to win your very own copy of Abby Denson's Cool Japan Guide? Leave a comment at the bottom of this post about why you'd love to go to Japan.
Please make sure your comment is tied to a valid email address (so that I can get in touch with you). The closing date is 10/16/2015 at midnight PST. Any entries received after this time will not qualify for entry.
I'm also offering bonus entries for those of you who (limit one per person per media outlet):
1) Share this post on Twitter. Make sure you mention me, @eurolinguistesk, in your Tweet.
2) Comment on this post on our Facebook page.
3) Comment on one of my Instagram photos using the hashtag #cooljapanguide
Please note that these bonus entries only count if you have also posted a comment on this blog post.
This competition is open worldwide. After the closing date has passed, the winner will be selected randomly and I will contact you directly using the email address you've provided by commenting on this blog. The winner will need to supply their mailing address and the book will be mailed out directly by the publisher. If the winner does not reply with their mailing address within 14 days of the email being sent out, another winner will be selected in their place.
Do you have a favorite travel guide? Have you been on any adventures of your own in Japan? If so, I'd love to hear about them in the comments below!
Shannon Kennedy
My name is Shannon Kennedy and I'm the language lover, traveler, and foodie behind Eurolinguiste. I'm also the Resident Polyglot at Drops and the Head Coach of the Fluent in 3 Months Challenge.