A Review of Lingualift: An Online Coursebook for Japanese & Russian Language Learners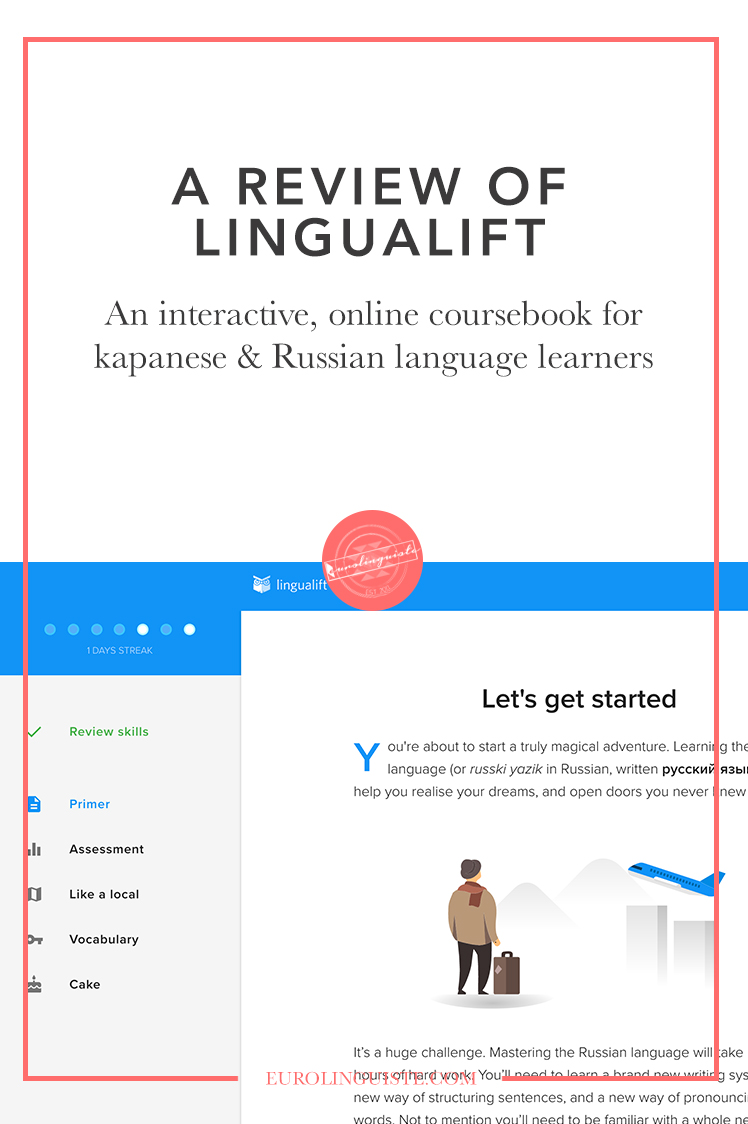 In studying Japanese, beyond learning a few conversational phrases, I needed a bit of direction.
Most of the books I had focused on learning Kanji, but I needed something more. And so I decided to start looking for a coursebook to guide me.
A while back, I remembered trying out Lingualift, but because I wasn't studying Japanese, it didn't make sense for me. Now that I was finally diving into the language, I figured it would be the perfect time to revisit the platform.
I logged into my account, made it through the course introduction, and dove into the content. And not only did I learn more of the language, I learnt tons about it and Japanese culture.
What is Lingualift?
Lingualift is an online, interactive Japanese (and Russian course book) geared towards self-learners. In other words, it's a digital coursebook.
There are currently three levels for Japanese students and two levels for Russian. Each lesson includes a primer, an assessment, cultural tips (titled: Like a Local), a vocabulary quiz, sometimes a section titled "Script", and what they call Cake (a fun bonus lesson on something uniquely Japanese).
My Experience Using Lingualift
Before writing this review, I decided to work through the entirety of the first Japanese level and start to explore the Russian course. I was impressed with both.
Lingualift isn't your usual boring and dry textbook. Instead, it's written with a touch of sarcasm and a whole lot of research. The style is incredibly accessible and it's a relief to see complicated grammar points written that way. The tone of the author(s) is relatable and you just want to keep reading. It definitely beats the more traditional, formal style of other courses.
Lingualift also has a built-in accountability system. You get automated emails from the team as they check-in (and if you respond, they reply quickly). Plus, there's a daily streak widget that shows you just how often you're studying.
The user interface is cleanly designed, so it's easy to navigate through the course. There is a ton of audio (recorded by an actual speaker), and it's available within the text (so you don't have to search for it separately).
What Could Be Better
Lingualift does has have limitations and there are a few things that I think would make it a better solution for language learners.
1 The Price // For the material available, I think the price of Lingualift is a little steep. It's $14 a month or $99 a year. Compared to most text books which fall into the $30-60 range (if they include audio), Lingualift is more expensive.
That said, you don't get the same level of culture information nor the variety of multimedia in other coursebooks.
2 Vocabulary // You don't really get into learning vocabulary until you're a few lessons deep (lesson five for Japanese) in the course and the selections of vocabulary feel a little random. In one Japanese lesson you learn bread, fool, toilet, and calendar.
3 The Available Languages // With only Russian and Japanese currently available, Lingualift is a pretty limited option and wouldn't be suitable for most learners. I would definitely like to see them add more languages to their catalog so that more learners could tap into this resource.
4 No iPhone App // The Lingualift app is currently available for Android users but not iPhone users.
5 No consequence for wrong answers // When you get questions wrong on a quiz, the only consequence is that you need to answer it again at the end. If there were a points system in place where you win points for right answers and lose points for wrong answers, it might motivate learners to spend more time on the questions.
My Recommendation
If you're looking for a course that's engaging, Lingualift is a great option. Especially if Russian or Japanese culture are of interest to you. It is an expensive course, but when you do the math (technically you get three volumes for Russian and three volumes for Japanese), an annual membership is actually a pretty good deal.
They worked out a lot of the bugs that I experienced the first time I explored their program, so they definitely win points on quality. The course is very detailed, clear and well-written (especially if you're up for a bit of humour). I adore the cultural information and context they give the language, and it definitely makes me feel as though I have a better grasp of both Japanese and Russian for it.
At the time of writing, the price on the Lingualift website is listed $14/month or $99/annual. You can sign up for a free trial to decide if it's a good fit for you.
More information: Lingualift website
Shannon Kennedy
My name is Shannon Kennedy and I'm the language lover, traveler, and foodie behind Eurolinguiste. I'm also the Resident Polyglot at Drops and the Head Coach of the Fluent in 3 Months Challenge.