NEW LANGUAGE PROJECT: LEARNING HUNGARIAN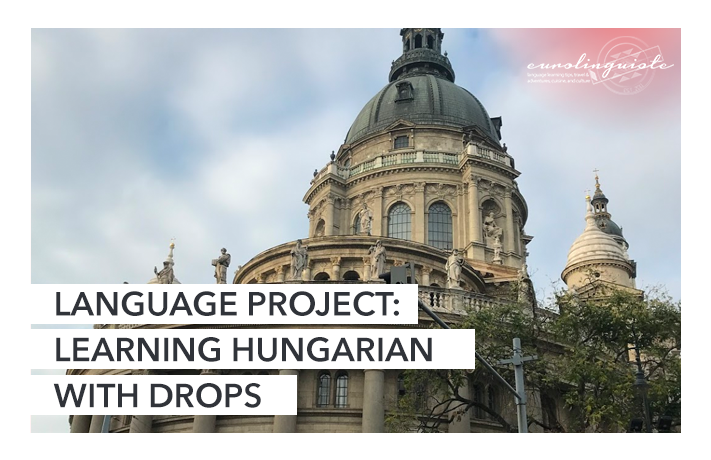 Over the last couple months, I've been learning a language in secret. I recently revealed that language was Hungarian and now, I'm excited to share more details about this language project – the how, the what, and they why.
But first, if you're interested in following this project along, be sure to subscribe to the Drops blog! It's where I'm sharing all my updates.
Getting Started with the Hungarian Language
Just over two months ago, I decided that I wanted to learn Hungarian.
Why?
Because I wanted to surprise my colleagues at Drops on our team trip. In November, we all met up in Budapest, Hungary and it seemed like the perfect occasion. Not only would I be in the country that speaks the language, but I'd also get to surprise the founders of Drops with their native language.
I signed up for the Fi3M Challenge for motivation, keeping the details of my language a secret, saving my videos and updates for after the big reveal.
In many ways, this project was different from anything I've done before. To start, it was a secret, so I was limited to how many people I could reach out to for help. Luckily, Benny Lewis over at Fluent in 3 Months completed a similar project – Hungarian in 3 Months. He and I chatted about language projects and learning Hungarian, and he offered me tips for filming the reveal in Budapest.
Limitations Offer a Creative Environment
One of the other things I really wanted to do with this project was change my approach. Lately, I've found a lot of success in the conversational approach and because of this, I've stuck to it for my last several projects. Getting too comfortable with a system or routine can cause learning plateaus and with a short-term project, that can be dangerous.
Rather than use all the resources, processes and methods I typically use when I start a new language (or refresh an old one), I did something different.
First, I limited myself to two resources – Drops and italki. I had originally planned to use three (a coursebook being the third), but ended up not using it. Doing this meant that I really needed to maximize my experience with the two resources I was using.
I had to get creative.
And that creativity not only led to several breakthroughs, but helped keep me from burning out during the time I spent studying.
Second, I cut grammar out almost completely. During that time, I did not learn a single grammar rule. Instead, I studied tons of vocabulary and practiced the language with my tutor. In doing these two things, I learned some grammar through context without ever having to sit down and learn how to conjugate or use cases.
Third, I took an almost month-long break in the middle of a two-month project. A few weeks before our trip to Budapest, I also had a trip to Shanghai, China for music. As a part of that trip, I needed to focus on preparing presentations in Mandarin and Japanese, so I had to step away from Hungarian until after I got back.
Despite this break, I still successfully completed this project.
Finally, I decided on every milestone I wanted to reach as a part of this project. There were eight in total. You can read about them more in-depth here, but here's a quick summary:
Learn 50 words in the first 3 days // This would get me access to the Drops Tough Words Dojo so that I could review challenging new material.
Find a conversation partner // Having a date on the calendar would help keep me focused and on-track.
Write my first script // This would help me navigate that first conversation. It included phrases and questions that I might need.
Have a Hungarian lesson // I found a fantastic tutor on italki and ended up taking several lessons the week before the trip.
Have an unscripted chat in Hungarian // Before I went to Hungary, I wanted to try to make my way through a conversation in Hungarian without the help of my script.
Learn all the words in Drops // There were about 2,500 words in Drops while I worked on this project.
Use Hungarian around Budapest // To get some practice in before the big surprise.
Surprise the founders of Drops // The project conclusion!
You can watch my project introduction video for more context:
To Sum Up
I plan on sharing updates for each of the milestones over on the Drops blog so you can follow along with my progress. Each post will include videos of where I'm at with the language as well as the exact steps I took to achieve each milestone.
In the meantime, if you have any tips for me as a new Hungarian language learner or if you have any resource recommendations that you couldn't have lived without, please let me know in the comments below.
I look forward to hearing from you!
Shannon Kennedy
My name is Shannon Kennedy and I'm the language lover, traveler, and foodie behind Eurolinguiste. I'm also the Resident Polyglot at Drops and the Head Coach of the Fluent in 3 Months Challenge.