FREE LANGUAGE FEEDBACK & PRACTICE WITH LINGORA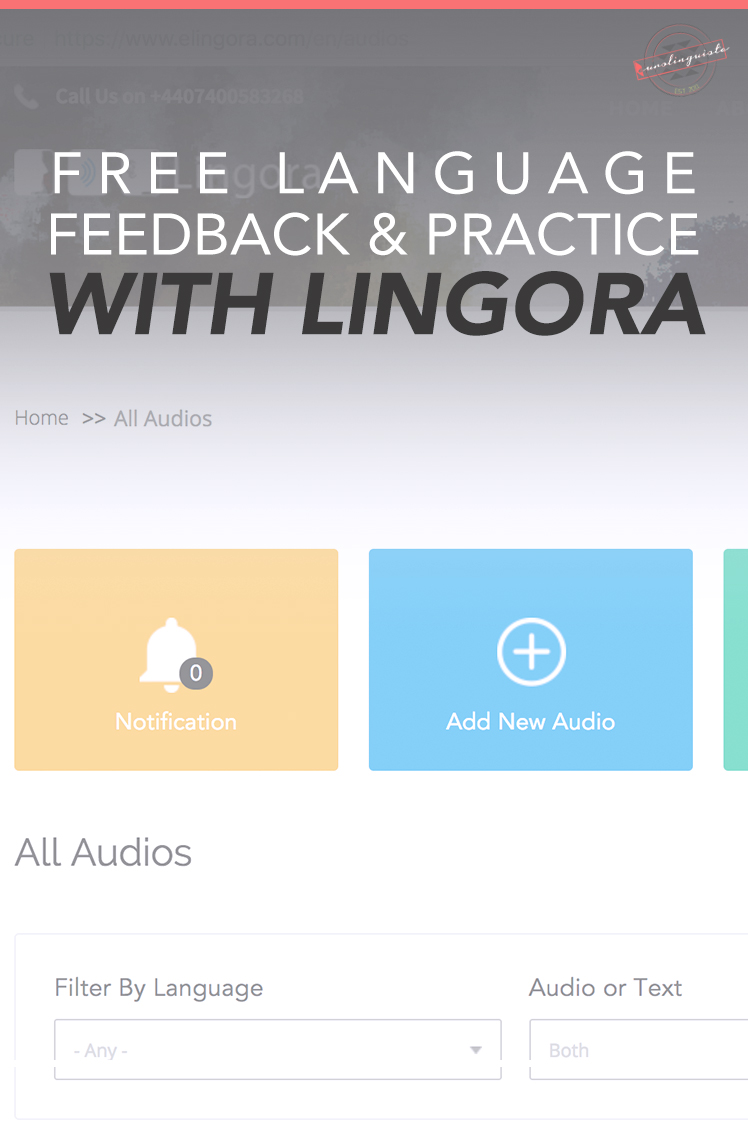 When I first started learning languages on my own, I didn't realize that the key to mastering them was speaking them. I tried learning on my own, but whenever I had an opportunity to use them, nothing came out. I'd get too nervous, tongue-tied, or flat out forget everything that I learned.
Soon, I realized that the only way I'd get better at speaking would be by practicing that very skill. I needed to speak more.
I started looking for ways to use my languages more often, but there were hardly any meet ups in my area (if any) and the cost of tutors could be prohibitive.
I had one more option — language exchange partners.
Meet Lingora
Lingora is an online membership portal that offers language learners the chance to connect with language exchange partners around the world for free. You can chat with native speakers, upload audio for feedback, or even text for correction.
Currently, it supports dozens of languages including Korean, Spanish, Chinese and Serbian.
My Experience Using Lingora
Lingora offers its members a variety of ways to get language practice. I wanted to make use of each of these, so I made sure to try out the voice recording feature as well as the text and chat features.
Unfortunately, between when I posted my material and writing this review, I had yet to receive feedback. Because the site is fairly new, the membership is not yet that large and so finding active members (especially for Croatian) was tough. That said, when I do get feedback, I really like the criteria.
For audio, you're scored on accent, intonation, fluency, and pronunciation. You're rated as either "adequate to good", "good to excellent" or "needs work". For written entries, you're scored based on grammatical accuracy, punctuation, spelling, and style. For both, when members offer feedback, they also have a space to leave you more specific comments.
The Pro's of Using Lingora
Everything is available to you in one convenient place. // The platform offers you a place to practice your writing, your speaking, to chat with native speakers or other learners, and even find a tutor. You don't need any external equipment. Lingora even includes a built-in audio recorder that converts the audio files for you.
It's free. // With the exception of lessons with a professional tutor, Lingora is entirely free to use. For those learning a language on a budget, this is an incredible tool for getting valuable feedback.
They offer prompts so that you have support if you're not sure what to record or write. // One of the toughest things to do when you hit record or sit down to write in your new language is coming up with ideas. What should you write or talk about? Unless you have something specific in mind to practice, it's hard to avoid rambling or to feel confident when you need to click the "submit" button. Thankfully, Lingora has already thought of this. Whether you're using the writing or audio recording tool, you're shown a list of prompts to help you get started (or to stretch outside your comfort zone). You can choose a theme, and then from that theme, any one of several prompts to help you get started.
You can view chats between other members. // In addition to starting your own chats, you can also check out chats between other members. Initially, I was surprised when I first noticed this feature but I think it's a positive thing for two reasons. First, it's a way of moderating the discussions between members. When participants know other members will see your conversations, they're less likely to engage in anything that isn't above board. Second, it offers the Lingora community the chance to get reading practice and learn from the conversations taking place.
You get weekly summaries of your feedback. // At the end of the week, Lingora sends you an email with summaries of the feedback you've received on whatever you submitted. It's a great reminder to log back in and get more practice AND get an overhead view of how you did the previous week.
Features I Feel Can Improve
Lingora has a lot of potential, but there are a few things that could be improved. First, as far as I can tell, you can only search for exchange partners based on the language they're learning, not on the language they speak natively. If you're hoping to connect with a native speaker, this isn't very helpful. The search features could definitely be improved with the addition of more filters and options.
Second, the cost for lessons is a little higher than the average compared to other online tutoring sites. That said, they do have unique options – some of the tutors offer "on location" lessons.
Finally, as I mentioned earlier, there aren't a lot of members who speak languages like Croatian (and the members that are there don't seem to be active). But this will surely change in time as its membership continues to grow.
To Sum Up
I really liked the motivation behind Lingora and I think it has a lot to offer learners. It's still a small community, so at the moment, it's not as active as it could be, but this is sure to change in time. If you're looking for places to get speaking or writing practice in your language and to get feedback on how you're doing, Lingora could be a great option.
What about you?
How do you get your speaking and writing practice? Have you tried Lingora? What did you think?
I'd love to hear from you in the comments below.
Shannon Kennedy
My name is Shannon Kennedy and I'm the language lover, traveler, and foodie behind Eurolinguiste. I'm also the Resident Polyglot at Drops and the Head Coach of the Fluent in 3 Months Challenge.