The Ultimate List of Resources for Intermediate Spanish Learners: Books, Songs, TV Shows, and Podcasts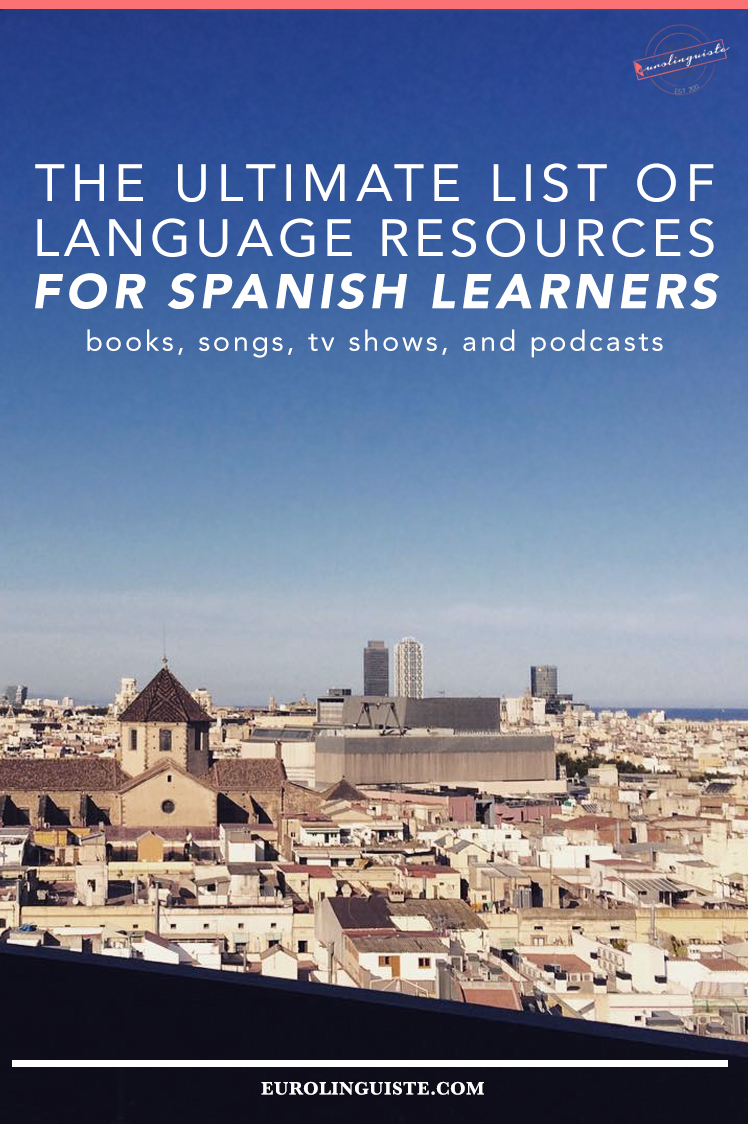 Engaging with the language that we're learning in meaningful ways is not important to our learning the language, but also to staying motivated, connecting with the language, and learning more about the culture.
Discovering music, podcasts, books, tv shows, and movies in Spanish is an amazing way to dive into the language.
But how do you know just what native source material to choose?
Hopes high, you take to Google hoping to find great Spanish books or tv shows, but lo and behold, the majority of the suggested material is what we politely call 'classic'. In other words, it's old.
You wanted recommendations for songs, tv shows, books or podcasts in Spanish that are fresh, relevant and up-to-date. Not some list that's been passed around by generations of Spanish learners without ever once getting an update.
Today, Tamara is here to help.
Today, I'm excited to share a post from Tamara Marie. She's worked hard to curate this list of 10 Spanish books, 10 Spanish songs, 10 Spanish podcasts and 10 Spanish tv shows that are not only interesting and relevant, but they also contain language that is suitable for those at the beginning level all the way up to the advanced level with straightforward vocabulary.
Take it away, Tamara!
---
10 Spanish Songs for Spanish Language Learners
Latin music has a special place in my heart because it helped me to learn Spanish and shed my fear of speaking. Learning Spanish with music is a great strategy to learn proper pronunciation, new vocabulary, and understand the culture. And it doesn't hurt that you'll know the songs at your next party with Spanish-speaking friends.
Here are 10 songs I recommend for Spanish learners that will boost your vocabulary and give you a better understanding of Latino culture:
1. Stand By Me by Prince Royce
I'll admit I usually don't like translations of songs originally in English, but this bilingual version of Stand By Me by Prince Royce is pretty well done. The song is slow and is already translated for you since he switches seamlessly between Spanish and English, sometimes in the same line. A great song. (Note: If you don't know the original by Ben E. King, check it out here.)

2. No Hago Ma' Na'
This salsa by El Gran Combo de Puerto Rico gives you a ton of examples of reflective verbs. You'll just have to take a minute to get used to the accent, but once you do you'll love the song. It makes me think about retiring and buying a beach house. (Note: Ma' Na' is Puerto Rican speak for "más nada")

3. Ojala Que Llueva Café
You may have guessed from the title, but this merengue song by Juan Luis Guerra will help you practice the subjunctive. This song is about his hopes for bringing prosperity to el campo (the countryside) in the Dominican Republic.

4. Pedro Navaja
This is a classic salsa song by the iconic Ruben Blades. It tells a story that unfolds on the streets of New York. You'll learn a lot of Spanish sayings and expressions in this song, and the story will keep you engaged until the end.

5. Despacito
This is a song by Luis Fonsi that you should know because of its popularity. The vocabulary isn't exactly G-rated, so I wouldn't recommend this song is you're a teacher looking for a song to teach to your class. But the lyrics are flirty and fun, and you get bonus points if you can understand what Daddy Yankee is saying.

6. Obsesión
If you're looking for a challenge, this classic bachata song by the now defunct group Aventura will definitely test your listening skills. The chorus is pretty simple to understand, but the lyrics tell a story that you'll have to pay attention to closely to figure out what happens.

7. El Rey
I discovered this Vicente Fernandez song when I was at a party and found out that everyone knew this song but me. This is one of those cultural things that you probably wouldn't get if you didn't grow up in a Spanish-speaking household. So if you want to be in on the next sing-a-long, you'll want to learn this one.

8. Cuando Salí de Cuba
This Celia Cruz song is a blast from the past. Its lyrics are slow, so you should be able to understand most of it. It gives you an emotional sense of how Cubans who left the island felt about their homeland. I think anyone who has moved or been homesick at some point can understand this feeling.

9. Nadie Como Ella
This Marc Anthony song is about a woman he's enamored with (like most Marc Anthony songs). The language is on the informal side, but it's a great song for Spanish learners because it's pretty easy to understand the lyrics.

10. La Rebelión
This Joe Arroyo salsa song teaches you about Colombian history while making you want to dance at the same time, no easy feat. The song is about a slave rebellion in 17th century Cartagena.

10 Spanish Language Books
One of my favorite things to do when I'm driving is listening to audiobooks. And pairing up an audiobook with the written version can be a killer combo for improving your Spanish vocabulary. Books are great because they have rich vocabulary and stories that engage you. I've found a ton of great Spanish audiobooks on Audible.com. Here are some of my favorites:
1. Ágilmente by Estanislao Bachrach
This book's subtitle says it all: learn how your brain functions to enhance your creativity and live better. This book gives a unique take on how our brains evolved and how to adapt to modern life.
2. Stranger by Jorge Ramos
In Latino media in the United States, it's hard to avoid the topic of immigration. This book by Mexican-American journalist Jorge Ramos tells the tale of what it means to be an immigrant living in the US. He talks about identity and the feeling of being a stranger in your own country.
3. Los 7 Habitos de la Gente Altamente Efectiva by Stephen Covey
The Spanish version of The 7 Habits of Highly Effective People is worth checking out. Covey shares some great principles to live by. If you majored in business in college, this book was probably required reading. Even if you're already familiar with the principles, this book will help you learn how to talk about them in Spanish.
4. La Reina del Sur by Arturo Pérez-Reverte
This thriller tells the story of Teresa Mendoza, whose life changes when she gets a call that her drug smuggler boyfriend is dead. She has to learn how to survive in his absence, and learns how to find her own way. The story was also made into a popular TV series.
5. Padre Rico, Padre Pobre by Robert T. Kiyosaki
The Spanish translation of Rich Dad, Poor Dad is a good choice because it teaches some fundamental financial management principles through stories. You'll also expand your Spanish vocabulary as it relates to personal finance.
6. El Hombre en Busca de Sentido by Viktor Frankl
The English version of this book is Man's Search for Meaning, and it's one of the most recommended books of all time. It tells the story of how Frankl found meaning and purpose in life despite living in a Nazi concentration camp.
7. Cómo Ganar Amigos e Influir Sobre las Personas by Dale Carnegie
This is the Spanish version of the classic How to Win Friends and Influence People. It's worth reading (and of course, listening to the audiobook) because it teaches some fundamentals of interpersonal relationships and will expand your Spanish vocabulary in this area.
8. La Chica del Tren
This book is about a girl who's daily routine of taking the train suddenly changes. A suspenseful story about the life of a couple that lives in an apartment nearby the train station.
9. Don Quijote de la Mancha by Miguel de Cervantes
No list of Spanish book recommendations would be complete without Don Quijote. This book is a classic in Spain and the narration in the audiobook is almost like a movie production. It tells the tales of Don Quijote's adventures throughout Spain.
10. El Alquimista
This book is a classic tale about a boy named Santiago on a journey where he learns many life lessons. It's one of Paulo Cohelo's most popular books and is a must-read.
10 Spanish Language TV Shows
There is a ton of Spanish content on TV…you just have to know where to look. In the US, you can find plenty of telenovelas, news shows, sports, and kids programming on both the Univision and Telemundo networks.
Expert Tip: Call your cable provider and ask for the Latino package to get more Spanish language channel options. You'll find the prices are comparable to your current package, but you'll just have more Spanish exposure!
Here are 10 series you will find entertaining, addictive, and informative. Most importantly, they'll increase your Spanish exposure and help you improve or maintain your level of fluency.
This series is loosely based on the life of beloved Cuban singer Celia Cruz. The characters and story will have you hooked from the first capítulo (episode), and you'll also learn some Cuban Spanish words like asere (buddy, amigo). The accent may take getting used to, and spoiler alert: the real life romance between Celia and Pedro wasn't nearly as colorful as presented in the series.
Note: Celia originally aired on Telemundo in 2015 and is available on Netflix at the time of this writing. I'd recommend, however, that you view the series on the Telemundo website because you'll be able to turn on closed captioning in Spanish.
Kate del Castillo stars in this Netflix original series, a political drama based in Mexico City. It begins with Castillo, who plays the first lady of Mexico, experiencing a shocking event that she spends the rest of the series trying to reconcile. You'll be exposed to the Mexican accent and slang, and after the first episode I challenge you not to binge watch the whole series.
Narcos is the wildly popular Netflix series about drug traffickers. Although the lead actor who plays Pablo Escobar in the first season is actually Brazilian and only learned Spanish to play the role, the series is based in Colombia. The family scenes are laughable if you're looking for an authentic Colombian accent. Instead, you'll hear a variety of accents from throughout Latin America, but you'll be so into the story you won't really care. The narration is in English but some of the scenes are in Spanish. This is about drug trafficking so it's full of cursing and violence, but the stories about Pablo Escobar and the Cali Cartel are intriguing nonetheless.
It's hard to avoid the topic of drug trafficking in Latin American TV shows. But if you watch Narcos and find that you want a more in-depth, authentic take on the story you'll want to check out this series. It's 100% in Spanish and covers some nuances and details that Narcos does not.
This original and quirky show gives you a comical look at some of history's most infamous figures. The series recounts stories from their lives with hilarious reenactments (picture Ben Franklin with abs of steel). Good for a laugh when you have some downtime.
This series isn't about rum and coke with a twist of lime. It tells you the story of Cuba's struggle for freedom beyond Castro's infamous 1959 revolution. I'm glad I watched this before my visit to Cuba, since it tells the country's history from their perspective. Make sure you watch the Spanish version, although you'll still hear English, German, and French in some of the interviews.
Another series starring Kate del Castillo and based on the book by the same name, this is a critically acclaimed series.
It's impossible to talk about Spanish TV shows without includes some telenovelas (soap operas). Sometimes criticized for being almost exclusively Mexican with lighter-skinned actors, and overly dramatic, they are still quite popular and a cultural phenomenon that you really can't ignore. This Mexican telenovela is about yet another drug trafficker in the post-Escobar era.
This show covers a different topic in each episode, covering everything from fad dieting to cryptocurrency.
This series has a cult following and is originally shot in British English. Think of it as The Twilight Zone 2.0, where everything from online dating to prison is given a technological twist that will have you scratching your head. It's such a great series, and you can watch it dubbed in Spanish. It's actually done pretty well unlike some where the voices don't seem to match the characters and are overly dramatic.
Caution: If you're going to watch this (or any other show for that matter) with Spanish subtitles, be mindful that the words on the screen often won't match the words being said by the characters. I think the creators assume that if you're watching the show in one language, you'd only need subtitles in another language. This can be mildly annoying, but you'll still get the general idea of the story.
10 Spanish Language Podcasts
Podcasts have engaging stories, newsworthy content, and interesting conversations. Once you're done listening to podcasts made for language learners, check out these podcasts that are 100% in español.
If you like podcasts, you'll want to download the iVoox app. It has a great selection of Spanish language podcasts.
1. Te Invito Un Café
I listen to this podcast every morning on my way to work. The host Robert Sasuke broadcasts a new episode every weekday morning from Santo Domingo, Dominican Republic. A psychologist and consultant, Sasuke covers a broad array of topics around self-improvement, relationships, and entrepreneurship. It's a great way to start the day.
2. ¡Buenos días, Mundo! with host Oliver Oliva
¡Buenos días, Mundo! with host Oliver Oliva is an upbeat, energizing podcast. Topics from health to science and technology are covered in a humorous way that can make even the most dull topics intriguing.
3. DIAS EXTRAÑOS con Santiago Camacho
This podcast covers a range of interesting concepts through conversation and interviews. The host is from Spain so it will also help you get used to the European accent.
4. Somos Afrobolivianos
Alejando Guitierraz hosts this podcast the celebrates Afrolatino culture in Bolivia. It's a dirty little secret in some parts of South America that huge populations of descendants of Africa have been suppressed and even erased from history. There is an ongoing effort to elevate and celebrate these populations.
5. Potencial Millionario
A personal finance podcast by successful Mexican entrepreneur Felix Montelara. In Dave Ramsey style, he gives practical financial tips and makes the information accessible to listeners. You'll improve your finances and your Spanish at the same time ☺.
6. TED Talks (Spanish)
Hear the latest Spanish-language TED talks on this podcast. TED (technology, entertainment, design) is a network of conferences where speakers discuss interesting topics that the organizers call "ideas worth spreading" in 18 minutes or less.
7. Liderazgo Hoy
This podcast is hosted by Venezuelan entrepreneur Victor Hugo Manzanilla. He draws on his experience from working in management in Proctor & Gamble and advice from well-known experts to give practical advice on leadership and professional development.
8. Conocimiento Experto
Each episode of this podcast summarizes the key concepts in books by experts. This is a good way to save yourself time and get exposed to a variety of topics. And if you want to go deeper, you can always pick up a copy of the books covered in this podcast.
9. Historias del Más Allá
If you like mysteries and scary stories, this podcast is for you. The host Rubén García Castillo announced in a tweet that after listening to this show, you won't be able to sleep with the lights off. The show tells stories "from beyond" and he even takes callers that tell their own stories live on the show. A great pick for Halloween.
10. Radio Ambulante
Saving the best for last, Radio Ambulante is a staple among Spanish learners because it's so language learner-friendly. Not only do they provide full transcripts of each show in English and Spanish, but they also have a Vimeo channel with videos with audio and real-time transcriptions. This podcast explores a variety of interesting topics and tells stories from throughout Latin America.
What about you?
What are some Spanish native materials you've used to up your ability in the language?
We'd love to hear your thoughts in the comments below!
About the author: Tamara Marie is a Certified Neurolanguage™ Coach and founder of SpanishConSalsa.com, a website that teaches Spanish with Latin music. Tamara is a language lover, proud mom, and self-described dance addict. She taught herself Spanish as an adult after being frustrated with language learning in an academic setting. She trained with Efficient Language Coaching in 2016 and obtained her language coaching certification to specialize in brain-friendly methods that accelerate fluency. Tamara is from the United States and speaks English, Spanish, and has started learning Brazilian Portuguese. Tamara is a lifelong learner and loves helping people learn languages.
Shannon Kennedy
My name is Shannon Kennedy and I'm the language lover, traveler, and foodie behind Eurolinguiste. I'm also the Resident Polyglot at Drops and the Head Coach of the Fluent in 3 Months Challenge.