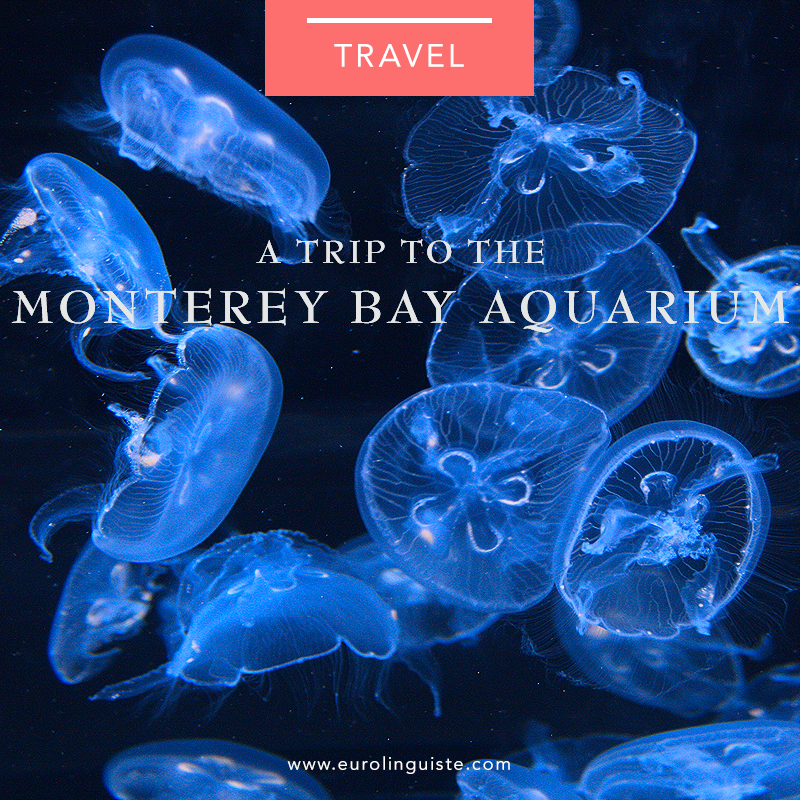 I probably told this story once before, but before I ever fell in love with either music or language, I wanted to be a marine biologist. From the time I first ever saw The Little Mermaid until my first year of university, I was certain that was what I was going to do.
But then I received a music scholarship and everything changed. Including my major.
Still, my love for the ocean and everything (well, almost everything, I am *not* a fan of sea snakes) endures.
On our trip up to Monterey, one of the stops I knew we would make was a visit to the Monterey Bay Aquarium. It was founded in 1984 and resides in the history cannery row (an area I fell in love with after reading John Steinbeck's Cannery Row when I was a kid).
The Aquarium has several exhibits that are all quite enjoyable to visit. They have the Kelp Forest exhibit which houses around eighty species of seaweed. The kelp in the tank grows around 4 inches per day and has to be trimmed by divers each week.
Additionally, they have the Open Sea Gallery where they are known to occasionally host Great White sharks (which is one of the big reasons I've always wanted to visit – but they didn't have any while I was there!). Either way, I did get some *accidental* shark action. We were there for a feeding and one of the sharks got a bit confused and attacked the school of sardines instead of the food it was intended to eat.
The other exhibits include everything from penguins, tropical fish, and jellyfish. They currently have a seven-gill shark and in one of the displays, I had the chance to see a baby shark hatch from its egg.
And finally, whenever you start to feel cooped up as you wander the exhibits, you can always head outside where you have an excellent view of the bay where seals and otters enjoy hanging out.
Monterey Bay Aquarium
886 Cannery Row
Monterey, CA 93940
General Public: 10 a.m. – 5 p.m.
What about you?
What are some cool ocean exhibits that you've been to?
I'd love to hear about them in the comments!
Shannon Kennedy
My name is Shannon Kennedy and I'm the language lover, traveler, and foodie behind Eurolinguiste. I'm also the Resident Polyglot at Drops and the Head Coach of the Fluent in 3 Months Challenge.